We've been following the winding trail of Maddey's Craft and Cru April, 2015 when we wrote an Ask Bungalower column about them, following a number of popular pop-up events they had hosted. Maddey's eventually found a home in the former Chicago's Stuffed Pizza location on Church Street, just behind Hamburger Mary's [GMap] and the owner, Jason Schofield, has been renovating the space ever since.
Schofield, also managed to open a popular sandwich spot in Ivanhoe Village in the interim, This 'n' That Eats (Facebook), which we've written about HERE.
Schofield and his Food and Beverage Manager, Scott Wenger, describe Maddey's as "New York Cosmopolitan," or rather a polished, casual approach to fine dining. Their scratch kitchen will specialize in mostly Italian dishes with some more contemporary twists. They'll be making their own cheeses, like smoked ricotta salata, blanc fromage, and mozarella as well as milling their own flour for the pizzas and pastas.
The New York Steak is advertised as the Perfect New York is 28-hour sous-vide wagyu beef, dropped into liquid nitrogen to seal the flavor, simmered in beef fat, grilled to a perfect medium rare, then topped with a blue cheese bone marrow and shoe string fries made with duck fat. It's Schofield's favorite thing on the menu.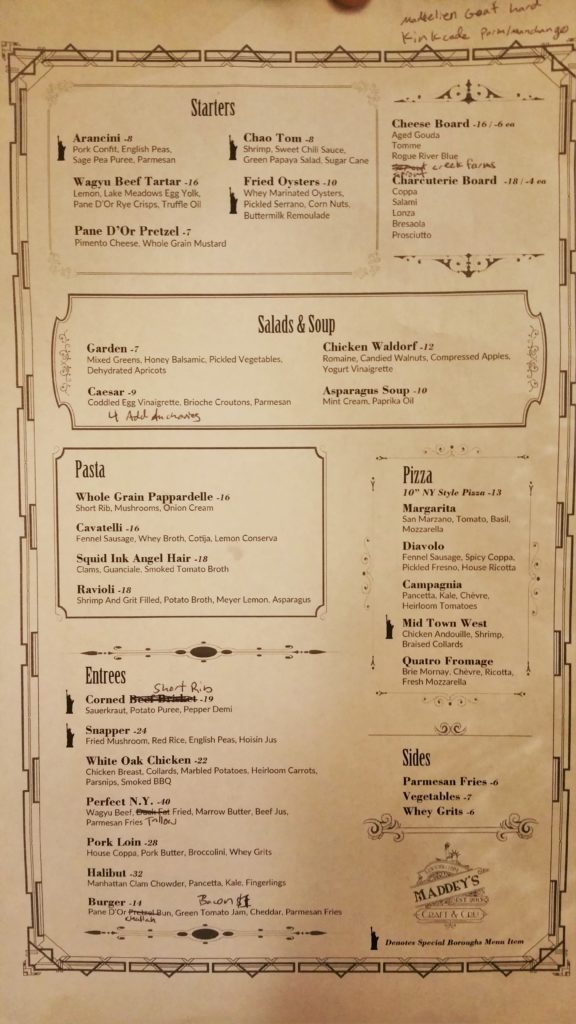 As seen in the photo above, they will also be offering charcuterie. The kitchen is currently processing an entire pig on-site, and they are expected to be finished soon and offering it to the public in the next 30 days.
Their Diageo-graduate, Pete, is a world-class bartender who has helped hone their drink menu. There will be a focus on spirits and some signature cocktails on tap (like those using product from St. Augustine Distillery), but there will also be eight drafts and 12 bottles of beer available. According to Wenger, "We're trying to take the pretentiousness out of speak easy atmospheres. We'll have quality cocktails, but we're also serving Miller High Life." The ice for their drinks is being cut by hand (by chainsaw rather) three times a week. We posted a video of that on our Instagram, @orlandobungalower.
Original wine cellar space underneath the main restaurant is still being updated but will soon be available for special event rentals.
Maddey's Craft and Cru will be soft opening this Wednesday, June 8 at 11 a.m. for lunch service, followed by a friends and family day and ultimately a full opening later next week.