UPDATE: The soft clsure on northbound Orange Avenue at Michigan Street will remain, in order to prevent traffic on South Orange from flooding the area and congesting the side streets. The updated list of businesses that will remain closed includes:
East Side
Einstein Bagels
Wendy's
Radio Shack
Connect PCS cellphone Repair
Liberty Tax
Game Face Tattoo
No. 1 Celebrity Barbershop
Orlando Pro Care
West side
Pro Tint
Pulse
Dunkin Donuts
Stand up MRI of Orlando
 Businesses in the Pavlik Professional center
Pavlik Chiropractic
Standup MRI of Orlando
Orlando Foot & AnkleClinic
 S. Orange Physical Therapy
Pavlik Yoga
UPDATE: The roads affected by the district-wide closures will be reduced on Wednesday, June 15. See below image for more details.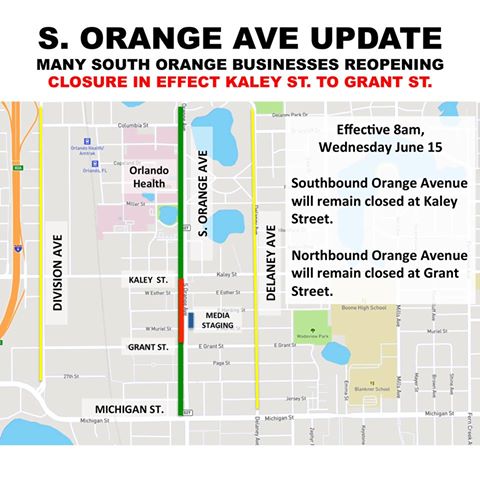 There is a long list of businesses that have been affected by the current road closures in Downtown South, as a result of the Pulse Orlando shootings. According to the Orlando Police Department, the investigation could last as long as a week. We've assembled a list of businesses that will need your patronage following the re-openings of the roads, based on the Business Tax Receipts from the area.
We'd like to extend a big thank you to our friends at the Downtown South Main Street (Website) for pulling this list for us.
5 Star Cellular, 2323 S. Orange Ave., Ste. B, Retail Electronics
7-Eleven, 1823 S. Orange Ave., Service Station/Gas
Accel Motorsports, 2203 S. Orange Ave., Automobile Dealer
Arbys, 2600 S. Orange Ave., Restaurant
Bank United, 2495 S. Orange Ave., Branch Bank
Brick and Fire, 1621 S. Orange Ave., Restaurant
Captive Digital Records, 1731 S. Orange Ave., Production Studio
Chai Thai Cuisine, 2447 S. Orange Ave., Restaurant
Chipotle Mexican Grill, 2211 S. Orange Ave., Restaurant
Coinmach Corp, 120 E. Miller St., Laundry Machines
Costume Couture, 2017 S. Orange Ave., Retail/Variety Store
Dee Alvarez, 2014 S. Orange Ave., Massage Therapist
Dunkin Donuts, 2000 S. Orange Ave., Restaurant
Einstein Bros. Bagels, 1901 S. Orange Ave., Restaurant
Fantasy Cruises & Tours, 2007 S. Orange Ave., Travel Agency
Fifth Third Bank, 2394 S. Orange Ave., Branch Bank
Foreign Accents, 2301 S. Orange Ave., Retail Merchant
GameFace Tattoo, 2015 S. Orange Ave., Tattoo Parlor
Harbor Bank, 2320 S. Orange Ave., Branch Bank
Jennifer K Runde Spa, 2014 S. Orange Ave., Ste 101, Massage Therapist
Kirkpatrick Veterinary, 2401 S. Orange Ave., Animal Kennel
Melissa Best, 2014 S. Orange Ave., Massage Therapist
Number One Celebrity, 2015 S. Orange Ave., Barber Shop
Numero Uno Restaurant, 2499 S. Orange Ave., Restaurant
Orange Shell, 2645 S. Orange Ave., Retail Merchant
Orlando Ace Hardware, 2218 S. Orange Ave., Retail Home/Building
Pavlik Health, 2014 S. Orange Ave., 102, Instructor/Tutor
Pizza Hut, 2435 S. Orange Ave., Take Out Restaurant
Planet Smoothie, 2441 S. Orange Ave., Restaurant
Pro Tint and Detailing, 1900 S. Orange Ave., Service
Radioshack, 2001 S. Orange Ave., Retail/Electronics
Ragin' Cajun Bike Shop, 1809 S. Orange Ave., Service
Renee Lorraine, 2014 S. Orange Ave, Massage Therapist
Starbucks Coffee, 2453 S. Orange Ave., Retail/Variety Store
Subway Sandwiches, 1742 S. Orange Ave., Restaurant
Suntrust Bank, 1601 S. Orange Ave., Branch Bank
T-Mobile, 2380 S. Orange Ave., Ste. 70, Retail/Electronics
Taco Bell, 2474 S. Orange Ave., Restaurant
The Polished Room, 2429 S. Orange Ave., Beauty Parlor
The UPS Store, 2423 S. Orange Ave., Service
Tire Kingdom, 2100 S. Orange Ave., Auto Service/Repair
Vapor Krew, 2307 S. Orange Ave., Retail/Merchant
Wells Fargo Bank, 2610 S. Orange Ave., Branch Bank
Xclusive Nail Bar, 2501 S. Orange Ave., Beauty Parlor
Zoraida Nieves, 2014 S. Orange Ave., Massage Therapist