By Chef Bob Aungst
Like every Dad I know, and just about every man in fact, I love a good burger. There's something about the simplicity of it – just meat in a bun- that makes it so satisfying.  In fact, they're so popular that Americans eat 50 BILLION burgers a year.  That's three burgers a week for every single person in the United States.  That's a lot of beef.  There's even a Hamburger Hall of Fame in Seymour, Wisconsin.  I don't typically eat three burgers a week, but some of you may find yourself on the juicy side of patty deliciousness more often than I do. I see no reason to mess with a good thing but lately I have been curious to check out the non-traditional burger offerings in the central Florida area. I wondered what other proteins, toppings, and sauces a foodie adventurer like myself might come across.
The origins of Hamburgers can be traced to the late 19th or early 20th century, where they were created out of a necessity for faster food options. Industrialization meant people were working more and had less time for preparing meals. The hamburger is typically, without argument, attributed to the United States, and considered as American as apple pie and fried chicken. Yet despite that fact, it is considered to have come from Hamburg, Germany when immigrants brought over the concept of chopping beef, seasoning it, and forming it into patties–known as Hamburg steaks, without a bun or bread. According to food blogger Tori Avery, New York's Delmonico's offered a Hamburg steak on their original menu. It sold for $0.10, which was twice the cost of anything else on the menu, including pork chops, veal cutlets, and roast beef. As workers began working longer hours, and overnight shifts, food carts were created out of necessity. Since it was difficult to eat the Hamburg steak while standing, the patty was placed between two slices of bread, and the hamburger sandwich was born.
Many other proteins can be formed into a patty besides beef: bison, turkey, chicken, seafood and shellfish, and beans, legumes and vegetables. Turkey burgers were popular for a time, but their prevalence seems to have faded a bit. In the midst of a mouth-watering dream one recent night, I was struck with a tasty new variation for the cast aside turkey burger.
Many people are familiar with the Thanksgiving and holiday option, "Turducken". This cleverly named holiday entrée is to Thanksgiving as the "ugly sweater" is to Christmas. Turducken is a dish consisting of a de-boned chicken stuffed inside a de-boned duck, further stuffed into a de-boned turkey.  In the 1950's, a New Orleans surgeon, Dr. Gerald R. LaNasa was locally known for his use of a scalpel in de-boning fowl. He sometimes added pork or veal roasts into the innermost bird's cavity, thus preserving the Turducken tradition as a regional holiday favorite in the South.  Chef Paul Prudhomme trademarked the name in 1986, clenching its role in history and tradition.
As I dreamed of food and new recipe ideas (as chefs often do), I envisioned the "Tur-Mac-On" burger. A turkey burger piled high with Mac 'N Cheese and topped with Bacon. BB Junction (Website)  in Winter Park offers a quality turkey burger, along with several other protein choices, including vegan an vegetarian options, made like a turkey loaf. The loaf keeps it moist, tender and flavorful (dried-out patties being a common downfall of turkey burgers). The Tur-Mac-On doesn't exist on their menu, but I ordered a turkey burger with bacon, with a side of Mac 'N Cheese, and built it myself. The secret to all great food is quality ingredients, and it's clear BB Junction uses great ingredients, and many are sourced locally, including some from Lake Meadows. I feel you can top almost anything with bacon and Mac 'N Cheese, and it will instantly be amazing, so feel free build your own burgers with delicious kickers.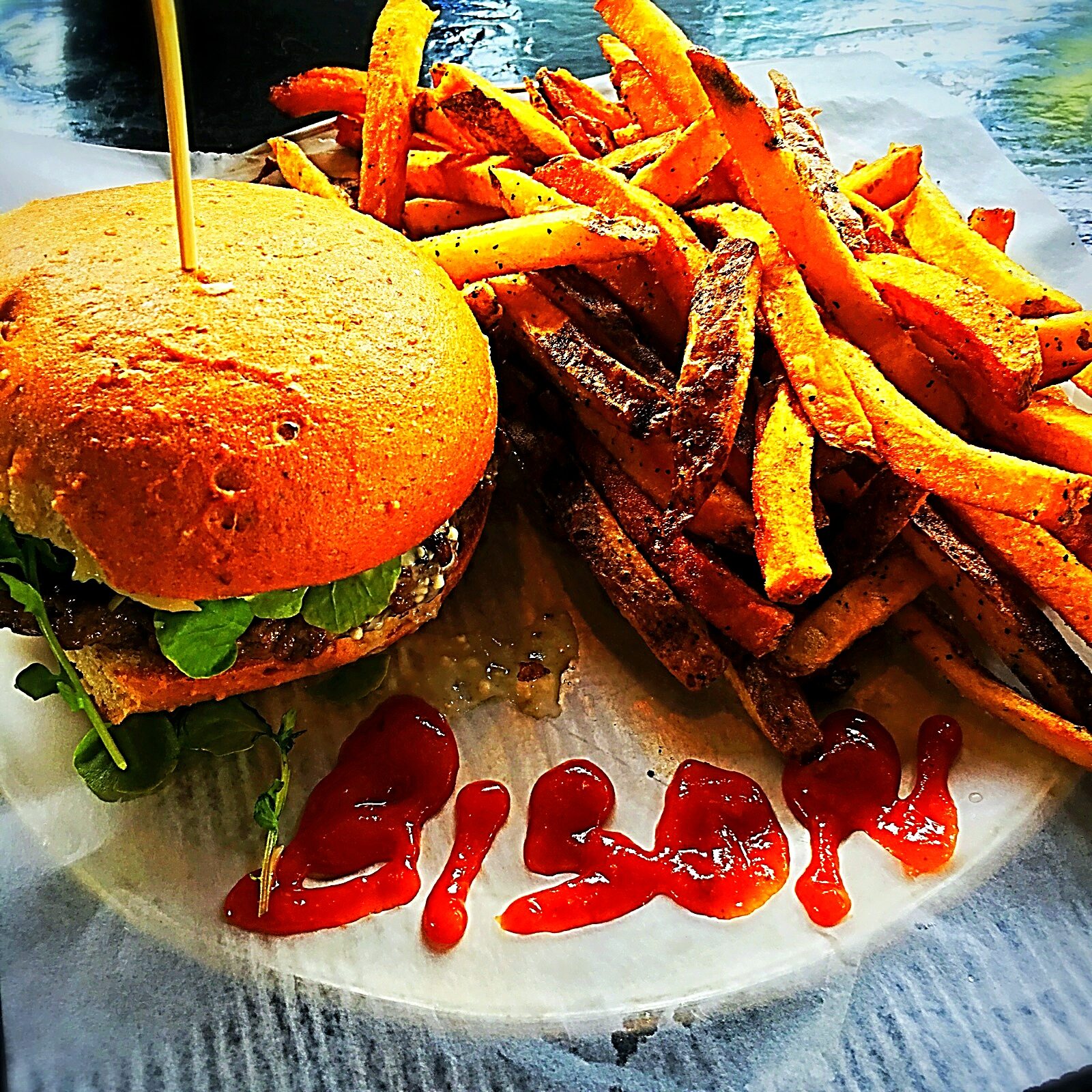 Next, I also took a bison burger for a spin. Bison generally has fewer calories, a lower fat content, yet more protein than beef, making it a good choice for the health conscious meat eater. Extremely nutrient dense, a single serving provides good amounts of iron, zinc and the antioxidant selenium.  If you are new to cooking with this incredible "Other Red Meat", I suggest buying ground bison and substituting it for just about any beef recipe, such as burgers, chili or meat sauces. This leaner alternative to beef has a great taste, but can easily be dry as a turkey patty if overcooked. You will want to order bison burgers a bit more rare than you normally would a beef patty.
BB Junction sources their bison from Canada, as do many establishments in the United States. Topped with creamy blue cheese, caramelized onion jam, garlic-truffle aioli, and watercress, this burger was a fun switch from the usual beef.
Continuing my quest to find beef alternatives, I wandered into Kasa (Website) in downtown Orlando. I was particularly interested in their Crab Cake BLT. You might not think of a crab cake as a "burger", but theirs is formed into a beautiful patty, topped with colorful veggies, and situated between a golden bun— and as I said before, a patty in a bun is a burger in my book. This is a unique alternative for any pescetarian. If only all crab cakes were created this equal.
While the many options I found were fantastic, I'm still partial to a good, old-fashioned beef burger. I stopped by the newly opened Square 1 Burgers & Bar (Website) in Winter Park. I choose an Angus beef burger called the "SOB," meaning South of the Border. It featured all Angus meat, known for its flavor, marbling and tenderness, and topped with black bean and corn salsa, jalapenos, avocado, and the real star of the show: Fritos corn chips!  The meat was great on its own, but the chips kicked it up to a whole new level.
My gift to you on this Father's Day is a gift you can give your Dad; the secret instructions on making the perfect burger. The key to a great burger, regardless of the protein used, is to start with quality ingredients and cook it properly.  Use the freshest of ingredients, which require very little seasoning, and cook it the right way, by following these steps:
preheat your grill to approximately 500 degrees.
While it is heating up, form your patties. Using your 3 middle fingers (pointer, middle and index) make 3 good-sized dents in the patty. These dents prevent the burger from "ballooning" during cooking, which encourages novice grillers to mash it down and release all the wonderful goodness.
Season the patties with salt and pepper on both sides.
When the grill is ready place the patties on it and grab a cold beer (or your beverage of choice).
You will want to open the grill and admire them… DON'T!
You will want to flip them so many times they will think they are a trapeze act…. DON'T!
You will most definitely want to squeeze the precious juice from them…. Please DON'T!!
Leave them be until the edges start to pull up from the grill–approximately 5 minutes for a 1/3 pound beef burger.
THEN you can flip them…. ONCE!
Close the grill and go get another beverage, they are almost ready.  At the point when I flip the patties, I also do 2 other things: I add cheese if I'm using it, and I place the buns, that have previously been wrapped in foil, on the top shelf of the grill to warm up.  I love toasty buns!  I also add pre-cooked bacon, if I had the foresight to make it ahead of time.
Like a great steak, the key to a juicy burger is to LET-IT-REST for 5-7 minutes so all the juices can come back to the center of the burger.  Put them on a plate, loosely cover them with foil and make sure everything else is ready.
A fun final fact… soldiers during WWI referred to Hamburg steak sandwiches as "Liberty Sandwiches" because they wanted to avoid reference to all things German. We've obviously moved beyond the negative emotions associated with the name, but I still think the name "Liberty Sandwiches" represents so much about what we love in Our Great Nation and the people who come together to support, embrace and love one another, in spite of all differences and beliefs.
Happy Father's Day! #DaddyWantsAPatty
—
Chef Bob Aungst is a freelance chef based out of Maitland, Florida. During his thirty-year career, Aungst has served three U.S. Presidents, countless political leaders, professional athletes, and celebrities. He is passionate about really great food that's well-made from the finest ingredients. Chef Bob will be writing a series of guest posts for Bungalower in an attempt to simplify "chef speak" into plain English, while highlighting the many fantastic food options in the heart of Orlando.
In addition to corporate and private catering, Chef Bob also focuses on gluten free recipe development and restaurant education, and his private label lines of locally roasted coffees and hand crafted gluten free flours. More information is available at www.RocksSticksAndHell.com.