Most of the places to get your Orlando United/Orlando Strong shirts are online delivery options only, including our shirts that are available on shop.bungalower.com. The response for our shirts has been overwhelming, with over 400 orders made in the first night alone. Our pickup option for Saturday quickly reached capacity and we're already reaching capacity for next week's Saturday pickup option as well.
A number of you have been writing us asking where you can get a grab-and-go shirt option in the Orlando area. Your options are slim, but there are a number of places you can get a shirt that is supporting the right causes.
We will be updating this list throughout the day as we continue to identify more places to buy these shirts in person. Please let us know if you'd like to add your shop to our list.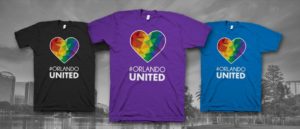 The #OrlandoUnited branded t-shirts benefiting the City of Orlando's OneOrlando Fund are available at the following locations below:
Orlando Magic Team Store (Amway Center) on Friday, June 17, 2 p.m. to 6 p.m.
Camping World Stadium during the MLS game on Saturday, June 18
Amway Center during the AFL game between the Predators and Tampa Bay on Friday, June 24
Local Love Orlando is working on another glut of shirts and maps to be available in the Downtown Information Center as soon as possible. 8″x 10″ Maps will be available to purchase on Monday but shirts aren't expected to be ready until Wednesday. The shop is open from 10 a.m.-5 p.m. Monday to Friday next week.  Sign up on LocalLoveOrlando.com to be notified via email as soon as the store is live.
The Shoppes of College Park are selling Orlando Strong t-shirts made by a "local mom." $5 of each shirt will be donated to Cory Connell's family, since he was a College Park resident and an Edgewater High graduate.