Here is a look at some of the best events taking place this weekend.
Visit the complete events calendar by clicking on "Events" in our main menu.
If you'd like to have your event added to our calendar, simply send a link to your Facebook event page to [email protected] It's that easy!
Be sure to tag us in your Instagram photos, @orlandobungalower, so we can see how much fun you're having.
Friday, August 12
Same crawl. Same fun. New name! We're thrilled to announce that starting in August, the Conductor Crawl is pairing up with Orlando Bike Tours to provide curated local adventures for the curious by both train and bike! For more information, please head over to our website atwww.localmotive.tours! The Conductor Crawl is focused on highlighting advantages of using public transit to enhance the "everyday" experience of life through friendly, thought-provoking and enlightening interactions. Most notably, mingling and networking with the help…
Back by popular demand! Calling all Dancing Queens and Super Troupers – the light is going to find you #atTheAbbey when we present MAMMA MIA! on our big screen! What's the name of the game? You sing along to all your favorite ABBA songs you know and love – we'll provided the drink specials, candy buffet and complimentary popcorn, as well as prizes for best costume! $15 General Admission in Advance/$20 at the Door/$25 VIP
The Brawl is back at SAK! This extremely popular yearly competition pits twelve themed improv teams against each other to see who will be the Brawl Champs in this hilarious and unpredictable show! This week,we've got two first round match ups! In the first half, see WEEKEND W/ GRANDMA & GRANDPA take on MIDNIGHT NOIR. Then THE MARIO BROS do battle with THE OLYMPIANS. Tickets are only $10. Show starts at 11:30pm. Tickets available online at sak.com! Come on…let's BRAWL
Saturday, August 13
For all the details and to register: http://trackshack.com/events-detail.php?id=233 Join Us for a Celebration of Running on Saturday, August 13 near the Orlando Science Center in the Orlando Cultural Park! 7:30 a.m.: 5k (3.1 mi.) 8:45 a.m.: Healthy 100 Kids' Run (free) 9:00 a.m.: Awards Presentation Celebrate with a MEDAL, GENDER SPECIFIC TECH-T and a post-race celebration … Track Shack's 24th Annual Celebration of Running 5k kicks off the Florida running season, the anniversary of Track Shack Running Series and the…
The War on Wall Street is one of the most popular Hard 2 Kill Athletics events! Join us for our one day, co-ed Team event in the heart of downtown Orlando, Wall Street Plaza. Co-Ed Teams of Four (2 Men/2 Women) Registration opens in June 13th!
PRESENTATION IN OMA'S SUNTRUST AUDITORIUM – 1-2PM Join Noelle Mason, winner of the 2016 Florida Prize in Contemporary Art, as she shares insights about her work. Mason is a Tampa-based artist who uses embroidery and tapestry weaving to create her jarring artworks, which expose systems of political and social power. Noelle has selections from two bodies of work currently on view in the OMA galleries – one series that analyzes the politics of the US-Mexico border, and another that interprets…
Come join us at one of the most anticipated events on the year. The Canine Memorial at Lake Baldwin is a one-of-kind event that brings together animal lovers from near and far to celebrate the bond between human and "man's best friend". Through the use of music, lantern dedication, and other activities, this memorial helps attendees support one another as they come to terms with the loss of their beloved canine companions. Please reserve your lantern to guarantee availability, absentee…
Sunday, August 14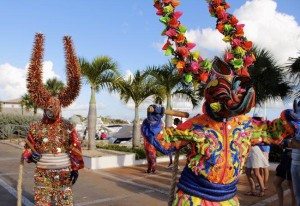 The Carnaval del Merengue is traditionally from Dominican Republic that celebrates the independence of the country. In celebration of the culture, the Festival of Merengue will also celebrate such holiday in Kissimmee, Florida. The festival's main event is a parade of "Diablos Cojuelos" and music, as seen in the Malécon of Santo Domingo. The success of the celebration comes from the dance culture of merengue – the nations' most popular dance for 150 years now known internationally as one of…
Public On-Sale: 10 a.m., Friday, April 15, 2016 Dr. Phillips Center Members get Pre-Sale Access. Not a Member? Click here: Dr. Phillips Center Members VIP Tickets will be available at 10 a.m. on Tuesday, April 12. Use promo code ALICE to access VIP tickets. All VIP tickets & merchandise will be distributed at the designated VIP check-in table on the day of the show. All non-VIP tickets (Print-At-Home, Will Call, and Mail) will be available two (2) weeks after purchase.…