The resurfacing of all lanes on Colonial Drive between OBT and Shine Avenue is about to begin. Colonial Drive was last milled and resurfaced in 2003 and FDOT states that the pavement on this stretch of road has reached the end of its service life. The total distance of this project is approximately 1.6 miles.
Lane closures, during the construction, will occur only at nighttime.
A list of recommended improvements include:
Milling and resurfacing of all lanes on State Road 50, including all parking and turning lanes.
Eliminating on-street parking on both sides of Colonial Drive, from Westmoreland to Lake Dot circle.
Addition of on-street bike lane to the space where designated parking currently exists.
Sign upgrades and addition of pedestrian signal heads at all signals and intersections, totally 10 signalized intersectins and 16 un-signalized intersections.
The "hump" at SR 50 and Mills 50 will be overlaid to improve the roadway.
Curb ramps and bulb outs will be constructed to enhance pedestrian safety at some intersections.
A number of utility poles will be relocated to satisfy ADA requirements.
The dotted line on either side of the interstate is exempt from this current construction phase, as it is impacted by the work being done on the I-4 Ultimate project. All work on that stretch will be done through I-4 Ultimate.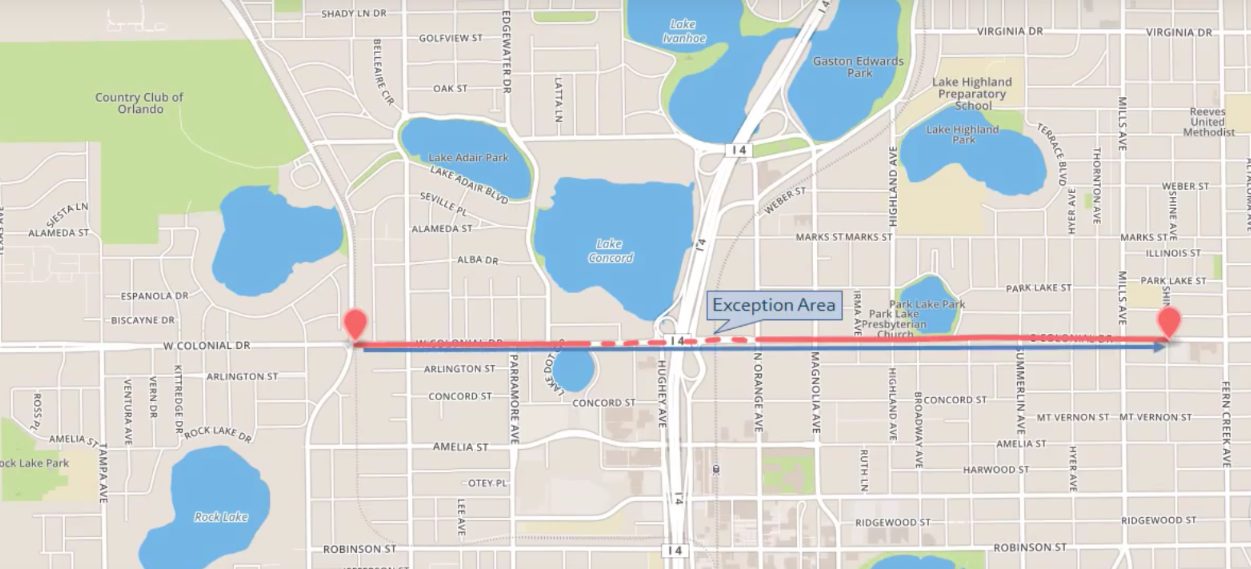 Affected area of Colonial Drive
The area to be affected by the I-4 Ultimate Exception Area shown above, is shown in greater detail, below.
The estimated completion time for the I-4 Ultimate and Ultimate Colonial expansion is 2021.
A construction launch date has yet to be released, but road signage and cones are beginning to appear along the planned construction corridor. Scroll down to watch the Public Meeting presentation from June, 2015.
We originally wrote about this construction back in February of 2015, HERE.