We first wrote about popular UCF restaurant Lazy Moon Pizza (Facebook | Website)  opening their new Mills 50 location back in 2015, HERE. Since then, they've hit a number of permit-shaped road blocks which has delayed their construction and planned opening in the former Cruises Only building [GMap], but the restaurant is getting closer to being a reality.
One of the owners, Matt Griffis, reached out to us concerning the delays, " … build-out has taken forever, but is finally coming to a conclusion as we have [received] some of the delayed approvals which have held us up."
Griffis did not tell us when to expect Lazy Moon to be open, but assured us that they would let us know as soon as they've jumped through their last hoop with the City. Editor's Note: He's a Bungalower fan too, so don't worry, we'll get the scoop.
Griffis invited us to visit the studio of local artist Blair Sligar, of Hog Eat Hog (Facebook ), to see a commissioned mural that was being made for the new location. The piece is really a triptych of three separate panels. Everything you see was created using spray paint and stencils, layered on top of each other like lasagna. The subject matter is Floridian wildlife with alligator gar, manatees, a swamp ape with a third eye, and even a nod to steam ships and alien architecture, a la the Linton E. Allen Memorial Fountain in Lake Eola. Sligar told us that the piece still still needed a lot of work but was coming together fairly quickly.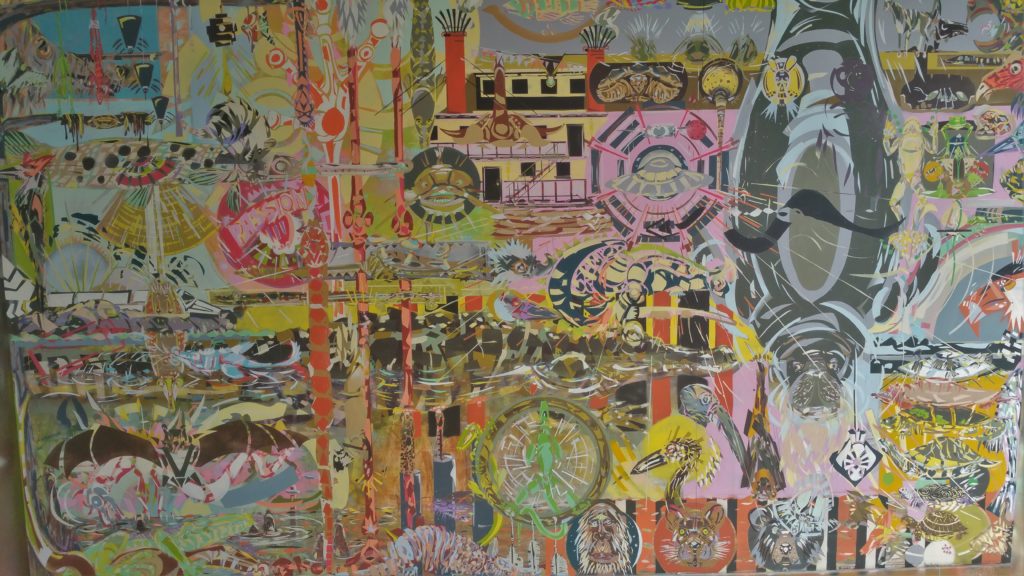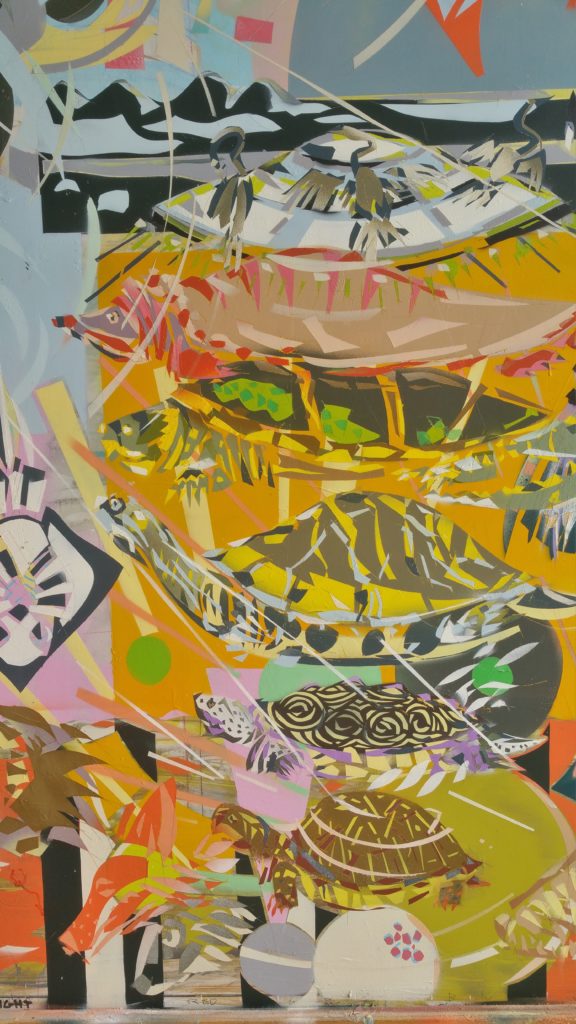 Sligar is also a woodworker by trade, although he's trying to do more painting lately. We managed to snap a few photos of his work space while we were visiting. Another woodworker/artist who happened to be there was Maxwell Hartley, pictured below with a massive piece of cedar that he's been widdling away at for months.