PHOTO BY COLIN FORWARD
UPDATE: FDOT's Steve Olson has informed us that November 5 will be the first Saturday served by the extended service pilot program. Looking forward, the schedule is fluid but they are currently cementing which select Saturdays will have train service, based on a venue-based calendar that will serve larger events in the Downtown core; like larger Magic games, concerts, the upcoming Electric Daisy Carnival, and the rescheduled Come Out With Pride event.
UPDATE: We reached out to the City of Winter Park who forwarded us the following quote from their contacts at SunRail.
"The SunRail operations team is currently working on a formal schedule and they have committed to making sure all our partners and stakeholders are informed once it's done. That should be happening very soon. At this point, though, we know SunRail will not be offering service this weekend. It will likely begin on November 5th. That will be confirmed shortly."
As we previously said HERE  Saturday SunRail service was expected to begin on October 8 in time for Come Out With Pride and the Autumn Winter Park Art Festival, which were canceled due to Hurricane Matthew. The Mayor had announced his plans in late September to run a pilot project that would extend rail service to Saturdays between October and January, 2017.
The cost for the new service is estimated at $20,000 each Saturday, for the four-month window.
SunRail published the following service schedule on their website, specifically for the October 8 unveiling, which they called "special event service." No other Saturday service schedule has been posted since.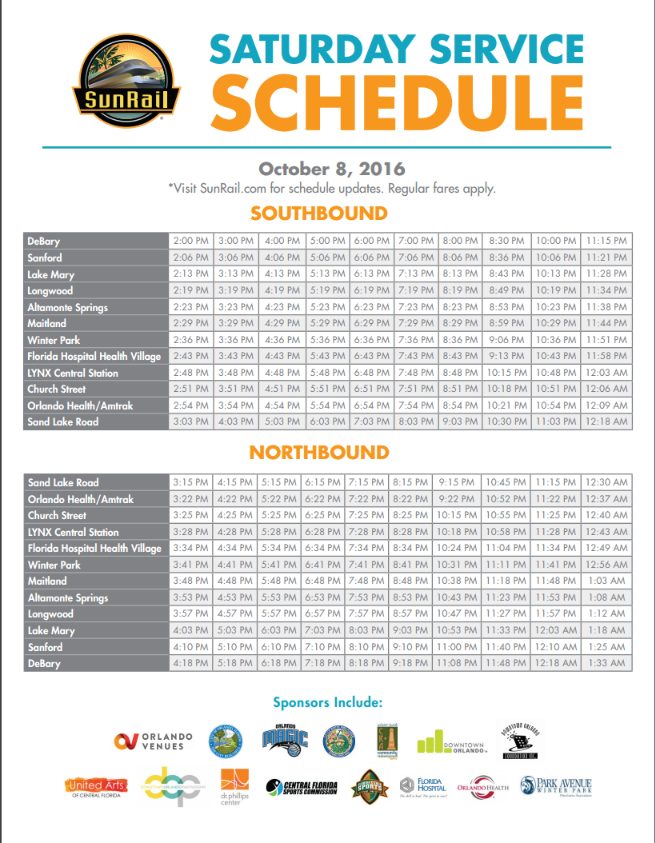 SunRail watchdog David Porter, with SunRailRiders.com, reported via Twitter on Friday, October 14, that Saturday SunRail service will now be delayed until November 5. We spoke with SunRail Customer Service, which informed us that the service has no confirmed launch date at this time, and that it will not be every Saturday, but rather event specific. They told us they would update their website once they had selected which events would be receiving Saturday service. There is currently nothing on the website about Saturday Service.
Editor's Note: While trying to get a hold of someone at SunRail to discuss this delay in the service schedule,  we learned that the FDOT team's focus has been drawn towards the East Coast as they're still trying to clean up the mess left behind by Hurricane Matthew. A large segment of A1A was washed away in the storm just before this week's Biketoberfest. Thousands of riders are being diverted through a nearby residential neighborhood to keep them safe and off the eroded segment of scenic highway by the beach. The same FDOT staff that has been hard at work since the storm trying to put out fires on the east coast, is the same staff handling calls in Central Florida. So I'd like to ask everyone to be a little bit patient when considering all of the work being done across the State by this small team of hard working people. We'll do the same.