Here is a semi-comprehensive list of construction activities in the Mills 50 Main Street District. Simply click on the links provided in the write-ups to see our previous coverage.
Have a tip on a local development? Email us at [email protected]
Former Circle K becoming C1 Bank
Location: 1349 North Mills Avenue [GMap]
News broke: December 14, 2015 HERE
The Circle K gas station at the corner of Virginia Drive and Mills Avenue has been demolished and the lot currently sits vacant. Construction seems to be slow, with the only activity that's happened since the aforementioned demo being the capping of the street trees in front of the billboard nearby.
Pho 88 opening Community Hall next door
Location: 720 North Mills Avenue [GMap]
News Broke: November 18, 2015 HERE
The owners of Pho 88 restaurant purchased this vacant building directly south of their space late last year. The original paperwork filed with the City stated that the owners were hoping to make the building into a wedding and reception hall space. Since then the building has remained fairly untouched, despite the building permit having been issued on October 20, 2015. The sheet of plywood went up around the time of Hurricane Matthew and has stayed in place since.
Chevron/Barney's property demolished for mixed-use building
Location: 1615 East Colonial Drive [GMap]
News Broke: June 29, 2016 HERE
The owner of the combined Chevron and Barney's Restaurant lots filed for a demo permit back in June of 2016. The site has been cleared and primed for development since mid-July. A conditional use permit was filed in 2011, which is still under review, according to the City's online permitting directory. A more recent permit pulled for the address is for a "restaurant/mercantile" space described as "9,000 SF Mercantile/Business to an existing 6,000 SF assembly space."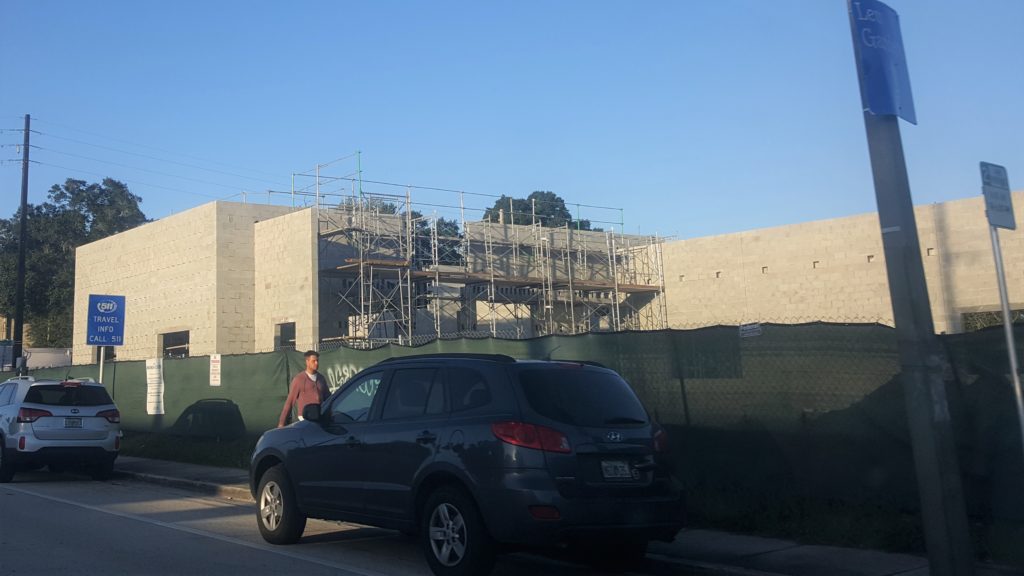 CFE Credit Union to rebuild Mills 50 branch
Location: 1200 Weber Street [GMap]
News Broke: December 6, 2015 HERE
CFE Credit Union is already well into the construction of their updated building on Weber. Construction is expected to be finished by March 2017.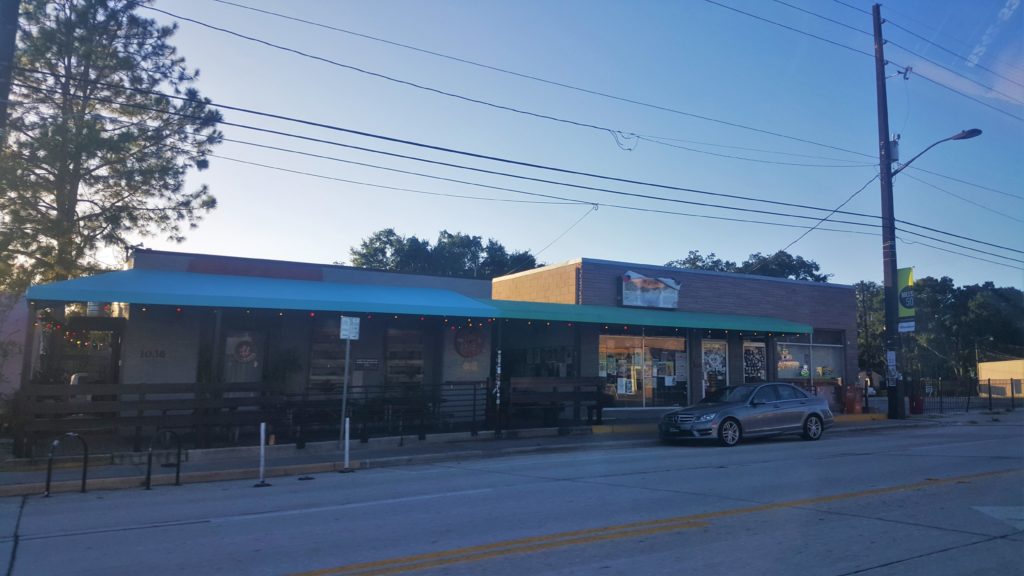 Will's Pub has a new patio awning
Location: 1042 North Mills Avenue [GMap]
News Broke: N/A
This was a surprise construction job to us. The awning wasn't there one day and suddenly was there the next. We say Will's Pub in the description, but in reality it covers the patio for Wills' sister venue, Lil Indies next door. This is most likely the first phase of build-outs for this corner as the old launderette is to be converted into another part of Will's growing compound, called Will's Dirty Laundry.
Hawker's $70,000 face-lift is underway
Location: 1103 North Mills Avenue [GMap]
News Broke: July, 2016 HERE
Hawker's Asian Street Fare received assistance through the City's Orlando Small Business Facade program that will help pay for a new metal awning over their outdoor patio, new fencing, new landscaping, and a fresh coat of paint outside.
Loch Haven Veterinary Hospital
Location: 921 North Mills Avenue [GMap]
News Broke: N/A
This lot was purchased in 2012, and is labeled as the "New Loch Haven Veterinary Hospital." The building has been under construction for a number of years now. Currently the Loch Haven Veterinary Hospital is located on Virginia Drive, in what was meant to be temporary lodging, just east of the Hideaway Bar. There is no published date of completion for this project.
Cruises Only Lazy Moon Pizza
Location: 1011 East Colonial Drive [GMap]
News Broke: November 16, 2015 HERE
UCF-favorite Lazy Moon Pizza is taking over a 5,000 SF space on the bottom floor of the former Cruises Only building on Colonial Drive. The owners have been stuck in permitting due to issues with their wood-burning stove but should be opening soon. We wrote about a mural the commissioned in September from local artist Blair Sligar, HERE.