Orlando City Soccer applied to get Temporary Use Permits to allow for parking on five lots, reviewed by City Council at the February 27th Council Meeting.
The permits would allow for parking for media and employees at 925 W. Church Street [GMap], a City-owned lot to the west of the stadium. The parking would be for credentialed media with parking passes only. On non-game days the lot will be locked, unless for occasional special events.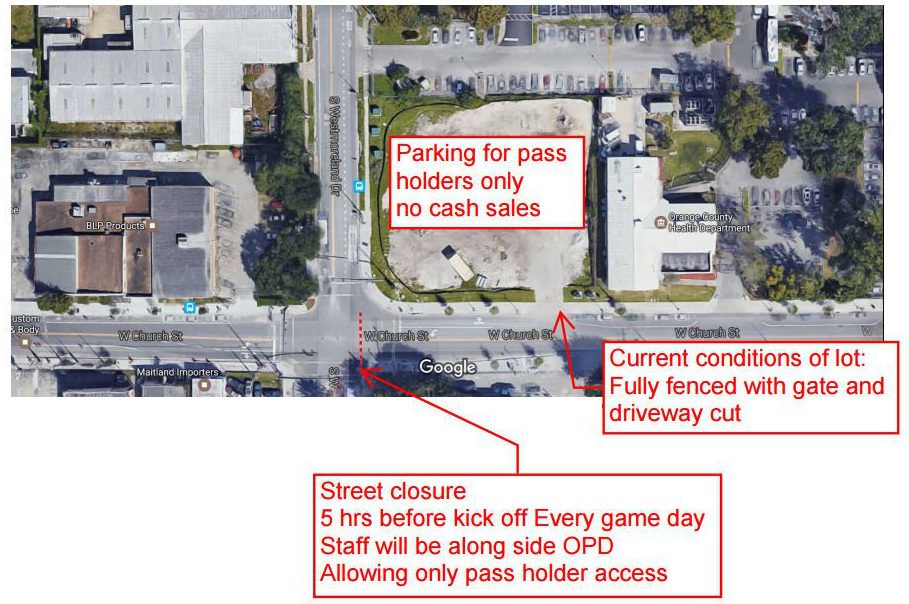 The other four lots will be for visitor parking and tailgating on MLS game days for fans with pre-paid parking. Each tailgating lot will have posted Code of Conduct signs warning against noise and rowdy behavior, as they are located in residential areas of Parramore. The lots will have portable toilets provided on game days. All tailgating activities must cease at 7 p.m., after the matches are over.
Conditions suggested for approval of the permits included that security be provided on-site during the games, that portable lighting and generators be located in areas that won't disturb nearby residents, and that the lots must be kept free of debris and trash.
The tailgating properties are located at:
Public Lots