By Brian Carlson (Website)
You can't deny people are awesome. Who doesn't like sitting down with good friends to ask them interesting, insightful, and funny questions? With that in mind, local photographer Brian Carlson, has introduced an ongoing photo and Q&A series called 11 Questions where he interviews Orlandoans he looks up to as well as people within the community that he's always wanted to get to know.
Ray Ehmen is a legend, though you've probably never heard of him. Ray owns and operates what is arguably the most epic record shop in Orlando, Rock 'n' Roll Heaven (Facebook | Website). His store is stocked wall to wall with some of the most rare LPs you can find. With all the memorabilia lining the walls you feel as though you've stepped into a rainbow when you set foot in his store. I've been going to Rock and Roll Heaven for over 10 years and each time feels like a different experience. Even when I don't purchase a thing, I still leave satisfied. Maybe it's the excitement of finding something new, the familiar face of Ray, or the eclectic music they always have spinning. I don't know. All I can say is I love this place. I think you'll like Ray and his irreverent style just as much as I do.
Who do you look up to?
Rick Dees. Anyone who can sing a song about a duck AND disco should receive a Darwin Award. No, seriously, Steven Seagal. He makes comedy seem effortless. Marcel Duchamp, he seemed to be in possession of it all. Intellect, creativity, irony. Progenitor of modern art. Left art to study science, math and physics. Then spent the remainder of his life playing chess.
Do you have a favorite album or band?
Please Come to Boston by Dave Loggins. It made me never want to move there. The Bonzo Dog Band. They were about Absurdism, Dada, and couldn't really be categorized. They seemed to cover every style of music with stabs of sharp humor. The first band that seemed to speak a language that I understood. Then, there are thousands of brilliant one off 45's and hundreds of perfect albums. Anything by Bernard Herrmann!
Favorite place to eat in Orlando?
Actually, it's a store in Umatilla named Stun Gun City. They have stuffed oleander leaves at the check out counter.
What gives you inspiration?
Sitting in abandoned cars dressed up like an earwig and sweating profusely while singing 'Feelings' into a magnifying glass. Taking dissimilar thoughts about concepts and objects and associating them with something commonplace or familiar. It is a stimulating mental exercise.
If you had a chance to live in a different decade, what decade would you choose?
The 1970's. Just to hear the theme to The Rockford Files played over and over. Probably the 1920's. The design, the cultural explosion in art, music, literature. Theremins!!!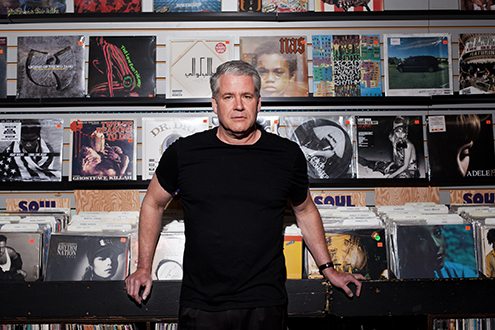 What in your personal life has influenced you to choose your career?
Watching a man eat a dozen paper napkins at Krispy Kreme with coffee, then asking for a refund. Hearing music as an infant gave the visual world a soundtrack to live every moment by.
What is your favorite thing about Orlando?
Ordering a Philly cheese steak at the flea market, then discovering it's a real Philly!! It really doesn't have any identifiable culture to speak of so it forces you to retreat within your own thoughts and imagination, due to it's lack of sensory stimulation, and discover something else that gives it all purpose.
If you could mate two different species of animals what would they be?
A pterodactyl and John Davidson. I would like to see if that stiff head of hair could ever move while soaring through the atmosphere. Oh wait, one is a flying reptile and the other is a lizard.
Is there anything you haven't done yet that you feel compelled to achieve in the future?
Taxidermy and a nail technician. Re-gluing claws and talons to badgers and ospreys would be such a challenge! It's pretty fair to say that I would love to someday find the time to pursue more studies in all levels of the humanities, the arts, spirituality, and world travel. To bring myself closer to what is divine about our world and the universe.
What rejuvenates you?
Playing a washboard adorned with colored lights in front of a herd of hippos over a bed of embers. They can't stand the sound of the word "tarnation." Physical exercise, crossword puzzles and sharing free associated banter with friends. It releases all of the beneficial brain chemicals, allows for escapism, and oxygenates the mind, body and soul.
What are your other interests?
Somnambulating in the middle of the lil' 500 go-kart track dressed as a capybara eating a photo of Fleegle from The Banana Splits. Mostly subjects dealing with all of the arts. Helping animals, life in other dimensions, plants, and natural healing.
EDITOR'S NOTE: THIS INTERVIEW WAS ORIGINALLY POSTED BY CARLSON ON HIS OWN BLOG IN 2013. NEW INTERVIEWS WILL BE POSTED ON BUNGALOWER THIS SPRING.