This fall, a new restaurant called The Glass Knife (Facebook | Website) will open in the former home of Italio Modern Italian Kitchen, located at 276 S. Orlando Ave., [GMap] this fall.
Steve Brown, the owner, named the concept in honor of his mother, who collected vintage 1920's era glass cake knives. Glass knives were used to cut acidic foods, as their flavor could be tainted by steel knives, and stain the utensils over time. They were made with tempered glass, like this one below, and were extraordinarily sharp.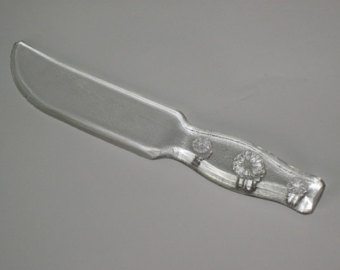 The new 3,000 SF restaurant will focus on coffee and cakes, under the direction of Executive Chef Stuart Whitfield, who has worked with Four Seasons, Walt Disney, Le Cirque, and davidburke & donatella. Chef Stuart is also working on a variety of artisanal donuts like Lemon Meringue Pie and Peanut Butter Cup.
Soups, salads, and sandwiches will also be served.
The black, gold, and pink exterior of the building was designed by Orlando-based Gravity Architecture and Design (Website) to look like a pastry box.