I Wish This Was is a monthly series that transforms ignored, vacant lots and properties in Orlando into something the City Beautiful can be proud of. This series is made possible by our partnership with Interstruct Inc., a leading design and construction group based out of Orlando, and its founder, architect Ryan Young. 
This month's I Wish This Was column takes a look at an empty lot in Downtown Orlando, located between the Waverly and Capital Plaza II [GMap].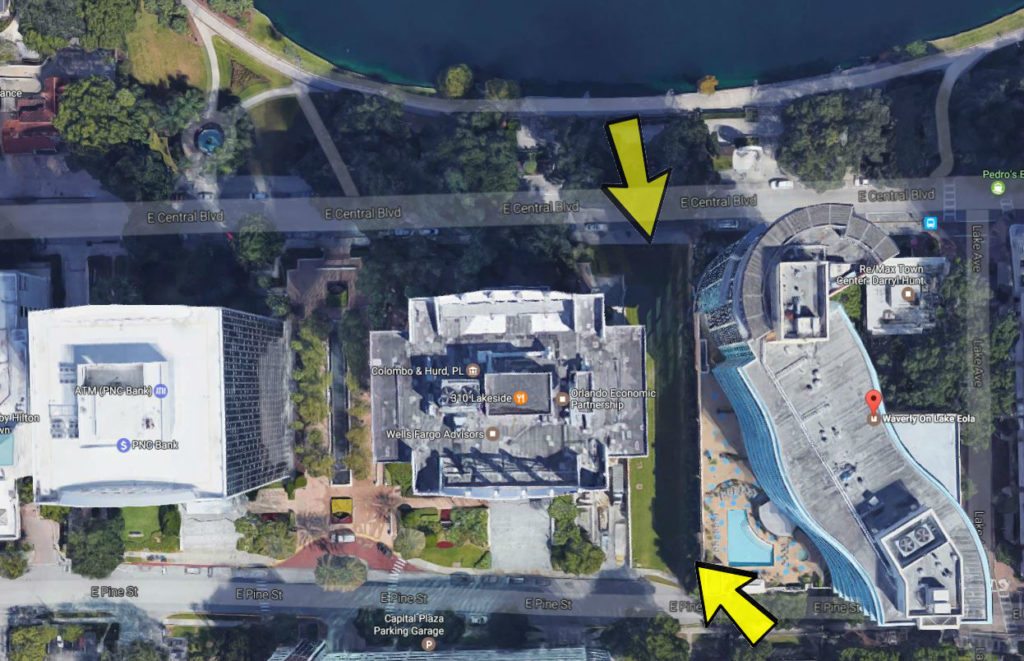 This breezeway was originally proposed as a drive-thru for the bank when Capital Plaza II was being developed, but that obviously never came to fruition. Currently, it's only use is as a cut-through for pedestrians, or a grassy guerrilla dog toilet. Unlike the plaza between CP I and II, which has hardscape and an integrated water feature.
This urban intervention would bridge Central and Pine at a pedestrian scale, acknowledging the importance of creating a formal connection between the two streets. Young suggests installing a series of architectural portals to create an organic volume of outdoor space. The portals would be created using temporary steel-frame structures, layered with LED tech.
"The portals would frame a moment in time through the physical experience, as the pedestrian walks through the sculpture. The pedestrian could also interact with the frames through real-time social media and tech." – Ryan Young
Real-time social media feeds and posts could be linked via WiFi as a users phone connects with each frame as they pass underneath. The frames would change with the seasons or for special events. This specific rendering was done as a tribute, and in remembrance of, Pulse Nightclub and Orlando United Day.
Scroll down to get a better look at what this space currently looks like.
Editor's Note: If you see an I Wish This Was concept that you'd like to make happen, reach out to us at [email protected]