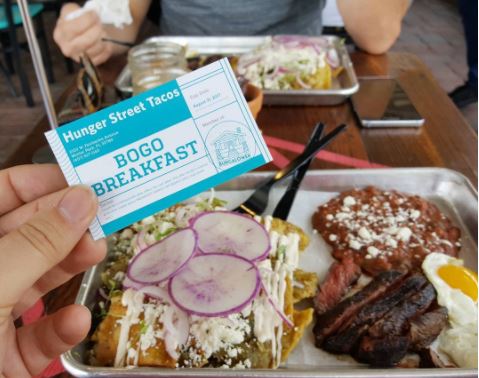 Are you a Bungalower Bundle subscriber? Each month we send out three to five curated offers to some of the businesses we've highlighted in the previous month. It costs just $9.95 a month and you get between $30-$50 in savings mailed to your door.
100% of your membership goes to support Bungalower. 
Previous offers have included a free cocktail at Lazy Moon Pizza, a $10 gift certificate at the Courtesy Bar, or a bogo canoe rental at Wekiva Island.
June 2017 offers include:
BOGO Breakfast at Hunger Street Tacos
–
Winter Park
– Hunger Street is fast becoming THE place to get your taco-fix in Winter Park. In fact, it's so popular, they've now branched into breakfast. They'll be serving up their fancy eats alongside homemade horchata and JJ Juice mimosas. Break your fast with this BOGO offer.
FREE Dessert with Lunch at Brooklyn Coffee Shop
–
Mills 50
– The Brazilian owner of this Brooklyn-themed coffee shop in Mills 50 is already on our A-list of local heroes for bringing "shakshuka" to Orlando, but their sandwiches are just as good. They're still fleshing out their interior decor, so go in with an open mind and an empty belly, and you'll like it just as much as we do.
10% Off Lunch at Reel Fish Coastal Kitchen and Bar
–
Winter Park
– These guys are part of the North Orange, Winter Park renaissance that's taking the local culinary scene by storm. Located in the former home of the Ravenous Pig, Reel Fish specializes in local, fresh seafood. Their new lunch menu is the perfect way to break up the day, and their location makes them an easily accessible Winter Park option for those of you who are afraid to parallel park on Park Avenue (or afraid of those who can't parallel park on Park).
BOGO Beer at Burton's Bar – Thornton Park – This location has been serving cold beers for arguably 80 years, if you include that recent phase when they put ziploc bags of ice in your pitcher. It's been recently taken under the wings of the gentlemen behind craft cocktail Narnia, The Woods, but they've promised to keep it as pure-Burton's as possible. Go check out the newly unveiled renovations and enjoy a beer on us!
Gather & Love Postcard
– Our partners at Orlando Shirts and Yelp Orlando held an event recently, in memory of one year passing since the shootings at Pulse Nightclub. We created a black and white shirt design that the community could tie-dye and wear at Orlando United Day activities, free of charge. The following design has been left black and white for you to color at home, and "rainbow-fy" yourselves. A colored version of the shirt is available at 
shop.bungalower.com
 with a portion of the proceeds benefiting M
ental Health Association of Central Florida
.