Here is a look at some of the best events taking place this weekend. Remember, you can always visit the complete events calendar by clicking on "EVENTS" in our main menu.
If you'd like to have your event added to our calendar, simply send a link to your Facebook event page to [email protected].
We've recently added a handful of new categories to our online calendar, including Call to Artists, Pub Crawls, Pop-ups, Date Nights, and Yoga events.
FRIDAY, JULY 28
Jaimil Yogis, author of Saltwater Buddha, will be reading from his brand new book out from Harper Wave, All Our Waves are Water. In this humorous, meditative memoir—a fusion of Barbarian Days and the journals of Thomas Merton—the author of Saltwater Buddha reflects on "stumbling toward enlightenment," his continued search to find meaning in the world's oceans as well as in the highs and lows of everyday life. For Jaimal Yogis, the path to enlightenment is surfing.
Orlando's Largest group ride rolls out for a HOT ONE! Come join us this Friday and we take back the streets and enjoy a nice summers eve riding our bikes around the city beautiful! All bicycles (HPV) are welcome! please wear a helmet, bring lights, have some fun! See you Friday! Ride will leave (promptly) at 6pm.
Bring blankets, chairs, snacks and the whole family to enjoy this year's selections. Leashed pets are welcome. Be sure to arrive early to secure a spot and enjoy some of the pre-movie activities. Food will be available for purchase. The event begins at 6 p.m., and the movie will begin around 8:15 p.m.
Come in early for extended Gallery hours — peruse the collection and current exhibition before settling in for an evening of popcorn and a documentary! Extended hours: 4:30 – 6:00 p.m. Film: 6:00 – 8:30 p.m. Finding Vivian Maier (2013) 1 hour 23 min. A documentary on the late Vivian Maier, a nanny in 60-70s New York and Chicago who, unbeknownst to many, had a secret passion for photography.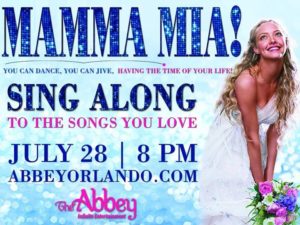 You can dance, you can jive…calling all Dancing Queens and Super Troupers, the MAMMA MIA! Sing-A-Long is back for a return engagement! The light is going to find you when we present MAMMA MIA! #atTheAbbey. What's the name of the game? You take a chance at singing along to all of the ABBA songs you know and love, we'll provide the big screen and the drink specials.
Dedicating the party to Latin America's vibrant music, art, language and culture. Break out those summer clothes because July in Florida is when the heat turns up! What's best to forget about it than to dance it off to some dope Puerto Rican salsa, Dominican merengue or some Brazilian funk? Expect Reggeaton, Moombahton, Cumbia, Zouk, Salsa, Merengue.
SATURDAY, JULY 29
Join us as we celebrate Blue Bird Bake Shop's 7th anniversar. New flavors, $2 cupcakes, and more surprises! Saturday, July 29th, 2017 Wear your Blue Bird T-shirt, baseball cap or a Top Hat and receive a free cupcake.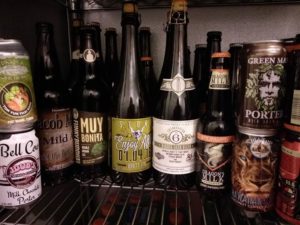 Our last bottle share was a success and we still have some cool beers to add to the party. Bring something special you have in your collection and share with others in the taproom! Stash Box BBQ Food Truck will be on site and making their first appearance here.
SUNDAY, JULY 30
Our most popular event! Explore the scenic canals of Winter Park with this guided SUP tour! We will be launching from our usual hangout at Dinky Dock and take a tour through the canals to Lake Osceola and then through the Venetian Canal to Lake Maitland. This is a very scenic tour presenting plenty of great photo ops, and we will be taking lots of pics for you to share later. Please note that this is not a beginner lesson.