Inhabit is a series by local photographer David Lawrence (Website), that shares stories about the people who call Orlando home. It's an exploration of where people live and spend their days, whether that be at home, in an office, the streets of downtown, or anywhere in between. Lawrence explores who people are and how they ended there.
This is the second part of a two-part series where Lawrence interviewed neighbors who were affected by Hurricane Irma.
*This interview was transcribed and edited from an audio interview.
I was sitting in my house this afternoon and thought to myself, what if we did a Inhabit: Hurricane Edition?
So I set out on foot and began saying hello to anyone I met along my walk. I asked who are you? Did the hurricane break anything in your home? What was your favorite hurricane food? Did the hurricane match up with what you expected of it?
"I'm brock. This is Olivia. We are from Los Angeles. We have lived here about a month and a week."
Olivia: "I just ate some leftovers- I made rice, sweet potato, avocados, and squash."
Brock: "I had some cereal. The milk was still cool enough to eat it with."
[Olivia wanted me to note, its Brock's Birthday and they were able to thaw waffles just enough to celebrate.]
"My name is Aaron. Nothing major other than my pride. We lost power and I had my generator and a truck inside the garage and the garage door required power to open it. So I got up this morning and I'm like, 'Let's get the generator started' and I couldn't open the garage door because there is a safety lock mechanism. Anyways, I was able to pull the generator through the doorways in the house! Its running. Thank God"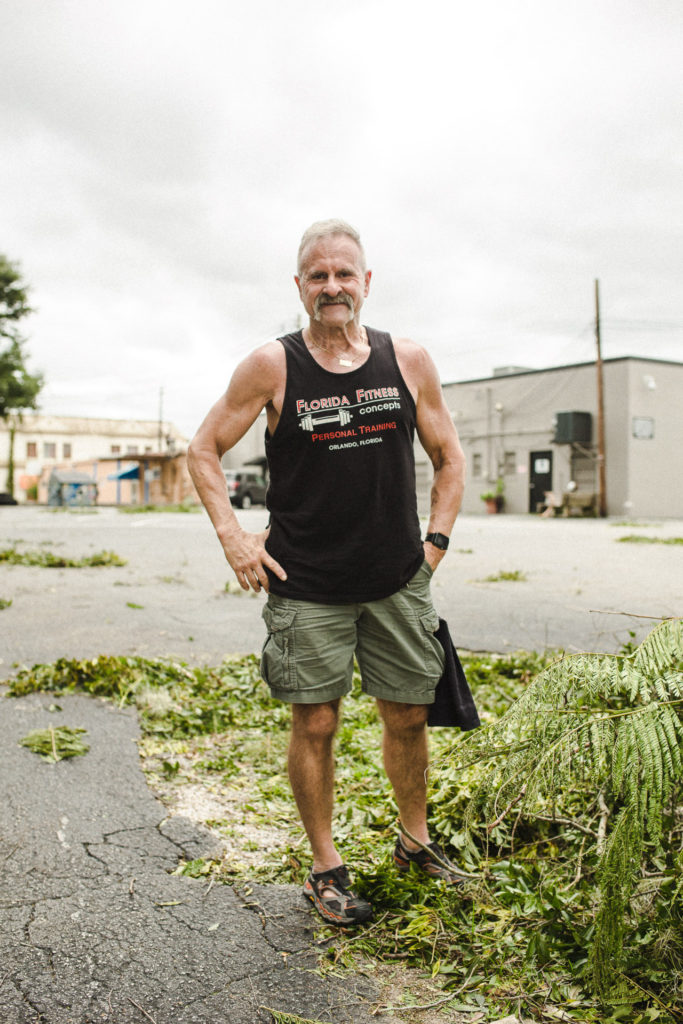 "My name is John Dickson Sr. I own Florida Fitness Concepts. It's a personal training center here on Mills. I'm just cleaning up the parking lot."
"I'm Cindy Silverbach [not pictured, is her husband, Grier]. I'm the landlord. We own this property at Oregon and Portland."
Do you have any parting words for Hurricane Irma? 
"Thank goodness you're gone! She could have been a whole lot worse."
"My name is Sabrina Felker and that's Kevin, my husband. We are clearing off the tree that landed on the top of our guesthouse. We had a tree land on all of our electrical wires attached to our house and we have to get that attached before they'll even hook up power again. But our house is still here, so that's good."
"My name is Rey Perez and this is a triplex that I own. My mom lives here now and I am surveying the damage. She stayed with me, but she wanted to come back to her little house."
"I'm Mary, and I'm cleaning up my yard. I had to have broccoli cole slaw from Costco. I wanted something healthy instead of a bunch of junk."
"I'm Tommy McLaughlin. I work at Home Depot and I go to UCF and I'm a veteran. I've drank copious amounts of beer. Probably a case. Good old fashioned American Budweiser!"
CLICK HERE TO SEE LAWRENCE'S ORIGINAL POST AND BONUS PHOTOS.