Dr. Phillips Charities has finally released their plans for a new mixed-use "Packing District" in west College Park that we hinted at HERE in 2016.
The project will develop more than 200-acres of property that has been carefully assembled over the past few years at the intersection of Orange Blossom Trail and Princeton Street. The name is in reference to the role the historic buildings on-site played in the citrus packing industry in the 1920s.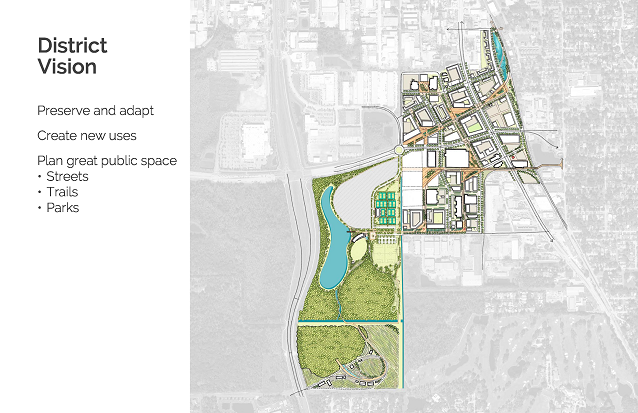 Plans for the massive slice of land include a 100-acre park space -that's basically five Lake Eola Parks. This will become the new home of the displaced Orlando Tennis Center, formerly adjacent to the Parramore Kid Zone, that's being leveled for Creative Village. The land for the new park space will be donated to the City by Dr. Phillips Charities and will front the John Young Parkway, to the southwest of the rest of the new district.
Dr. Phillips will be retaining a portion of the park space to develop at a future date.
City Council will vote on Monday, December 11 on whether to invest in new road and stormwater infrastructure in the corridor in order to facilitate the new development program. Construction is expected to begin in 2018.
Other features of the project include townhomes, apartments, a new grocer (rumored to be a Super Publix), and retail. The recently purchased Habitat for Humanity ReStore building is expected to remain intact, to be converted into some sort of food hall/restaurant space.
The Packing District would also sit at an ideal location for a College Park stop on the proposed Orange Blossom Express line for SunRail; a 36-mile commuter rail project that would extend between the City of Eustis and Downtown Orlando. See the map HERE.
This is a developing story.