If you realized last week that you forgot to do some holiday shopping for a loved one, who happens to be entirely forgettable, we've got you covered. Here is a list of some fantastic Orlando-based and Orlando-themed designers and makers who have online shops on Etsy.com. We've sifted through all of the cheap Pulse-knockoff clothing and battered Walt Disney World keepsakes and come up with the following remarkable stores, just for you.
Did we miss any of your favorite shops? Post a link in the comments below so we can include them in our next roundup.
HELLO HAPPY PLANTS – SHOP
Owned by Kelsey
Hand-sculptured air plant pots in the shape of urban artifacts. We've loved them since we stumbled across them at Grandma Party Bazaar.
DO TELL CALLIGRAPHY – SHOP
Owned by Margaret Beles
A variety of print products including tees, ornaments, drink tumblers, mugs, and beautiful art prints like this Floral Florida poster. We're such big fans of Beles that we featured her work in our online shop last year.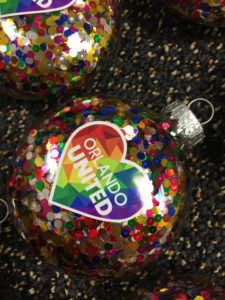 JENJASTORE – SHOP
Owned by Jennifer Friedman
Sells: Rainbow glitter-filled Pulse ornaments.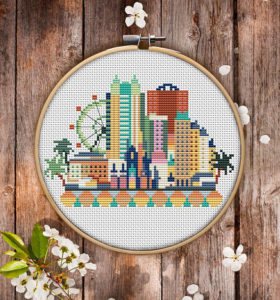 AWESOME PATTERN STUDIO – SHOP
Owned by Olena Gliboka
Easy-to-use cross stitching patterns. We want this Orlando pattern on a sweater, please.
12 DEGREES WEST – SHOP
Owned by Eliel Rosario
Handmade leather goods and accessories. We know they're handmade because we often see Rosario hand-stitching and cutting his beautiful pieces at local coffee shops and the Factur tool-sharing space in Ivanhoe Village.
RECYCLED BEAUTIFULLY – SHOP
Owned by Celina Ortiz
Handmade wire-wrapped jewelry.
FABS AND FAVES – SHOP
Owned by Elaine Pawlikowski
Vintage and antique pieces from Elaine's private collection. Elaine happens to be the mother of Mills 50 misfit, Jessica Pawli, who runs the ongoing Southern Fried Sunday series at Will's Pub and oversees Outdoor Fringe at the Fringe Festival in Loch Haven Park.
ELLE AND K BOUTIQUE – SHOP 
Owned by Lindsey
Printed in UCF Pantone colors.
BLOOMWOLF STUDIO – SHOP
Owned by Betsy Garcia
Illustrated greeting cards and paper goods.
THE UNCOMMON GREEN – SHOP
Owned by Brian Johsnson
Unique barware engraved with "maps and smart stuff."
ASHLEY BETH GRAPHIC – SHOP
Owned by Ashley Rocco and Rhett Withey
Rocco specializes in design goodies like lapel pins, stickers, stationary, and gift wrapping. You may recognize her Love Orlando pin design as the one that we sell on tees in our shop at shop.bungalower.com.
BAUGART – SHOP
Owned by Christopher Baugher
Hand-painted Orlando-themed sneakers.
PRESTIGE DECANTERS – SHOP
Owned by Addison Paulin
Hand-blown, hand-crafted glass whiskey decanters and paraphernalia.
BRIGHT LIGHT PAPER – SHOP
Owned by: Elizabeth Farmer
Sells: Hand-painted greeting cards, paintings, and invitations. Farmer also does recipe cards too. We love her "taco + beer" card so much we had to put it in this roundup.
TRASHBOOKS – SHOP
Owned by Moriah Russo
Lost books that have been rescued from obscurity and the landfill. Russo handpicks her "dispossessed lit" from piles on the curb, cleans them up, and resells them online.
VINYL SHOP US – SHOP
Owned by Evelina Staniec
Fun art and music accessories made from rare vinyl records.
MINIATURE IMAGINARIUM – SHOP
Owned by Alexandra Hull
This actually has nothing to do with Orlando, but someone out there is going to want this in their house.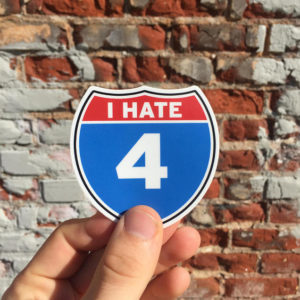 COREY DANKS ILLUSTRATION – SHOP
Owned by Corey Danks
We actually covered this Pennsylvania-based illustrator HERE back in June.
PINK MANATEE DESIGNS – SHOP
Owned by Sarah Crow
A collection of Florida-centric and just plane cute stickers and pins.
VORACIOUS APPETITE – SHOP
Owned by Sara Jones
First of all, this vintage paperback has an amazing cover by David Johnston that deserves to be on the side of a building somewhere. Secondly, it's an epic Italian poem written in the 16th century and has hippogriffs in it.
NEOGRANNY – SHOP
Owned by Molly Reilly
Vintage-inspired woodcuts, fabrics, found photographs and more. The mermaid necklace caught our eye but be sure to look at her wall plaques and earrings too.