Like what you see? Consider supporting this series by clicking HERE.
Inhabit is a series by local photographer David Lawrence (Website), that shares stories about the people who call Orlando home. It's an exploration of where people live and spend their days, whether that be at home, in an office, the streets of downtown, or anywhere in between. Lawrence explores who people are and how they ended up there.
Every other week we will be sharing Lawrence's interviews, featuring a different Orlandoan and telling the story of the places they inhabit. Lawrence is available for private photography projects and can be reached through his website, above.
*This interview was transcribed and edited from an audio interview.
Who are you? 
I am Amanda Roberts. I am 36 years old and I was born and raised in Michigan. I moved to Florida 11 or 12 years ago and I'm the Head Brewer of Orange County Brewers.
Where are we currently and what is important to you about this space?
We are currently in Downtown Orlando and the importance of this space, to me, is the brewery. I work on the other side of the orange door (referencing where she brews beer).
I want to talk about being a woman in the beer industry. If my research is correct there are only two female brewmasters in Orlando, the other is at Black Cauldron Brewery. Can you tell me about your journey leading up to this point of where you're at in your career?
Okay. I originally worked at Aviator Brewery in North Carolina. We lived in North Carolina for six months while my husband was on a job up there, and their beer scene is ridiculous. It was so much fun. From there, when I came back [to Florida] I was offered an apprenticeship over at Sea Dog Brewing Company in Clearwater. My journey thus far has been great. There's really nothing bad that I could say about being a female in the industry besides that there's not enough of us, but my experience has been really good.
I have a friend who just had a daughter and he says, "I want to be able to encourage her and raise her in a way that she believes she can do anything, and her gender isn't an issue. It doesn't matter that she's a female at all." I think there is a lot of power in that, but at the same time– there are a lot of people that feel like they are not seen as equal, and not given the same opportunity because of their gender. Is that something that you think about?
I don't, I was pretty much raised that way. My parents were like, "You can do whatever you want if you put your mind to it. I feel like in other industries I could see that. Obviously it goes on, but in the brewing world we're a pretty tight community. Obviously there's some rivalries but with the smaller breweries everybody will help everybody out. No one's out to get anybody. I don't know. I feel like it has worked very well for females and I know that people want to poke and pry, to prod and be like, "No, it can't be that good."
No, it really is. I've had zero problems. [laughs] And every female that I've come in contact with in the brewing industry has felt the same way.
What would be your advice for other women or people in general who are trying to make their mark in a certain industry?
Just go for it. Go for it wholeheartedly. You're going to mess up, and it's going to be okay. I've had to completely dump down the drain a whole batch of beer.
Like, one of the whole big tanks? (See Photos above – it's a lot of beer)
Half of it, yes. It's heart-wrenching when you watch it. And then it takes forever to drain, it's not like it does it quickly, it takes 40 minutes, you're like, "I have to watch you for 40 more minutes, I'm going to go get a beer."
On the opposite end, I want to hear about success.
The first day that we opened, we just did a soft opening. I was back there working all day. [It's] summertime, hot like shit, you're back there dying and coming in to grab a beer at the end of the day, and seeing people sitting there drinking your beer and enjoying it. It's one of those like, "Okay. This wasn't all for nothing. I don't hate my life anymore." [laughter]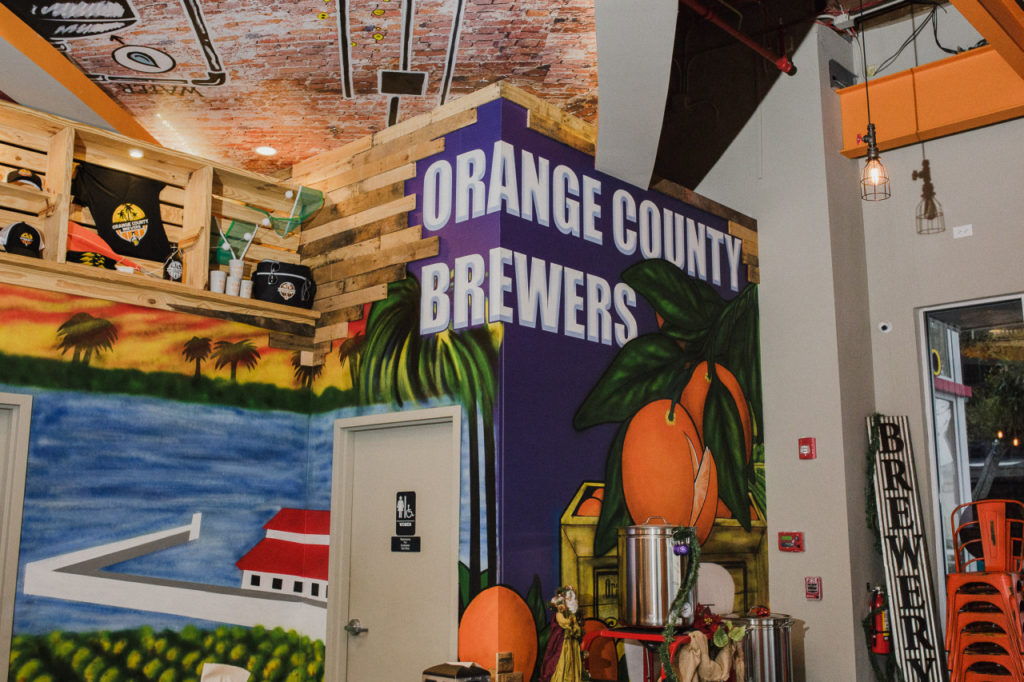 Right after Christmas Roberts will be releasing an Imperial Coffee Blend, tentatively to be called "Mama's Christmas Coffee." Be sure to go by the brewery to try it out.  And while you're there, take her other advice and think about the things you want and go out and make them happen.
Orange County Brewers is located at 131 N Orange Ave, Orlando, FL 32801 and open seven days a week.
CLICK HERE TO SEE LAWRENCE'S ORIGINAL POST AND BONUS PHOTOS.
About the photographer: 

David Lawrence is an Orlando-based photographer with a passion for people and storytelling. Lawrence lives in Colonialtown with his wife, Dawn, and when he's not taking photos he occasionally attends church, drinks a lot of coffee, and overall just tries to be a kind human.