Like what you see? Consider supporting this series by clicking HERE.
Inhabit is a series by local photographer David Lawrence (Website), that shares stories about the people who call Orlando home. It's an exploration of where people live and spend their days, whether that be at home, in an office, the streets of downtown, or anywhere in between. Lawrence explores who people are and how they ended up there.
Every other week we will be sharing Lawrence's interviews, featuring a different Orlandoan and telling the story of the places they inhabit. Lawrence is available for private photography projects and can be reached through his website, above.
*This post was transcribed and edited from an audio interview recorded in late December.
Who are you?

"I am Buddy Dyer. I'm the Mayor of Orlando. I've been in office roughly 16 years. I was born here in Orlando, grew up in Kissimmee."
Where are we currently and what is important to you about this space?
"This is Dartmouth Park. I enjoy spending time here. It's one of my favorite places in all of College Park. This is my dog Sammy and this is one of our regular stops on our long squirrel hunts."
How often would you say you come here?
"I would say three to four times a week."
You're coming on 20 years of being in the same home here in College Park. Can you tell me about some of the changes you've experienced in the neighborhood around you?
"Certainly, the commercial district along Edgewater Drive has drastically improved over the last 20 years. I do most of my Christmas shopping either on Edgewater Drive or in the Ivanhoe Main Street District, so I'm able to shop local. That's a great benefit to having our Main Street Districts. Then, what I love about College Park is the eclectic housing. You have everything from million-dollar mansions on the lakes to two-bedroom, one-bath bungalows scattered throughout. You have all walks of life here in College Park."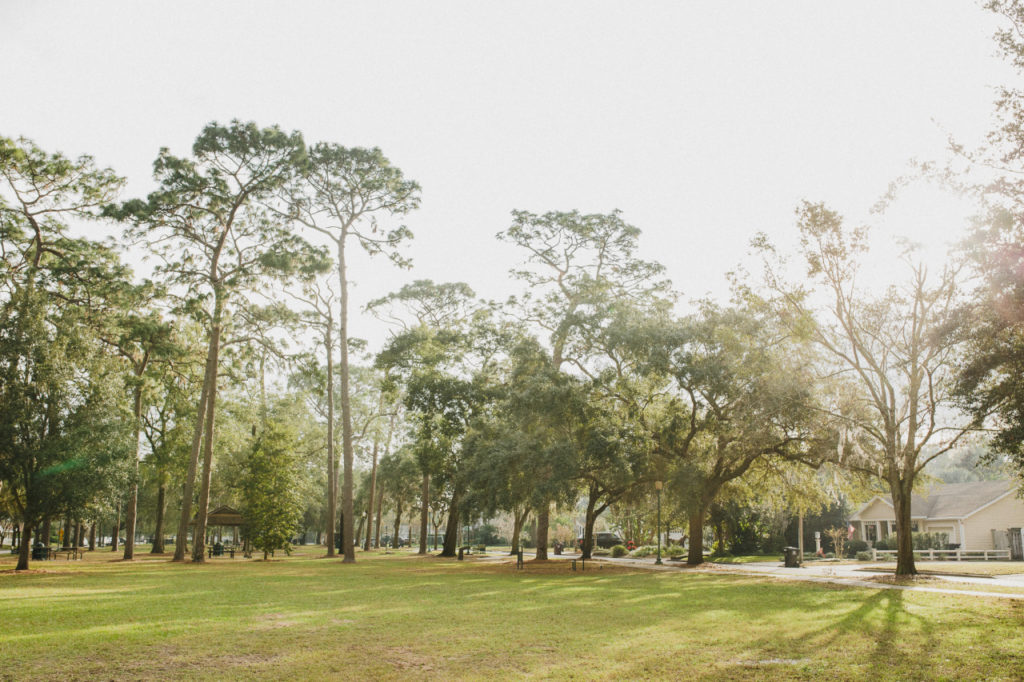 I was going to avoid politics. However, I'm curious, do you consider yourself a politician? How do you feel about the title?
"More of a public servant, and a servant leader. Certainly the term "politician," I don't shy away from that."
I was looking at your Facebook page. Half of the posts on there, you're literally just going around the neighborhood, popping into places and just being present. I feel like when you turn on the news, half of it is just politicians signing things. It's not actually anyone going out in to the community.
"Well, a mayor is the closest elected official to the people. I've been mayor long enough that I think most people know me and are comfortable with me popping into their store or their house. I would say more people call me Mayor Buddy than Mayor Dyer, I can't actually remember, very many people saying Mayor Dyer."
Do you believe then that politicians truly have the ability at this point to make a positive change in the community?
I think local elected officials are able to bring positive change virtually every day. Local government is where big things happen, state government and certainly, the federal government seem to be in a partisan gridlock. Partisan politics don't enter that much into local government decisions, there's a famous old saying, "Potholes or not, republican or democrat, you're just going to fill it right?"
What are your plans for Christmas and the New Year? Anything fun?
"I'll probably do a little quail hunting with my kids, certainly catch the ball games. We got some good ones here in Orlando, [along with] Notre Dame and LSU, that's a good matchup. [I'll] certainly root for UCF to complete their undefeated season."
Do you hunt locally, or where does that happen?
"A variety, this year, I was trying to complete what I thought would have been a unique double. That would have been to kill a grizzly bear in Alaska and a gator in Florida in the same week. I was unfortunate and did not get my grizzly bear, but I got my gator."
How big was that?
"This year, that gator was about eight feet. Last year I got one that was 11' 6″, big guy."
That's crazy, how do you literally catch that?
"I have a friend that has a gator trapper license. We go on his airboat, find the gator, decide whether that's big enough to take, shoot it with a crossbow that has a line and a buoy. Think Jaws, how you track the buoy. You pull up close enough to the boat to get a harpoon in it and a bigger line to bring it close enough to bang stick it in the back of the head. I'm more of a Quail hunter than anything. My kids like to bird hunt. My older son is a very avid fly fisherman. I do a fair amount of that as well. I like to be outdoors."
Any wild hunting stories?
"Wild hunting stories …"
Dick Cheney shot a guy.
"Yes, I haven't shot anybody. I haven't been shot and I haven't shot anybody. I did get chased out of the woods by a mama boar, a mama hog, one time."
Those things can literally tear you apart right?
"Yes, we thought we were going in, and all of a sudden, we were headed the other direction."
What's your favorite place to grab a drink lately? Do you drink?
"Turns out I do. I would say couple of places that I've been this week were the Imperial, over in Ivanhoe … And Mathers. It's a nice sophisticated place. It speaks more to those over 30."
"Imperial is a nice neighborhood bar. If we were in my office, I have this huge round table that's made out of a piece of Cyprus. It's in my little alcove. I bought it at the Imperial one night. I was having a drink, I thought, 'Wow this table is so cool. How much is it?'"
You covered places to drink, but any places to eat or things to see in the city?
"One of my favorites is Mamak, M-A-M-A-K. I like the eclectic food scene we have, not just on Sand Lake Road, but in and around downtown as well. Find just about any type of ethnic flare that you would like and some great places. I generally recommend Eola Park first over anything if you want to get a feel of the vibe and the culture of the city."
"Leu Gardens and the Mennello Museum are great. There's so many of our downtown neighborhoods that are walkable. If you just want to get out and try to get a feel of what Orlando is all about, you can drive around our downtown neighborhoods. Especially this time of the year, all the Christmas lights are out – that's a fun thing to do."
Last one – What are your thoughts on the new Star Wars? Good or bad or do you even care?
I've seen it. Everybody was talking about how long it was. I thought it *snaps fingers* shot by. I thought it lived up to expectations. The only thing I would say is if you're a part of the rebel alliance, how many fighter pilots can get killed in a single movie when you only have like 40 or 50 total people? And 20 or 30 or a hundred it seems like, ships get shot down during whatever battle, it's like who's left to pilot the ships??
The places Buddy mentioned can be found below as your out about during the holidays. 
Imperial Wine Bar: 1800 N Orange Avenue
Mathers Social Gathering: Phoenix Building, 30 S Magnolia Avenue
Mamak: Asian Street Food: 1231 E Colonial Drive
Eola Park: 512 East Washington Street
Leu Gardens: 1920 North Forest Avenue
Mennello Museum of American Art: 900 E. Princeton Street
CLICK HERE TO SEE LAWRENCE'S ORIGINAL POST AND BONUS PHOTOS.
About the photographer: 

David Lawrence is an Orlando-based photographer with a passion for people and storytelling. Lawrence lives in Colonialtown with his wife, Dawn, and when he's not taking photos he occasionally attends church, drinks a lot of coffee, and overall just tries to be a kind human.