The student-run newspaper The Sandspur announced on April 5 at Rollins College that the historic Fred Stone Theatre had been closed and would soon be torn down.
It hosted the college program's Second Stage Series  that were completely directed, designed, marketed, and performed by Rollins College students. All Second Stage productions are free and open to the public.
We reached out to Rollins College which sent us the following statement:
"Several weeks ago, department members who use the Fred Stone Theatre noticed structural damage. The College's Facilities Management department assessed the building, saw some things that concerned them, and out of an abundance of caution for the safety of students and faculty utilizing the building, the building was shut down.
Plans were already in place to move out of the Fred Stone over the summer, and the building was slated for demolition this fall, but we saw a need to act sooner. The College is currently in the early design phase of plans to replace the Fred Stone, in a location on or near its current location, and alternative accommodations have been made for classes and programming from the Department of Theatre and Dance." – Jo Marie Hebeler, Communications Manager
Rollins officials failed to respond with us about what exactly "concerned" the Facilities Management team enough to close down the building but once we visited the campus to see for ourselves it was fairly apparent that the structure has some serious roofing issues, at the very least.
The building was originally built in 1926 and was formerly used as the Winter Park Baptist Church. It was purchased by Rollins College in 1961 and moved from its home at the corner of Comstock and Interlachen Avenues to live on the campus as an assembly hall in 1965.
In May, 1973, the hall was named the Fred Stone Theatre after the famous circus/vaudevillian performer and Broadway actor of the same name (a friend/relative of famous Rollins dropout, Florida writer Rex Beach), in recognition of the original Fred Stone Laboratory Theater which was torn down the same year.
In its original home, the building had a series of columns under the side entrance to support the pediment jutting out from above. However, as you can see in the following photo, those pillars were never reinstalled after the move.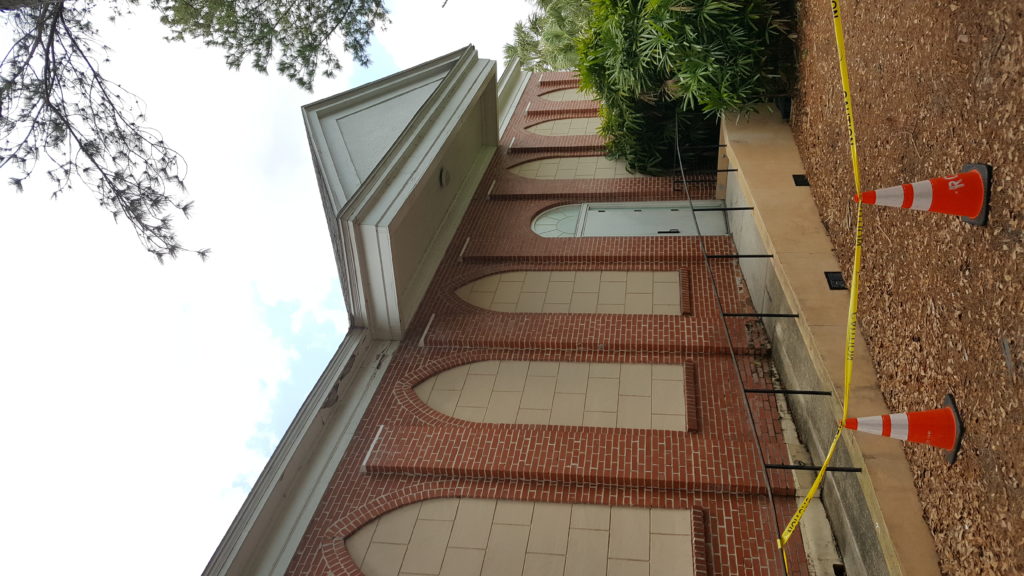 The Rollins website has already been updated saying that all student-produced productions that had previously been scheduled for Fred Stone will be shifted over to Pioneer Hall at 203 E. Lyman Avenue, until the new theater is built.
Designs for the new building are still in the early stages but it will house a new black box theater space for both the Theater and Dance programs.