SPONSORED by Orlando Ballet: Inhabit is a series by local photographer David Lawrence (Website), that shares stories about the people who call Orlando home. It's an exploration of where people live and spend their days, whether that be at home, in an office, the streets of downtown, or anywhere in between. Lawrence explores who people are and how they ended up where they are.
Every other week we will be sharing Lawrence's interviews, featuring a different Orlandoan and telling the story of the places they inhabit. Lawrence is available for private photography projects and can be reached through his website, above.
Who are you?
Kate-Lynn Robichaux: I'm Kate-Lynn Robichaux and. I'm 27 years old. I'm from Palm Harbor, Florida and I'm a ballet dancer with Orlando Ballet.
Where are we currently and what is important to you about this space.
Kate-Lynn: You're currently in my home and it's important to me because it's what I call home and [the people in it are] who I choose to share my time with. The people I care about the most.
Congratulations! We heard you just got married!
Kate-Lynn: Yes, I live here with my husband. That's one of the people I care about the most.
When did you get married?
Kate-Lynn: We just got married June 2, this summer.
How has that been this far?
Kate-Lynn: I love being married, obviously, and getting to be like, "I'm a wife." I'm his wife and he's my husband, finally, after 13 years, but we love being together and spending time together when we can.
What are your daily routines here? Are you an early riser or do you get up a little bit later? What does that look like?
Kate-Lynn: He's the early riser, I could sleep until afternoon every day. He normally gets up first because he works earlier and I tend to get up with him just to say bye and whatever. I normally walk the dog and feed him, and he goes to work. I go to teach or to take a class, to keep in shape.
How did you get into ballet and how in particular did you end up here in Orlando at the ballet?
Kate-Lynn: Really and truly, it wasn't always my favorite genre of dance growing up. When I was 13 I came here to the Orlando Ballet for their summer intensive. Before that, I was at a dance competition at a hotel, and across the street, there's The Bob Carr and they were having their 30th Anniversary performance. I saw them perform and it was the most amazing thing I'd ever seen. I remember telling my mom, "Okay, I want to do this" and I can remember seeing all the girls and thinking that they were like, the most beautiful things in the world.
Yes, that's what I wanted to do and I decided that I was going to go to the summer intensive and from then on, after that summer, that's what I wanted to spend my time doing. That's what I was passionate about. I started training more and taking it more seriously. Then, I auditioned here when I was 20 and I received a contract for their second company and, luckily, Mr. Hill took an interest in me. He believed in me and hired me that following summer. From then on, it just got better.
How long have you danced with the Orlando Ballet?
Kate-Lynn: This will be my seventh season with the ballet.
In the seven seasons that you've been there, what has been your favorite role that you've had as a ballerina? Is there anything that sticks out to you in particular?
Kate-Lynn: I can't just say one because I've had so many amazing opportunities and roles. I fell in love with Robert's Romeo and Juliet a long time ago. That was one of my favorites and I was a harlot at first, which was pretty cool. The fact that I was given the opportunity to perform Juliet was a huge milestone. Before that in October, he gave me the chance to perform. It was the shortened version of the show but I got to perform Odette, and for me, that was huge.
The reason I say that is because I look at myself, I tell my mom that all the time, I'm like, "I'll never be an Odette." That's not like a me kind of role. The reason why is you have to be really technically strong. I'm going to be honest, that's not my strong suit. My technique still needs work because, as I said, I started late working on my technique.
The fact that he gave me that chance and he believed in me enough was huge and you do, like, the entire ballet as the prima ballerina. You do everything but without any intermission. I did it twice within 24 hours. Pretty intense.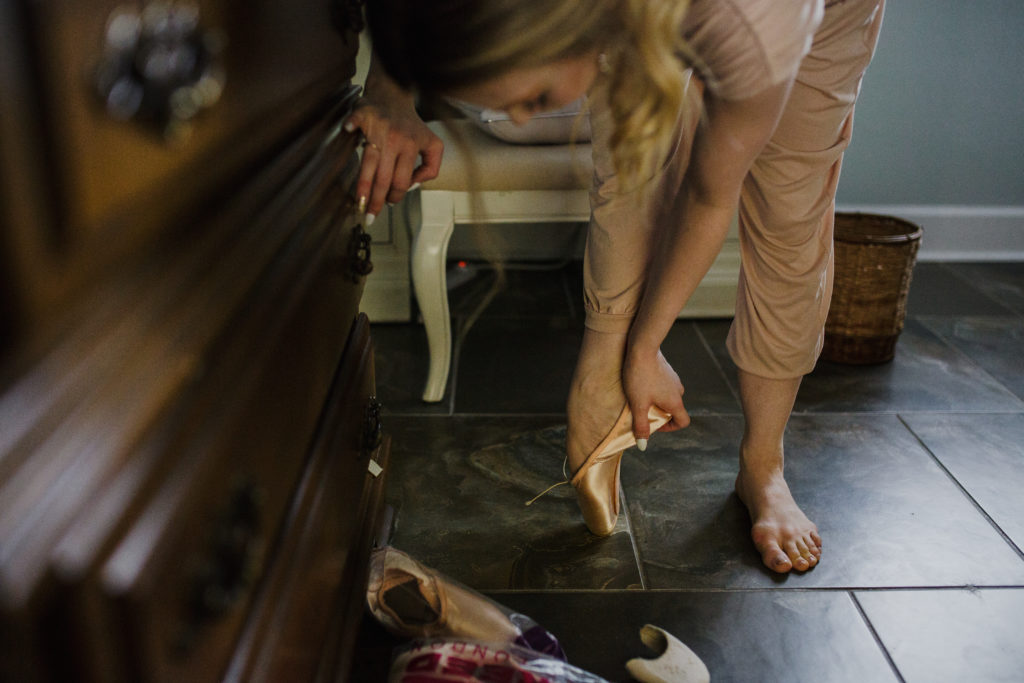 How do you maintain the ability to keep up with those techniques then? Obviously, you're practicing but are you working out beyond that? What are you doing regularly to stay in shape?
Kate-Lynn: While I'm preparing for a role, yes, I'm working out. I'm normally cross-training. Jack thinks I'm crazy. It used to happen a lot where I would go to ballet then I'll be like, "Hey. I have to go work out at the gym just to get extra strength" and he would be like, "You just danced all day. Isn't that enough physical activity?" I'm like, "No." Whether it's cross-training at the gym or pilates at home, I need a lot of stamina to do lead roles.
What roles are you looking forward to in this next season in particular with the ballet?
Kate-Lynn: I love Carmina Burana. That's my jam.
What is that?
Kate-Lynn: Carmina Burana is a collaboration with the Bach Festival Society. The musicians are absolutely incredible. To have their energy on stage with us is amazing. It's basically a bunch of artists on stage and us just doing what we do and what we're passionate about. Their voices along with the music are outstanding. I love Roberts' choreography for it. I was here when he first did it in 2013. It's honestly one of my favorite things that he's choreographed. The pieces are beautiful.
Are you excited to dance Alice again in Arcadian's Wonderland full-length version this season?
Kate-Lynn: Absolutely. I love to work with their Arcadian. He's my buddy.
He's your partner for ballet. What does that mean exactly?
Kate-Lynn: He's the boy that partners me. He's the person that keeps me on my two feet when I dance. He's an incredible partner and an incredible artist, a super talent. His choreography is super fun. It's really challenging which I like because I find that I have to work really hard to keep up.
Who is Robert Hill? You've mentioned him a couple times.
Kate-Lynn: Robert Hill is my boss. He's the Artistic Director of the Orlando Ballet. He had this amazing career. It's so funny. He comes from the Cocoa Beach area and he was actually going to be a high diver or a gymnast.
His teacher was like, "Hey, you should do ballet for presentation. Pointed feet, stretched legs." Which I don't know why he did that because seeing his pictures, his legs are amazing. Basically, he was like every girl's dream partner. He had this great career with Royal Ballet, ABT, and he's now Artistic Director of Orlando Ballet, and he just passes all of his knowledge on to us. I love to work with him because he's super hands-on. It's really rare that an Artistic Director in the studio as much as he is. It's nice to have it. It's nice to have his energy.
How has Mr. Hill pushed you to be a better dancer?
Kate-Lynn: For me as an artist, what he's done for me is absolutely incredible because I personally think, for me, I'm not the typical ballerina. Like I said, my technique is not always there, but he sees something in me that's a little bit deeper. I think he sees me as an artist and he's really pushed me to be an exceptional one, and he pushes me still to this day. He never allows me to give anything less than my best. He's trusted me with so many roles, and it's so humbling to me because to be in the position that I am and to have the role that I do at the age I am is incredible.
I used to idolize the people that were here and one day I found myself dancing next to them and it was crazy. Chiaki, I was a little girl and she was in the 30th-anniversary gala and I was like, "I want to do what that girl does." She was amazing to me. I shared the role of Juliet with her last year, and I was like, "Oh my God." Everything he's done for me, I'm so grateful.
Mr Hill sounds so supportive.
Kate-Lynn: He is. Like for Sugar Plum Fairy, it was my debut, and that's a very ballerina role and like I said, "I look at myself, and you're more the contemporary girl Kate-Lynn", and he gives me a role like that. I am somebody that second guesses myself, and he knows that, and he says, "Stop second-guessing yourself. You can do this. Believe in yourself, you can do it."
Weird Question, but, do you eat a lot?
Kate-Lynn: Yes. [laughter]
You're like Michael Phelps eating 13000 calories a day before the Olympics? [laughs]
Kate-Lynn: Yes, I do, I have to eat a lot.
Do you and your husband have a favorite place that you like to eat here in Orlando?
Kate-Lynn: I'll be honest he's a picky eater. I love me some Domu. Pig Floyd's is pretty bomb. I love Pig Floyd's. Where're some other good places? Sanctum is awesome. It's a good lunch place too. For somebody like me, it's just a good fuel for your body. Hawkers is good. I love their coffee there. Oh, my God. I need to drink some of that before I do a performance.
Are you able to drink coffee before a performance?
Kate-Lynn: Oh, it's a must. Right, Jack?  I'm gonna tell you. Really, we've only lived together through one show, but normally when he would come to see me, he would say, "Okay, do you want me to go get you a coffee?" He would while I was getting ready because he's the best.
My mom loves for him to be here during a show, because I'm not a nervous person, but before a show, I'm, "Everything needs to be like this." The reason why is because I like for everything to run smoothly before so that when I'm ready to go, I don't have to think about anything. It's just me enjoying it because there's nothing I love more than to get on stage and do what I do. I'm the luckiest girl in the world to be able to do it.
What do you have coming up next? Is there anything on the horizon for you guys personally, that you're looking forward to as a couple?
Kate-Lynn: Next thing would be, but it's not going to be until a little bit further down the road, is having kids. I can't wait, for me and you [referring to Jack]  to travel together, to go places and just experience, do things together, honestly, as a couple. We've been together, I feel like, half our lives. We've already experienced a lot, but whenever it comes our way, I'm excited to take it on.
About the photographer: 

David Lawrence is an Orlando-based photographer with a passion for people and storytelling. Lawrence lives in Colonialtown with his wife, Dawn, and when he's not taking photos he occasionally attends church, drinks a lot of coffee, and overall just tries to be a kind human.