Here is a look at some of the best events taking place this weekend. Remember, you can always visit the complete events calendar by clicking on "EVENTS" on our main menu.
The City of Orlando is working with Waze, a GPS software company, to table real-time traffic updates. Click HERE to get up-to-date road closure information before heading Downtown.
If you'd like to have your event added to our calendar, simply send a link to your Facebook event page to [email protected].
FRIDAY, SEPTEMBER 7
On the first Friday of each month at noon, History Center staff lead an interesting program about the museum, Central Florida history, and more. On September 7, learn how the stories behind artifacts can lead down unexpected paths and yield surprising discoveries.
FAVO: Fall Art Party Have some artsy, family-friendly fun at Faith Arts Village Orlando on Friday, September 7, 2018, when more than 30 artists open their studios to the public from 5 to 9 p.m.  Bring a date, your mama, your kids and your dog to this vibrant arts complex that was once a motel.
Join us for the unveiling of HER, a diverse collection of traditional, contemporary and documentative photographic works through the perspective of three female photographers challenging the metaphysical exploration of reality. Featured photographers Danielle Werner, Mary Bel, Yelena Strokin.
Blue-La-La Entertainment Presents… The Ladies of the Peek-A-Boo Lounge: Let's get Whiskey Wasted! A whiskey and gin tasting with a burlesque show! Featuring: Blue Star, Foxy Roxy, Regan Reynolds, Kissa Von Addams, and Mari Devi Haze.
SATURDAY, SEPTEMBER 8
Walk the beautiful trails of Mead Gardens and learn all about the edible and medicinal plants growing in your neighborhood! We will explore indigenous and traditional uses and give a brief skillshare on basic foraging practices. $10 donation goes toward the Global Rewilding Initiative.
Be part of a photo mural and nationwide art project! Saturday, Sept. 8th | 10AM – 4PM. Sunday, Sept. 9th | 10AM – 4PM. Snap! Orlando is proud to once again host and welcome back, the Inside Out Project by JR Artist. The Inside Out/Vote Project aims to reimagine civic engagement by unleashing the voice of America's youth through art.
Williams Sonoma-Winter Park team is organizing an old-fashioned bake sale and giveaway Sept. 8 & 9 to raise resources for our annual No Kid Hungry—Share Our Strength program.  Donations in the Orlando community will be distributed to central Florida children in need. We invite our extended community to help give back—in kind, we will have many of our seasonal goodies and your favorite Orlando sweets up for sale for a great cause!
Just like the field day's of the past, we're planning a fun day full of lots of games and activities. We've got Aj Chavez on the lineup leading a Community Movement Class. We've got Charles Tucker and Dana Stango on the lineup leading a Body Awareness Class.
We are proud to celebrate TEN YEARS of Liberty Barbershop with a stacked night at Soundbar! Starting with a VIP Open Bar Cocktail Happy Hour with catering from Pizza Bruno AND Valhalla Bakery from 5-8, followed by performances from the band Teen Agers and one of the city's best DJs, Big Grape keeping the party going all night long! All of us thank you for your support over the past decade, and we hope to see you there!
USE CODE "READER10" FOR A TEN PERCENT DISCOUNT ON YOUR TICKET Join us for Taste! Central Florida. Featuring the area's most accomplished chefs, brewers, wine purveyors and spirit vendors, Taste! Central Florida invites the community to enjoy an evening of tasting portions of signature dishes accompanied by fine wines, craft beers, and specialty cocktails. All event proceeds benefit Second Harvest Food Bank of Central Florida and Coalition for the Homeless of Central Florida.
Question: What would happen if businesses simply stopped giving out un-requested plastic straws? Answer: Sea-lives are saved, unnecessary waste is avoided, businesses save money and consumers are free to make sustainable choices.
SUNDAY, SEPTEMBER 9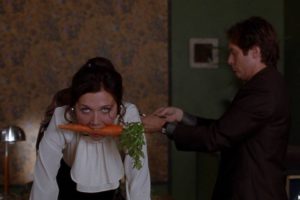 Uncomfortable Brunch presents Secretary at Will's Pub We are bringing you the best sadomasochistic romantic comedy, perhaps, ever. Maggie Gyllenhaal plays Lee who is having trouble focusing on her life. She is depressed, struggling with cutting, and just not generally coping well. That turns around when she develops a slightly unconventional working relationship with her new boss Edward Grey (James Spader).
6 years! Can you believe it!! It's the VenueVersary! Sunday, September 9th, 3-7pm at The Venue. It's a party! Music, food, drinks, good people, and good times.