This column is also featured in our monthly print product, available in restaurants and storefronts across the City Beautiful.
By Misty Heath
A "locavore" is a person whose diet consists only or principally of locally grown or produced food. Along those lines, every month, local chefs welcome Orlando's locavore, Misty Heath, into their kitchens to break down how to make some of their signature dishes for our readers to make at home.
Orlando is having a taco boom—seems most new food venues are now featuring tacos, tacos, tacos. In the face of Peak Taco/Tacopocalypse, our friends at Black Rooster Taqueria in Mills 50, measures up. On a busy day, they have eight kitchen team members creating over 1000 tacos in their tiny little kitchen.
Wonder why BRT closes between lunch and dinner? They have to—with all that fresh-made goodness, they have just enough time to restock, replenish, and repeat.
BRT uses three types of beef in their tacos, cooked in a beer/spicy sauce, and they go through over 500 pounds of beef a week. That's a lot of tacos, y'all.
When prompted in regards to any future BRT expansion plans, the Chef's politically correct answer is simply, "We'd love to…" But when probed further, Chef John smiled and said, "We're doing the best food we can right now."
Black Rooster Taqueria (Website) is located at 1323 N. Mills Avenue [GMap] and is open 11 a.m.-2 p.m. and 5-10 p.m. Tuesday to Friday, 11 a.m.-3 p.m. and 5-11 p.m. Saturday, and 11 a.m.-3 p.m. and 5-9 p.m. Sunday.
By focusing on the fundamentals; handmade tortillas, delicious fillings that are simultaneously well-sourced and flavorful; and intentional garnishes, we are served up a treat that is finessed, layered, gorgeous, and achievable for a home cook.
RECIPES
Tortillas and tacos require a little bit of skill, as well as time to perfect and the right tools. Here are a few of our favorite techniques: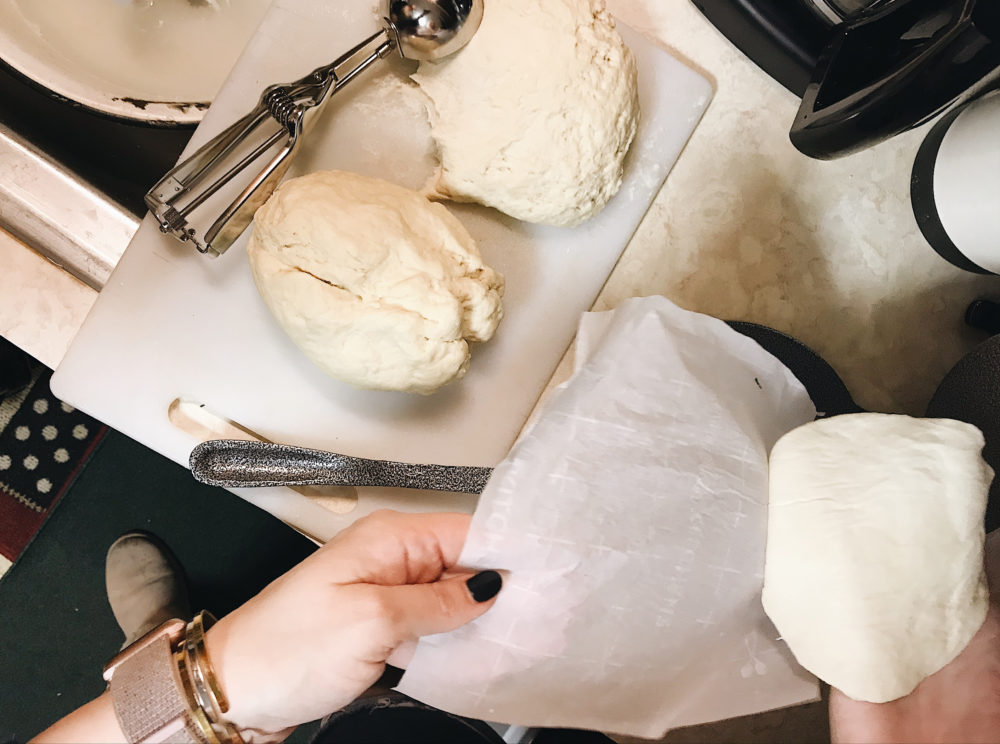 Tortilla press or rolling pin, a few drops veggie oil between plastic wrap or parchment to keep it from sticking, Watch that skillet—these guys burn fast.
1 3/4 cup masa harina (get something organic like Bob's Red Mill)
1 1/8 cup hot water
1 teaspoon kosher salt
Mix together masa and water until combined thoroughly. Turn dough onto a clean surface and knead until pliable and smooth (about four minutes). If dough is sticky, add masa; if it begins to dry out, simply sprinkle with water. Cover the dough with plastic wrap and allow to stand for 30 min.
Preheat a cast iron skillet or griddle to medium-high.
Divide dough into 15 equal-sized balls (an ice cream scoop can help with this if you're afraid of having balls that don't measure up). Using a tortilla press, a rolling pin, or your hands, press each ball of dough flat between two sheets of plastic wrap.
Immediately place in pan and cook for approximately 30-seconds, or until browned and slightly puffy. Turn it over to brown the second side for approximately 30-seconds more, then transfer to a plate. Keep covered with a towel to ensure your babies stay warm and moist.
Salsa Cruda
12 large tomatillos (husks removed & washed)
3 cloves garlic
1 bunch cilantro, washed
1 serrano or jalapeño pepper
1 avocado
2 teaspoon kosher salt
Place in blender or food processor and process until smooth and creamy. This stuff is addictive!
Carne Asada
1 lb skirt/flank steaks, seasoned liberally with salt & pepper
On a very hot grill, cast iron or fry pan, sear steaks on high 1-2 minutes on each side. Remove from heat and allow to rest 10 minutes, covered in foil. Slice meat against grain thinly (or chop into finer bits).
Taco Garnishes (recommended—freestyle with your fave)
Finely chopped onions
Finely chopped cilantro
Lime wedges to fresh squeeze lime juice over top of tacos
Drinks
Any cold Mexican beer—sounds vague but it's true. As long as it's cold, you're good to go. If you are up for making margaritas any decent silver tequila, some ice, and freshly-squeezed lime juice. If you're looking for something a little more fruity add a little Cointreau or fresh squeezed OJ works too.
Try this fun mashed up cocktail: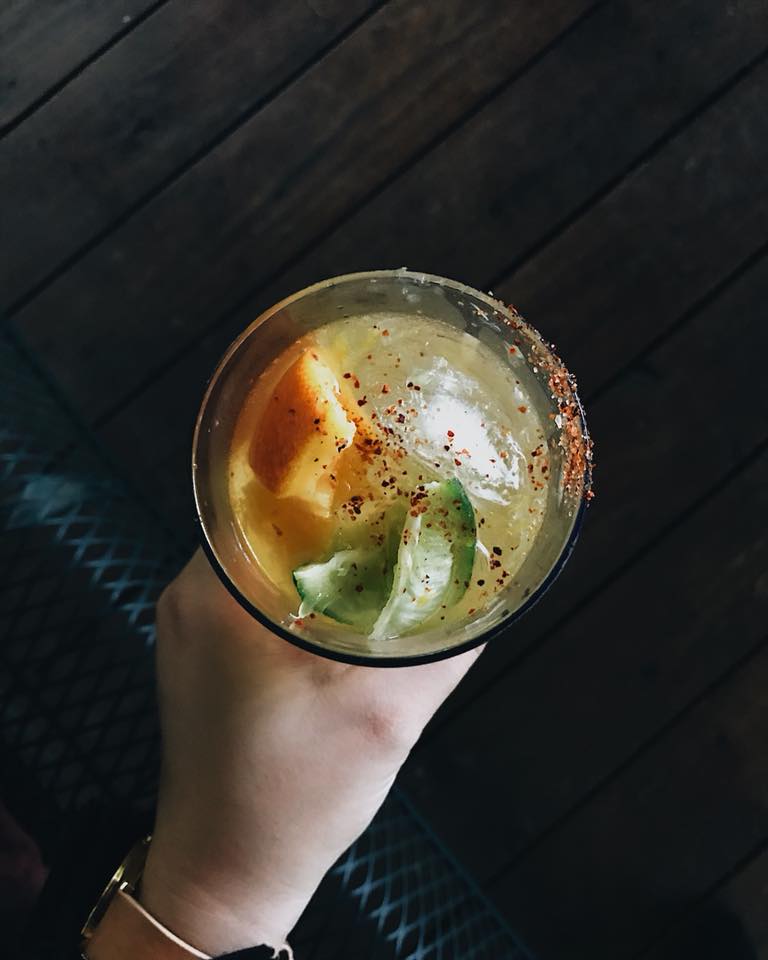 Frencherita: French 75s makes any meal feel fancy. Tart margaritas encourage most mouths to pucker-up so try making this fun mash-up cocktail for your own taco Tuesday at home and maybe get a kiss for your troubles 😉
1⁄2 oz Fresh orange juice
1⁄2 oz Muddled orange & lime juice
1 oz Herradura Tequila
3 oz Champagne
Garnish: Sugar & red pepper dusted rim