More updated plans for the 200-acre Packing District project in west College Park have been filed with the City of Orlando including some added parcels and updated street grid plans.
The original Planned Development paperwork refers to the project as the Princeton Commerce Center, with 91+ acres of land being marked for construction, mostly along Princeton Street and Orange Blossom Trail, between the CSX rail line and John Young Parkway. The project name has since officially been changed to The Packing District.
The land includes roughly 660,000 SF of existing industrial and warehouse space that is leased out by Dr. Phillips, Inc. that were historically used as part of the Phillips family's citrus growing and packing operations. Scroll down for a complete list of the properties and parcels that are being bundled into this project.
The vision is to transform the property into a mixed-use place with adaptive reuse of the existing industrial buildings and to provide a range of residential, commercial, retail, and entertainment uses; according to the PD paperwork.
The plans also include a framework of newly built blocks, streets, and open spaces to support a more dense, mixed-use development pattern. Two new signalized intersections are proposed in the projet's Mobility Framework Map, including a light at Orange Blossom Trail and Traylor Boulevard and another at Princeton Street and Stanhome Way.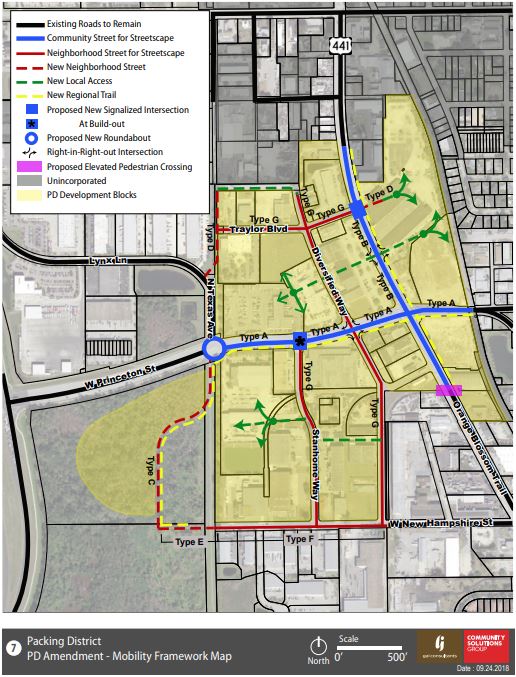 A roundabout is also being proposed at the intersection of Princeton Avenue and North Texas Avenue, with design and construction expected to begin in 2019.
Public spaces are being penciled in for every PD Development Block and will include pedestrian/bike accessible plazas, playgrounds, and pocket parks.
Multi-use paths measuring at least 10-feet wide will be included on the side of Orange Blossom Trail, Princeton Avenue, Texas Avenue, and New Hampshire. The Princeton and OBT trail sections are already in the design phase and are expected to begin in mid-2019 alongside respective road projects.
A feasibility study is also being pursued to look at the possibility of constructing an elevated pedestrian bridge across Orange Blossom Trail, just south of Princeton Avenue, as part of an extension to the Orlando Urban Trail system.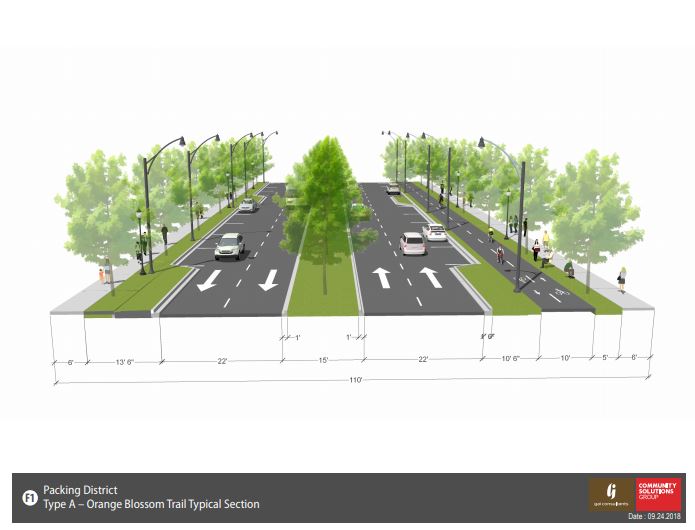 Construction is expected to begin in 2018 and last through the next 10-15 years. The expected economic impact is $41 million. Reported tenants include an urban farm, a food hall, and a new YMCA community center. YMCA of Central Florida happens to also be the primary beneficiary of Dr. Phillips Charities and has received over $45 million in donations from them since 1985.
Stay tuned in on our various Bungalower platforms for more information.