Our ongoing "House of the Day" features are arguably some of our most popular stories, especially on Instagram, so as we head into 2019 we thought we'd take a look at what you thought were our best featured homes; according to clicks!
If you have a home that you'd like to be featured by Bungalower, contact us at [email protected] today and ask us about our "House of the Day" options.
The Highmark Apartment building is a newly renovated, 12-unit building located at 847 Highland Avenue in the historic Park Lake/Highland neighborhood, just a few minutes' walk to popular restaurants in neighborhoods like the North Quarter, Ivanhoe Village, and the Mills 50 District.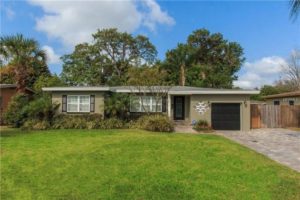 This three-bedroom, two bath pool home is located at 1316 Newcastle Drive in the hot new Hourglass District, just southeast of Downtown Orlando.
This three-bedroom, two bath home in Park Lake Highland has been on our radar for years and has finally hit the market. Originally built in 1924, this 4,372 SF home sits on two lots at 737 Park Lake Circle and overlooks Park Lake in Downtown Orlando.
Click HERE for more.
This beautiful 1950s mid-century modern home was built in 1954 and was the Orlando Parade of Homes Grand Winner in 2014. It's located at 1818 S. Summerlin Avenue, near Lake Lancaster and Boone High School in the Delaney Park neighborhood.
This 1,598 SF home was built in 1955 and thoroughly renovated with new upgrades that include a Nero marble shower with barn door frameless glass shower door, Signature Hardware vanities with Carrera marble, refinished original hardwood floors, and a kitchen with Dolomite marble and a wine fridge.
Click HERE for more.

This large bungalow in Thornton Park was originally built in 1925 but received an addition and restoration work in 2008.
Click HERE for more.
This beautifully updated three bedroom, three bath pool home is located at 714 Buckwood Drive in the SoDo District on a corner lot that measures in at 1/3 of an acre.
Click HERE for more.
This four-bedroom, two-and-a-half bath home is tucked away in College Park near Lake Silver, at 932 Vassar Street; an easy walk to nearby shops and restaurants or a short bike ride to Dartmouth Park and the upcoming Packing District.
Click HERE for more.
Located at 1517 Westchester Avenue in Winter Park, the 3,017 SF home sits on a double lot that's over a third of an acre, and its Spanish-Colonial architecture blends modern touches with an old-world charm.
Click HERE for more.
This three-bedroom, two bath home was built in 2016 and is really something special. Located at 2315 Raehn Street, the home features an open-concept living area with polished concrete floors throughout.
Click HERE for more.