SPONSORED: "Great Reads" is a regular roundup of books that the Orange County Public Library System thinks you should peruse that month.
The air is full of renewed hope and juicy possibilities as we bid farewell to the Year of the Dog and welcome the Year of the Pig. "New year, new you" has been said so often the shortsighted dismiss it as cliché, but we know it's something more: a promise. The tools you need to expand your horizons on this fresh trip around the sun are just a library card away and here a few select reads to help your journey.

American Born Chinese
By Gene Luen Yang
Gene Luen Yang intertwines the stories of three characters on their quest to become comfortable with their cultural identity in this award-winning graphic novel that celebrates Chinese culture. Jin Wang faces social isolation and ridicule after his family moves to a predominately white community. Danny's
status as a popular high school jock is threatened when his Chinese cousin enrolls in his school. And Monkey King, unhappy with his status, trains in hopes of becoming a god.
Bad With Money: The Imperfect Art of Getting Your Financial Sh*t Together
By Gaby Dunn
After growing up in a family that never discussed money, Gaby Dunn made every possible wrong choice with her money. In this part memoir/part self-help book she openly discusses how she overcame her financial struggles and offers helpful advice on becoming better with personal finances in a humorous and entertaining manner. If your New Year resolutions include better money management, you'll want
to borrow this book.
Chinese Soul Food: A Friendly Guide for Homemade Dumplings, Stir-Fries, Soups, and More
By Hsiao-Ching Chou
Want to save on take-out this year? Stationed in Seattle, the food editor turned instructor, says
consistency is the key to success when delving into Chinese home cooking. She'll show you how to
create Asian inspired meals in the comfort of your own home with a few simple additions to your
pantry. Chou does a wonderful job of making the foray into Chinese food fun and accessible for anyone who's willing to try.
Creating Sanctuary: Sacred Garden Spaces, Plant-Based Medicine, and Daily Practices to Achieve
Happiness and Well-Being
By Jessi Bloom
Everyone needs a place to go for peaceful, contemplative solitude. In her new book, author Jessi Bloom reveals that this sanctuary space can be in one's own home. With simple steps and gorgeous
photographs, this book guides the reader on how to create a personal sanctuary at home that can act as
a space to recharge one's mind, body, and soul. Daily happiness practice tips and simple medicinal
recipes round out this truly helpful guide.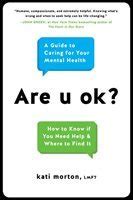 Are U Ok?: A Guide to Caring for Your Mental Health
By Kati Morton
A new year can be stressful, especially when it comes to your mental health. But don't worry, author and YouTube personality Kati Morton has you covered! In short, easy-to-read chapters, she is able to
break down the various issues that most people go through when dealing with mental health, all the while offering solutions on how to start your new year off with a positive outlook. As Morton points
out: your mental health is worth it.