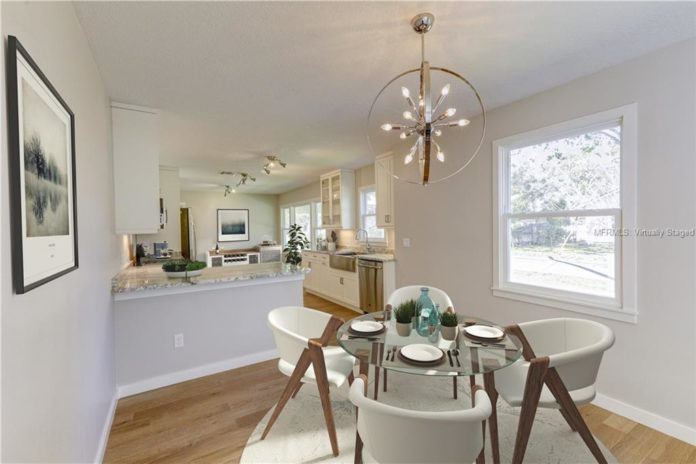 SPONSORED by Beth Hobart, Mainframe Real Estate: This four-bedroom, three bath home is located at 1300 Weber Street [GMap] in the heart of the Mills 50 Main Street District and Colonialtown North.
The 1,885 SF home was built in 1950 and blends historic charm with modern updates. The home is move in ready and was completely renovated and expanded and now everything inside is brand new, with high-quality finishes including new windows, porcelain tile, and engineered hardwood floors.
The gourmet kitchen features granite countertops, solid wood shaker-style cabinets, brand new stainless steel appliances, an oversized farm sink, and a large kitchen peninsula with a dining space on one side and room for a dinette on the other.
The home also has two master suites, both with en-suite baths, spacious closets, and large sliding glass doors that open to a private, outdoor courtyard.
This home is within walking distance of a vibrant and growing Main Street with shops and award-winning restaurants, a thriving small business community, and quick access to parks and cultural hubs like Leu Gardens and Loch Haven Park.
The asking price is $425,000.
Click HERE for the listing or contact Beth Hobart, Mainframe Real Estate, at
[email protected], BethSellsFlorida.com to arrange a tour immediately. An open house is scheduled for 2-4 p.m. Saturday, March 16.