"I don't have a website or anything, I'm not really any kind of journalist or food blogger or anything. I'm just really passionate about brunch, lol" – Sarah Gray

God bless you, Sarah Gray
Proud Orlandoan and brunch enthusiast Sarah Gray (Instagram), broke the local interwebs this week when she shared a detailed spreadsheet of Orlando's brunch spots that offered endless mimosa deals to the digital foodie Starwars Cantina that is Orlando Foodie Forum presented by Tasty Chomps.
Sarah Gray is an angel on earth.
The spreadsheet includes dollar amounts for the drinks, style of food served (if you like your brunch solid versus liquid), how pricey the menu is, and a fun assortment of notes and comments on the restaurant itself.
The list is a working one, and Gray is adding to it as we speak – because someone will always be accidentally left out and shake their digital fist in the air. Lists are hard and feelings are easy to hurt, that's why we rarely mess with them ourselves – feelings, not lists.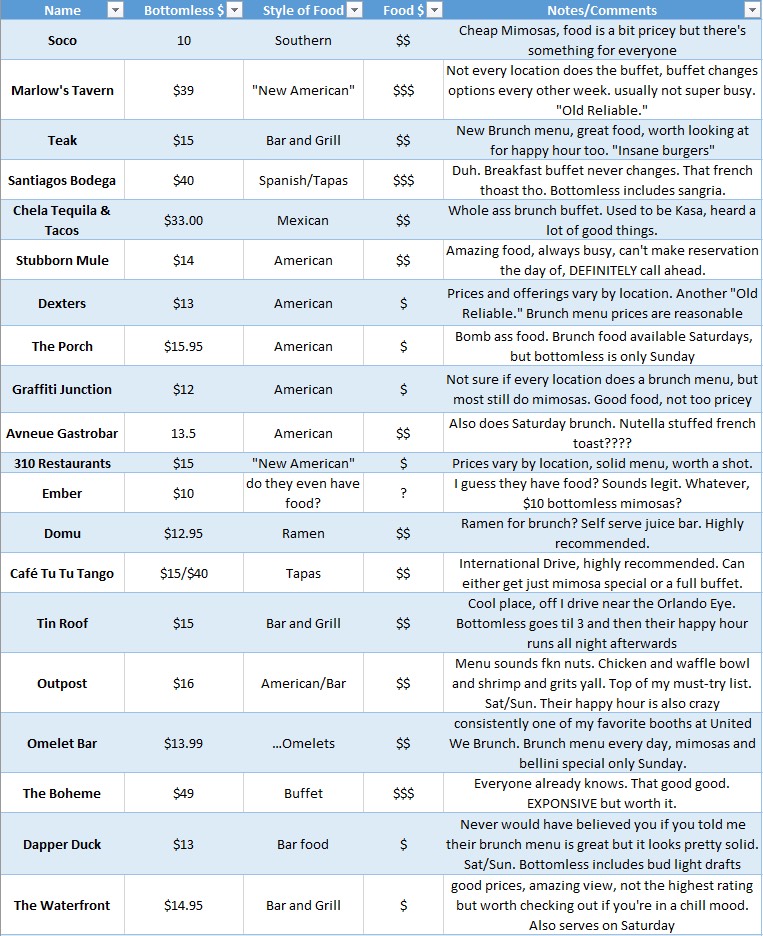 EDITS: The Boheme's brunch is now $54, bottomless mimosas at Bulla Gastrobar are $18.