POWERED BY FORD VIP BLOGGER PROGRAM: This is the second piece in a brand new series of columns that we will be sharing in partnership with our friends at Sun State Ford and Ford Corporate to share some of our new favorite day trips in the Orlando area.
The Downtown "bungalow" neighborhoods are undoubtedly the best places to live in The City Beautiful, but sometimes you need to get away. We straight trippin', boo.
This week's trip took us to New Smyrna Beach for a private party and some time spent downtown and at the Atlantic Center for the Arts. Holler at Sun State Ford for loaning us a brand new Ford Mustang (with only 24 miles on it) for the drive. It was easy to drive and I felt like it wanted me to drive a little bit faster the longer I was in it. So I kinda did … #leadfoot.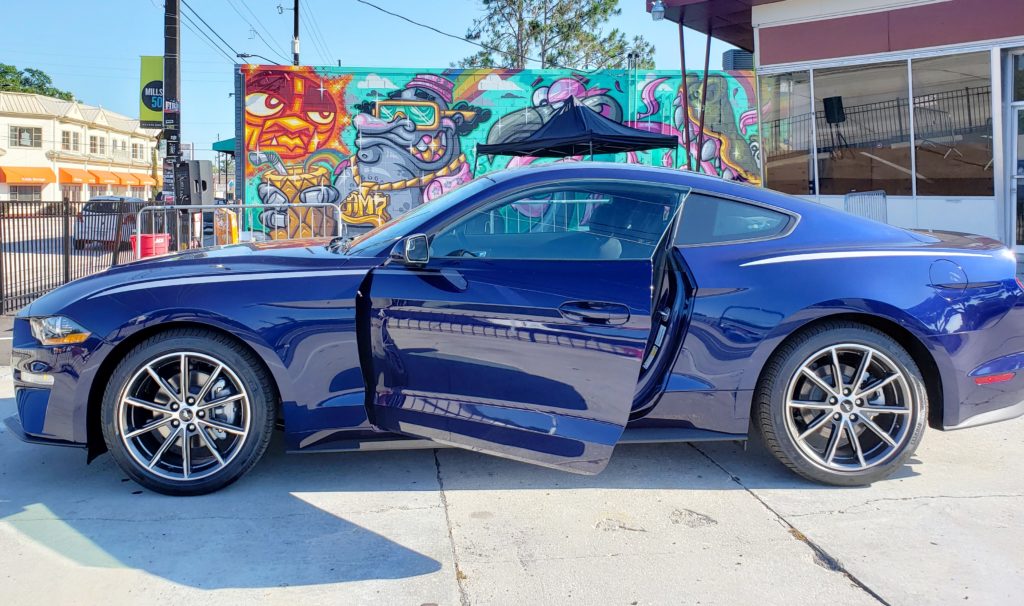 So, New Smyrna Beach (NSB) is a totally doable hour-and-a-bit jaunt along I-4 and East New York Avenue from Orlando – although, traffic was totally cray on Saturday when I hopped in my fancy blue car so it really took me about two hours to get there. But I stopped for yummies in Deltona somewhere. Don't ask me where it was a quick side trip and I was wearing really short shorts so it wasn't really a safe space for me at that moment. And yes, I ate a taquito but I washed it down with a kombucha so they canceled each other out.
Now, admittedly, I was there for a private birthday party on the beach (shout out to Justin Stamper from Zombie House Flipping on FYI) and had some beers in a pool for a large part of the day, I still made some time to check out some of the local sights – like Stamper in swimsuit #hubbahubba.
Also, side note, nobody knows you've had too many drinks when you try to tell them where you are because "Smyrna" already sounds like you're slurring into your margarita glass. So sneaky and convenient.
ATLANTIC CENTER FOR THE ARTS
This amazing 68-acre campus was founded by internationally-known artist, Doris Leeper, in 1977. ACA has become a multidisiplinary art-Narnia with Artist-in-Residence programs, community initiatives and public programming, and an amazing on-site gallery. It's totally in the middle of nowhere and you feel like you're going to end up in the ocean at any minute but it's worth the drive. If you time it right you can even take place in a workshop with a visiting award-winning artist.
Click HERE for more information.Click HERE for more information.
SMYRNA DUNES PARK
Some people come to Smyrna just to see the tip. And that's cool, cuz it's a really nice tip. Their unofficial slogan should be, "New Smyrna, you just know the tip of it" a la our own Orlando Economic Partnership's "Orlando, you don't know the half of it."
Located at the top of the New Smyrna Beach peninsula is a 73-acre slice of dog heaven where people can park their vehicle for $10 and then go frolic in the sand with their fur babies. They have to stay on leash, because its a park and its all super-sensitive nature all around you, but once you get to the water you can swim and selfie all day with your good boy and have a wonderful little picnic.
PARK YOUR CAR ON THE BEACH
So, I'm not really sure why this is a thing here in Florida. Why would you want to hang out on a beach where the sand is packed flat and someone just parked their shitty car there all day before you got there? I feel like I'm waking barefoot on a torn up front yard at a mechanic's shop. That ain't how I do the beach. BUT, who am I to argue with the millions of people who really get off on that sort of thing?
I'll tell you who; a man with taste! Y'all are nasty.
But again, if that's your thing, you can park your car on the actual New Smyrna Beach for $20 a day which gets you a day pass so you can come and go as you please. Pets and glass containers aren't allowed though. So there's that.
But like, why can't you park in a parking lot and walk over the dunes, y'all?