POWERED BY FORD VIP BLOGGER PROGRAM: This is the fourth piece in a brand new series of columns that we will be sharing in partnership with our friends at Sun State Ford and Ford Corporate to share some of our new favorite day trips in the Orlando area.
The Downtown "bungalow" neighborhoods are undoubtedly the best places to live in The City Beautiful, but sometimes you need to get away. We straight trippin', boo.
This week's Ford-fueled trip took us to Rainbow Springs in a2019 Ford Ranger. The original plan was to check out Kelly Park in Apopka, but since it was a long weekend, the park closed early because it was at capacity. That's a great lesson for you, Orlandoans; early is best when heading to a Florida spring.
Rainbow Springs State Park is located three miles north of Dunnellon, Florida; that's a one-and-a-half-hour drive if you take the Turnpike but just over two hours if you try to avoid the tolls.
So the park itself has a campground just a few miles from the headspring if you're looking to overnight it, but if you're looking to swim or tube this is an excellent one-day option for you to get out of town.
SWIMMING AT THE HEADSPRINGS
The headwaters of Rainbow Springs is a swimming-only area that is roped off from the rest of the river. The water temperature hovers around 72-degrees all year and it's anywhere from five to 18-feet deep depending on how close to shore you are. And I say "shore" loosely as there isn't a gradual beach here for you, but rather a dock with a massive drop-off and some stairs for the less adventurous. I took the stairs but still managed to step right into the deep end and go underwater up to my straw hat like a pasty-looking lilypad.
This swimming area does not allow rafts or tubes. They sell noodles in the guest service area just a stone's throw away but if you want to float, be sure to grab at least two noodles so you can chill out in the deep end away from the frantic kids and hot dads showing off their cannonball skills.
There's no lifeguard on duty, but there is usually a really shouty park ranger that will blow their whistle if you sit on the ropes around the perimeter of the swimming hole.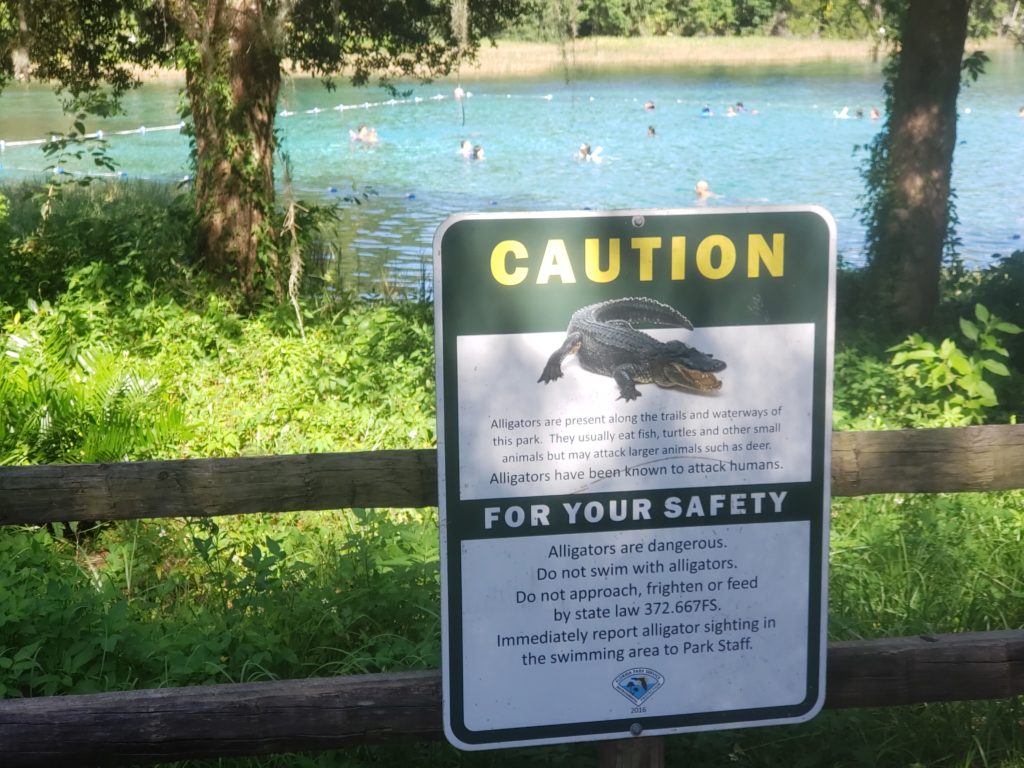 TUBING
CHECK OUT THIS GREAT VIDEO WE FOUND ON YOUTUBE
If tubing is your thang, skip the park check-in/swimming area entirely and head to S.W. 180th Avenue Road, Dunnellon [GMap] to do your thing. The park entrance fee here is $2 per person and they have a concession area where you can rent a tube for $20 on-site and use the shuttle service – which you'll totally be using because, gurl, this route is crazy long.
The shuttle will haul your butt two miles upstream to enter the river and then float back to your car but you can stay on the river a bit longer and end up at Swampy's Bar and Grille where you can snack on some great fish and have a cold beer.
Which, obviously I recommend.
Pro Tip – Tubing closes at 3 p.m.
SWAMPY'S BAR AND GRILLE
Swampy's (Website) is pure Florida. There's a dock on the river for people to tie up their pontoons and fishing boats, a little beachy area for people to hang out in with their dogs, and plenty of space for you to throw your tube if you need to dry out for a second to avoid pruney fingers.
There's plenty of wildlife and we hear if you get there early enough, you can catch otters hanging out on the aforementioned dock being cute and ottery. We were there in the late afternoon but we got to feed super-tame squirrels by hand while waiting for our food to come out. I'm basically Snow White, y'all.
The menu is a little bit of everything; a great mix of country, soul food, and cajun eats. I went with a cajun-blackened fish sandwich and the fish was local if that tells you anything – read "delicious."