Rollins College's Winter Park Institute will continue its tradition of importing international thought leaders to Central Florida with this twelfth season of speakers. The 2019-2020 season features Zeid Ra'ad Al-Hussein, Jose Antonio Vargas, Annika Sorenstam, Jeffrey Brown, Billy Collins, and Laura Ling.
The following information was taken directly from their season announcement release.
Zeid Ra'ad al-Hussein,
September 17, 2019 at 7 p.m.
Tiedtke Concert Hall
Throughout his career, Prince Zeid Ra'ad al-Hussein of Jordan has been an advocate for human rights and peace initiatives. His belief that "the safety of humanity will only be secured through vision, energy, and generosity of spirit; through activism; through the struggle for greater freedom, inequality; and through justice," has compelled him to engage in, and to lead the cause of humanitarian work including involvement in international criminal justice, UN peacekeeping, post-conflict peace-building, counter nuclear terrorism, and his pledge as an international gender champion.
In his final address as out-going United Nations Human Rights Ambassador, al-Hussein shared his concern that the threat to global stability created by increasing nationalism poses a great danger to democracy, and he advocated for world powers to fight against factions whose mission is to undermine civil liberties.
Jose Antonio Vargas,
October 17, 2019 at 7 p.m.
Warden Arena, Alfond Sports Center
Jose Antonio Vargas, an undocumented immigrant from the Philippines, has been called "a visionary writer and activist" who chose to reveal his powerful story in a 2011 New York Times Magazine essay. In a follow-up article one year later, his photo appeared on the Magazine's cover along with other undocumented immigrants, and in 2013 he directed the CNN film Documented narrating the details of his personal journey.
Vargas continued publicly to share his path and to champion other undocumented immigrants through his 2018 memoir, Dear America: Notes from an Undocumented Citizen, and in his role as producer for the Broadway play, "What the Constitution Means to Me." He advocates for the rights of equality and citizenship and challenges audiences to consider the question, "How do you define 'American'?"
Annika Sorenstam,
November 18, 2019 at 7 p.m.
Bush Auditorium, Bush Science Center
Credited as a trailblazer in women's golf, Annika Sorenstam is referred to as the greatest female golfer of her generation, perhaps even one of the best of all time for her record-breaking career statistics. She earned the title of LPGA Player of the Year eight times—five in a row between 2001 and 2005—won more than 70 tournaments in 16 years and is a member of the World Golf Hall of Fame. Her tenure at the top of women's golf rankings heightened attention to women's golf—how it was viewed, played, and covered as a vital sport. With the fame and fortune her golf success brought, Sorenstam has dedicated her passion to business ventures such as designing golf courses and becoming the first female golf pro to successfully develop her own brand. She also established the Annika Foundation to encourage wellness and healthy and active lifestyles.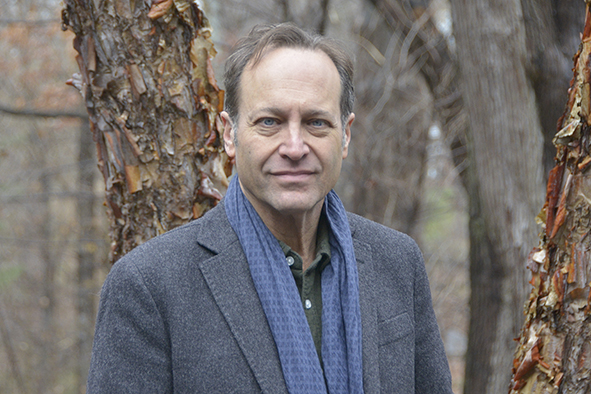 Jeffrey Brown,
February 18, 2020 at 7 p.m.
Tiedtke Concert Hall
Jeffrey Brown's career as a distinguished journalist spans nearly three decades with the PBS NewsHour, public television's widely viewed nightly programming. As a field reporter, he traveled the globe profiling leading figures of national and international acclaim. Brown currently serves as the show's senior correspondent and chief arts correspondent, positions that have garnered interview opportunities with many of the world's leaders in music, literature, art, film, and theater.
In 2008, Brown launched "Art Beat," an arts and culture blog, and he followed up in 2014 with the series "Culture at Risk" examining threats to our cultural heritage. He also hosts "Now Read This," a monthly book club collaboration with The New York Times, providing discussion with noted authors. Brown is the recipient of many honors including a News & Documentary Emmy.
Billy Collins,
March 4, 2020 at 7 p.m.
Tiedtke Concert Hall
Distinguishing himself as one of the most prolific and celebrated poets of our time, two-term
U. S. Poet Laureate Billy Collins occupies a rarefied place at the intersection of critical and popular acclaim. His well-chosen words, often initially laid down in playful and humorous tones, generally make a subtle but sharp turn to thought-provoking revelations about life's more serious and contemplative subjects.
No living poet is any better at his craft, and Collins has won many coveted accolades for his 12 books of poetry. These collections have appeared regularly on The New York Times Best Seller list, and he has been honored with fellowships and awards from the Guggenheim Foundation, the National Endowment for the Arts, the Mark Twain Award for Humor in Poetry, and, most recently, he was elected to the prestigious American Academy of Arts & Letters.
Laura Ling,
April 7, 2020 at 7 p.m.
Bush Auditorium, Bush Science Center
Laura Ling captivates audiences with a candid look inside the life of an international journalist, including the importance of exposing critical issues, challenges faced in various parts of the globe, and what she learned about one of the world's most reclusive countries. Her story provides a unique view into North Korea and what happens when outsiders interact with this nation's people face-to-face. She recounts her violent capture, 140-day imprisonment, and fears that she might never see her family again, while also acknowledging the glimmers of compassion her captors directed toward her.
Ling discusses what sustained her throughout this terrifying isolation and the ways in which she fought to win back her freedom. She inspires others not only to find hope and strength within themselves but also shares the message that people need to find common humanity in an increasingly divisive world.
WPI brings preeminent scholars, artists, entrepreneurs, entertainers, writers, and world-renowned speakers to students, faculty members and the broader community each year. Guests of this series have won Academy Awards, Tony Awards, Emmy Awards, Pulitzer Prizes, Presidential Medals of Freedom, and a Nobel Peace Prize, among many other distinguished honors.
"Winter Park Institute brings global innovators and leaders to our doorstep to challenge our thinking and open us to possibility," says Executive Director Gail Sinclair, "and the Rollins community and our Central Florida neighbors become the benefactors of their vision and calls to action."
Information on the entire WPI Season can be found at rollins.edu/WPI. Tickets can be purchased on-line or by calling the box office at 407-646-2145. For a limited time, a season pass for all six programs will be offered at a discounted price. After August 6, tickets for individual programs will be available for $25 per ticket.