Halloween Horror Nights (Facebook | Website) is arguably the largest Halloween event in the world and it happens in Orlando every year, bringing hundreds of thousands of visitors to town to scream their heads off during their Florida vacations. But locals should be taking advantage of that fun too. What follows is our Guide to making the most out of this annual blockbuster event, just a few minutes away from downtown Orlando.
It runs from September 6 through November 2 so you have plenty of time to play a local-tourist and get out of downtown for a night. It doesn't run every night though so keep that in mind. In September you still have the 25, 26, 27, 28, 29 to go. October it is open 2, 3, 4, 5, 6, 9, 10, 11, 12, 13, 17, 18, 19, 20, 23, 24, 25, 26, 27, 29, 30, 31. The fun begins at 6:30 p.m. sharp.
There are ten expertly created haunted houses this year with five "Scare Zones" scatted throughout Universal that are full of "Scareactors" wandering around with the sole purpose to make you pee your pants. Each zone has its own brand of live entertainment and actors and yes, some of them have chainsaws.
Scare zones include:
Zombieland "Double-Tap"
Rob Zombie Hellbilly Deluxe
Anarch-Cade
Vanity Ball
Vikings Undead
There's also a brand new water show over the lagoon called "Halloween Marahon of Mayhem" with giant water screen projections of iconic horror scenes with lasers.
BASIC TIPS:
THIS IS A SPRINT AND A MARATHON: Unless you plan on coming back another night, you're probably going to try to fit every house into one visit – which is totally possible but not easy. Arrive early and head to the back to work your way up front. That means you start at House of 1000 Corpses, Depths of Fear, and Nightingales Blood Pit. Wear comfortable walking shoes and drink lots of water 'cuz you're going to be getting your steps in tonight.
BE PREPARED TO TWIDDLE YOUR THUMBS: You're going to be in a line. The later you stay, the longer the lines, with wait times varying each hour. If you can't afford the HHN Express Pass (It's $90 and lets you skip the lines) then be sure to bring some games to play on your phone and maybe one of those fancy chairs that pop out from your hips so you can take a rest. But seriously, consider getting the Express Pass.
THERE ARE PLENTY OF SPOTS TO EAT AND DRINK: If you didn't eat before leaving downtown (because you're apparently made of money) don't worry, because there are plenty of places to eat and drink on your walk through the park. CityWalk has some great options but there are drink stations and diners pepped throughout the park while you're Horror'ing it up.
NOT FOR KIDS: Universal says that this event is too intense for young kiddies and they don't offer child prices as a result. That being said, if you have a bad-ass toddler that doesn't scare easy, you can apparently take the risk. We saw plenty of kids here that will grow up to torture animals in the future and refrain from expressing love to their family.
PRESS THE RED BUTTON: If you see a red button in a haunted house, press it. It will bring you a special surprise.
COSTUMES AREN'T ALLOWED: Don't be weird.
RESPECT THE SCARE ACTORS: You may forget, while you're screaming and clutching your pearls, that the monsters are just people in costumes. Don't be awful. Treat them with respect and have fun.
PARKING: Usually, parking is free at Universal after 6 p.m. but that policy disappears during Halloween Horror Nights. It will cost you $26 for self-parking and $40 for preferred self-parking. Rideshare to the drop-off station outside the parking garage is a good call, but plan on catching your ride home somewhere nearby like a hotel as traffic can become a major bummer getting in and out of there. If you're thinking of parking or getting dropped off at the hotels and walking over, they won't let you past the hotel access points unless you have a valid room key.
THE HAUNTED HOUSES:
We've rated the houses from 1 to 5 Screams with one being not scary at all to five resulting in us changing our clothes afterwards.
GHOSTBUSTERS
This house isn't scary at all but it's one of the most charming.
Sony Pictures' Ghostbusters is celebrating the film's 35th anniversary of the original '84 release with this interactive movie house. We say "move house" because it's more of a walkthrough of specific scenes from the classic with up-close looks at Gozer the Gozerian and Slimer and Key Masters making out with Gate Keepers.
While not scary, the house had us gleefully clapping along as we made our way through the rooms like a happy baby with a new toy.
😱 We gave it 1 out of 5 Screams 😱
YETI: TERROR OF THE YUKON
Huge and hairy man creatures from the mountains are trying to get you and you're not even at Parliament House Resort. House hunters are taken deep into the Canadian tundra to find a settlement of trappers and loggers (all dudes, hence the gay club reference) who are being overtaken by a gaggle of snowy sasquatch creatures.
The snow is a great tough and the extra air condition completely welcomed. While not completely terrifying, this is a really fun house that you should put on your second tier of visits after hitting some of the scarier ones earlier in the night.
Fair warning, there's a bit of a splash zone in effect here. Brendan got splatted with innocent miner blood and even got some in his mouth. But that's just a day with a "y" in it.
😱😱 We gave it 2 out of 5 Screams 😱😱
JORDAN PEELE'S US
This house is ripped straight out of Jordan Peele's nightmarish masterpiece about the Wilson Family having to fight their stabby doppelgangers who have crab walked out of the depths of the earth. Someone should tell them it's dangerous to run with scissors.
There's something really terrifying about being confronted with humans (and the human-adjacent) in a setting like this as it's just way more believable than coming face-to-face with a yeti or a merman-thing.
😱😱😱😱 We gave this house 4 out 5 Screams. 😱😱😱😱
STRANGER THINGS
Step through a series of tableaus straight from the Netflix hit, Stranger Things, alongside some scarily convincing Demodogs and child actors. The girl playing Eleven, the bloody-nosed telekinetic in a frilly dress, was hand-clappingly good in her role and had us believing we were in the show from the very first room.
While not the scariest house on the tour, it was definitely a piece of art. The costumes, acting, and creatures were fantastic and is a must-see. Keep in mind that it's one of the hotter tickets at the park so hit it quick when you first get here so you're not stuck in line all night.
😱😱 We gave it 2 out of 5 screams. 😱😱
HOUSE OF 1,000 CORPSES
Horror fans will love this glimpse into Rob Zombie's cult-favorite film franchise, featuring Captain Spaulding's Museum of Monsters and Madmen.
Each Fireflys family member is in attendance looking to inflict their twisted perversions on attendees. It's pretty gory and super sadistic, but a complete delight.
Make sure you put this one on your itinerary. You don't want to miss it.
😱😱😱😱 We gave it 4 out of 5 screams 😱😱😱😱
DEPTHS OF FEAR
If you're not a continuity monster like we are, feel free to skip this house.
Depths of Fear is apparently about a deep-sea mining company that's dug too deep and released a parasitic race of ugly mermen creatures that like to lay their eggs in people and on the furniture. They're like, the worst house guests ever.
The mining structure is really cool and reminiscent of Alien just with egghead anglerfish mermen dudes that are a bit more funny than scary.
😱 We gave it only 0.5 a scare out of 5 screams 😱
NIGHTINGALES BLOOD PIT
OK, so this one is a bit random.
This house takes you back to an Ancient Rome full of gladiator games and sexy men in sandals. It's one step away from setting off your browser history at work. The rub is, there are bloodthirsty vampire-ish creatures here that are taking over the arena and our shirtless warrior friends are having to fight them off without an audience of Romans waving their togas over their heads.
The "Nightingales" name is what Universal has given to the vampire/ghoul people who are attacking the arena and eating the gladiator leftovers.
This house is gruesome, in your face, and a little bit sexy.
😱😱 We gave it 2 out of 5 Screams 😱😱
UNIVERSAL MONSTERS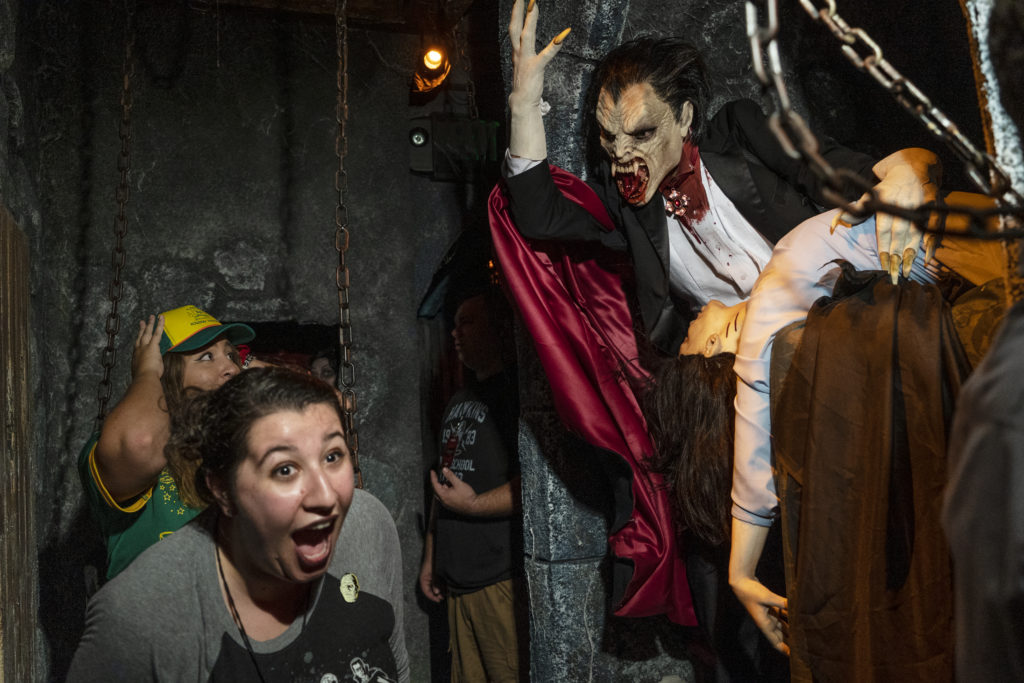 Remember that '80s movie, The Monster Squad, where a bunch of A/V nerds end up saving their hometown from Count Dracula and his posse of old school movie monsters? That's kind of what this feels like. Or rather, it's like going to a high school reunion to reassure yourself that your old friends are still freaks.
Universal Monsters has got all the best oldies in attendance; the Wolfman, Dracula, Frankenstein's monster, the Creature of the Black Lagoon, and a the Mummy.
😱😱 We gave it 2 out of 5 Screams 😱😱
GRAVEYARD GAMES
To be honest, we almost skipped this one because the line looked a little slow and our crew was pretty wiped by the time we got to this part of the park. Getting scared can be a little draining. But we are so glad we hobbled through it.
This house takes you to the Ascension Parish Cemetery where teenagers (read cellphone-using Millennials) like to knock over gravestones and knock boots. The perfect recipe for paranormal activity. And pre-marital pregnancies.
House-walkers will find themselves running through the graveyard to get away from ghouls, ghosts, and all manners of beasties, including repentant teenagers looking for help to escape. But it's every person for themselves in 2019, y'all.
😱😱😱😱 We gave it 4 out of 5 Screams 😱😱😱😱
KILLER KLOWNS FROM OUTER SPACE
You can guess from the name that this one is going to be weird. They spell it with a "k" after all.
The house is full of weird alien clown, sorry, "klown," creatures that tower over you as you are assaulted by the scents of stale popcorn and candy. The smells are supposed to alert you that these creatures are nearby so being overwhelmed is par for the course.
This house is weird as hell but totally fun. While not overtly scary, unless you're suffering from coulrophobia, this thing is really perverse and raunchy which helps it stand out over some of the other houses.
😱😱 We gave it 2 out of 5 Screams 😱😱