The Enzian Theater (Website) made headlines in 2018 when it suddenly pulled its plans for the long-awaited expansion of its Maitland-based theater building but the struggle to have more screens may not be over.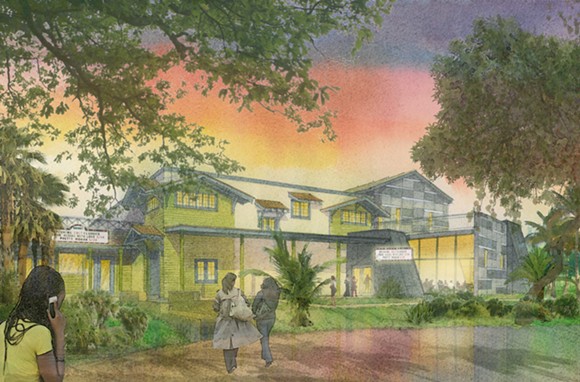 The 15,000 SF "Enzian Forever" expansion would have brought two additional screens to the popular alt-theater but met substantial resistance from nearby residents who feared it would bring added traffic to their neighborhood.
The project also required a vital parking arrangement with Park Maitland School, but the school and property were sold to a new company which caused the theater's Board of Directors to withdraw its expansion plans from the City of Maitland.
Enzian has since filed a new request with the City of Maitland with considerably less ambitious plans to add a single 50-seat screening room to the building, without having to add to its footprint.
The Board is in very early conversations with the City of Maitland Planning Department to see if they can convert existing space within their theater auditorium into the second screening room without adding any more seats – simply sectioning off an area with a possible wall, new exterior entryway, and some theater magic.
An original read of the proposal denied the request as city staff was unsure how a second screen would affect the nearby residents. The proposal is now in a review process with the Zoning Board and then will go to City Council.
This process is not formal at the moment, and simply a study to see if a possible conversion of the existing space is possible on paper.
The Enzian is currently preparing to host its 29th Florida Film Festival from April 17-26, and is an accredited qualifier for the Oscars in the Live Action Short, Documentary Short, and Animated Short film categories. The winner of the Grand Jury Award in each of the categories is automatically qualified to enter the following year's Academy Awards.