POWERED BY FORD VIP BLOGGER PROGRAM AND MULLINAX FORD: This is the latest piece in our new series of columns that we will be sharing in partnership with our friends at Mullinax Ford and Ford Corporate to share some of our new favorite quick trips in the Orlando area.
The Downtown "bungalow" neighborhoods are undoubtedly the best places to live in The City Beautiful, but sometimes you need to get away. We straight trippin', boo.

This week's Ford-fueled trip took me to Seaside in the Panhandle, courtesy of Mullinax Ford of Central Florida in Apopka (Facebook | Website). They hooked me up with a 2020 Ford Escape that handled like a dream, had plenty of trunk space for my fabulous outfits, and was great on gas. The new Escapes also have fun features like the Lane-Keeping System that wiggles your steering wheel at you if you drift out of your lane on longer drives. So cool.

So, this is the longest trip we've advocated for yet. Seaside is a slightly daunting six-hour drive from Orlando mostly on the I-75 and the I-10. That's 401 miles of adventure if you're counting.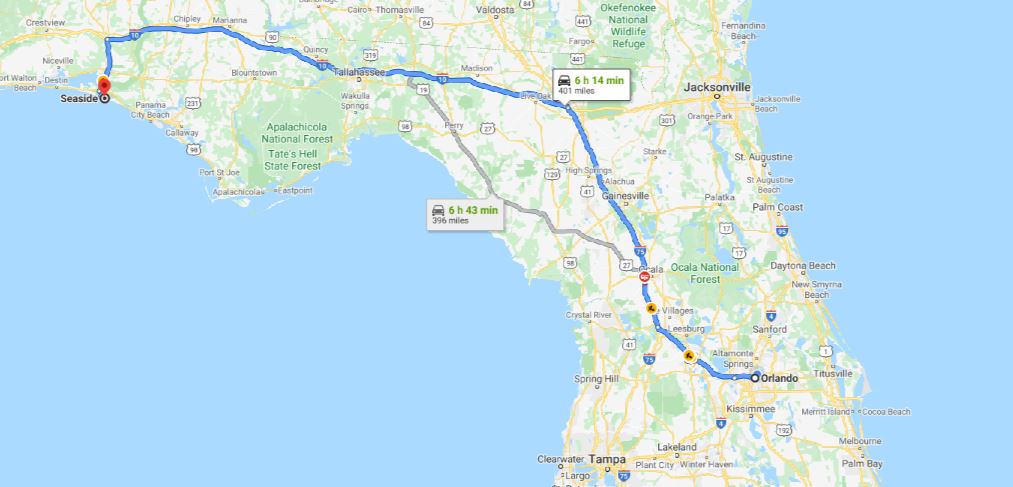 Seaside, Florida is basically in what our country friends call "Flori-bama." It's a master-planned community on the Florida panhandle between Panama City Beach and Destin and is a flagship for the New Urbanism movement – that refers to an urban design movement that embraces environmentally-friendly, walkable neighborhoods.
Seaside is so picturesque, and well, picture-perfect, that it was used as the setting for the 1998 film The Truman Show, starring Jim Carrey as Truman Burbank, a man who is raised by a corporation on a reality television show for his entire life.
The property was purchased by a Robert S. Davis in 1946 and used as a summer retreat for his family before it passed to his grandson who transformed it into a beach town inspired by nearby wood-framed cottages and designed by Duany Plater-Zyberk and Company.
Cars are meant to be put aside in favor of bicycles and flip flops and bike racks are in the forefront where they belong, in front of buildings you're visiting, not banished to an armpit of a car lot or tucked behind a dumpster.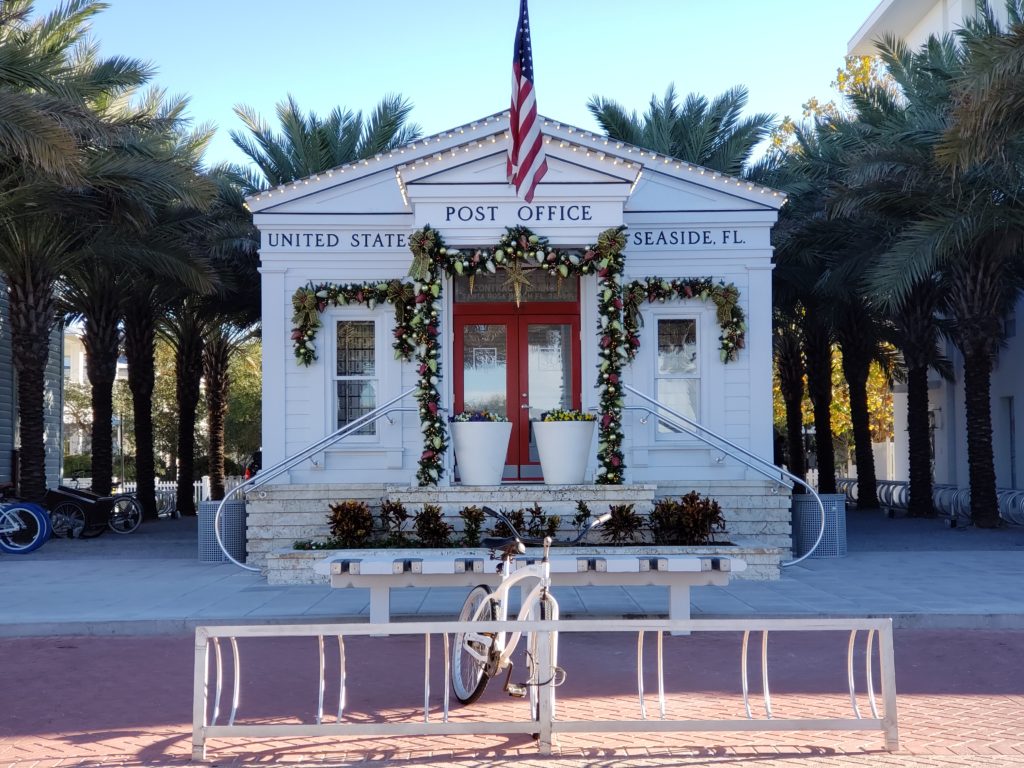 Everything is arranged with design and walkability at the forefront. Outdoor spaces function as outdoor living rooms, framed by artistically arranged native flora and expertly placed buildings. Walkways always have a vista terminated by either a beautiful building, a unique gateway to a beach, or a civic use.
Imagine how relaxing it must feel to be in a space that's built for people, rather than cars.


THINGS TO DO:
SHOPPING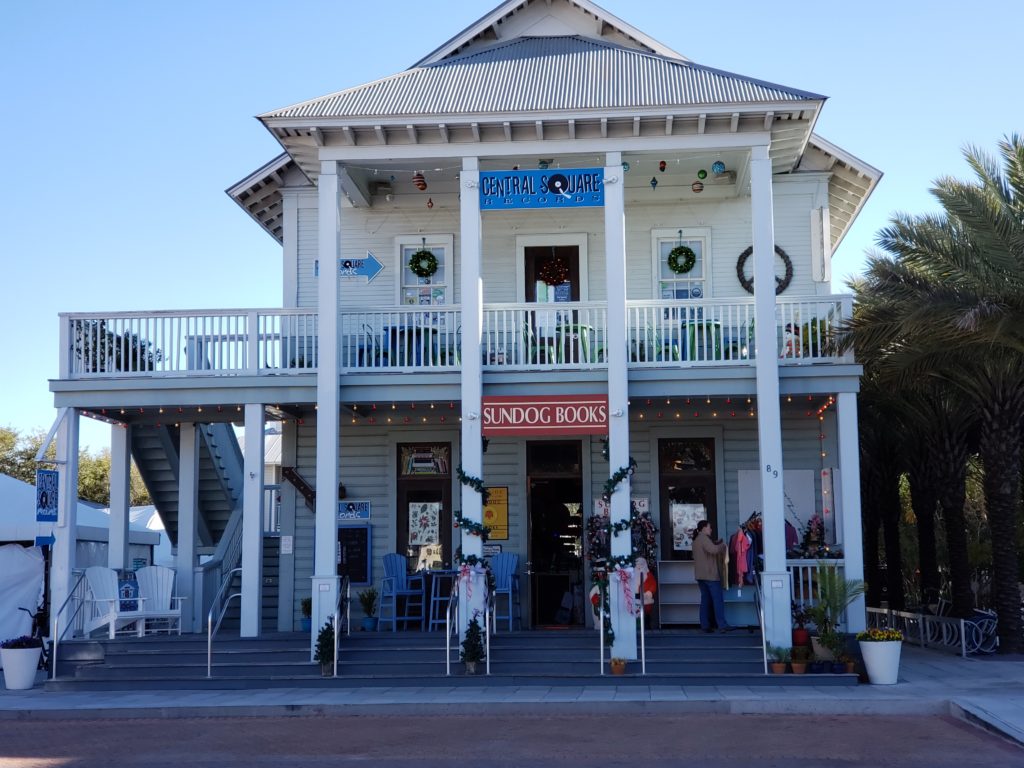 Seaside proper, the actual planned community, has just a few spots of note in its downtown core/public plaza. Sundog Books (Website) is a must-see, with a wide array of fun books to take to the beach and a record shop on the second floor for when you need some tunes to wash down your evening glass of wine at your cabana.
The plaza has everything from clothing shops like Ophelia Swimwear and The Seaside Style to sundries like at the Mercantile.
Gift shops abound as well and there are a number of retail strips just outside of Seaside's downtown with some funky finds to take home as well. We liked the pod of retrofitted tiny houses along County Road 283 South the most, but that's because of Black Bear Bread Company.
Black Bear Bread Company (Facebook | Website) isn't in Seaside proper, so someone may get mad that this is included, but it has the best coffee for miles around. The bread is freshly-baked and naturally leavened, the produce is seasonal, and everything is mindfully-sourced. Everything here tastes "happy" which is exactly the type of energy you want when you're on a beach trip. Try the scones. Amazing.


THE BEACH
Seaside (Facebook | Website) is a beach town and they don't want you to forget that. Every street in Seaside ends with a pavilion owned by that street's corresponding homeowner's association. That pavilion provides private access to its members/homeowners to their respective stretch of beach. But every pavilion is unique, like a snowflake, and reflects the individual vision of each respective architect. And they're gorgeous.
The public has access to the beach via the main square.


PLACES TO STAY
So, things here are pricey. It's basically a luxury resort in the form of a community. That being said, there are plenty of deals to be had, especially if you're traveling with friends.
Visit South Walton has a great website HERE that lets you check out some available lodging, including beautiful for-rent vacation homes, local hotels, condominiums, and more.
There are also plenty of Airbnb options in the area. I managed to find a great deal for an airstream trailer that the owner had called the "Roaming Juan."
I dropped $110 for a night's stay plus a cleaning fee. Totally worth it. The trailer was easy to access and very private and I felt like I was glamping the whole time which kind of added to the excitement of my bougie beach trip.
Allison, the host, was sweet as can be and put out some tea and honey for me in the little kitchen and a space heater in case it got chilly. The bed was totally luxe too and I wanted to take it with me when I left. I slept like a drunk dorm roommate.
Click HERE if you want to stay at the Roaming Juan when you visit.