According to a recent story by the Washington Post, black-owned businesses and neighborhoods have been hit especially hard by the COVID-19 pandemic. That fact is even more important when compounded with recent protests and activations across the country sparked by the murder of George Floyd in Minneapolis, Minnesota. You can help make an impact by joining peaceful protests without breaking curfew, you can sign online petitions, donate to local charities and organizations, and you can also put your money where your mouth is and spend some money at a local business.
This is not a comprehensive list of all the black-owned restaurants and food businesses in Orlando but it's a great place to start. Other sites have their own roundups that you can and should make use of including Click Orlando, Orlando Weekly, and Edible Orlando.
Other great resources to find locally-owned and operated businesses include Where You Came From (Website), Black Orlando Tech (Website), Black Business Owners of Florida (Website), and the African American Chamber of Commerce Central Florida (Website). Black Business Orlando (Facebook | Website) created a great list of black-owned restaurants which you can see below: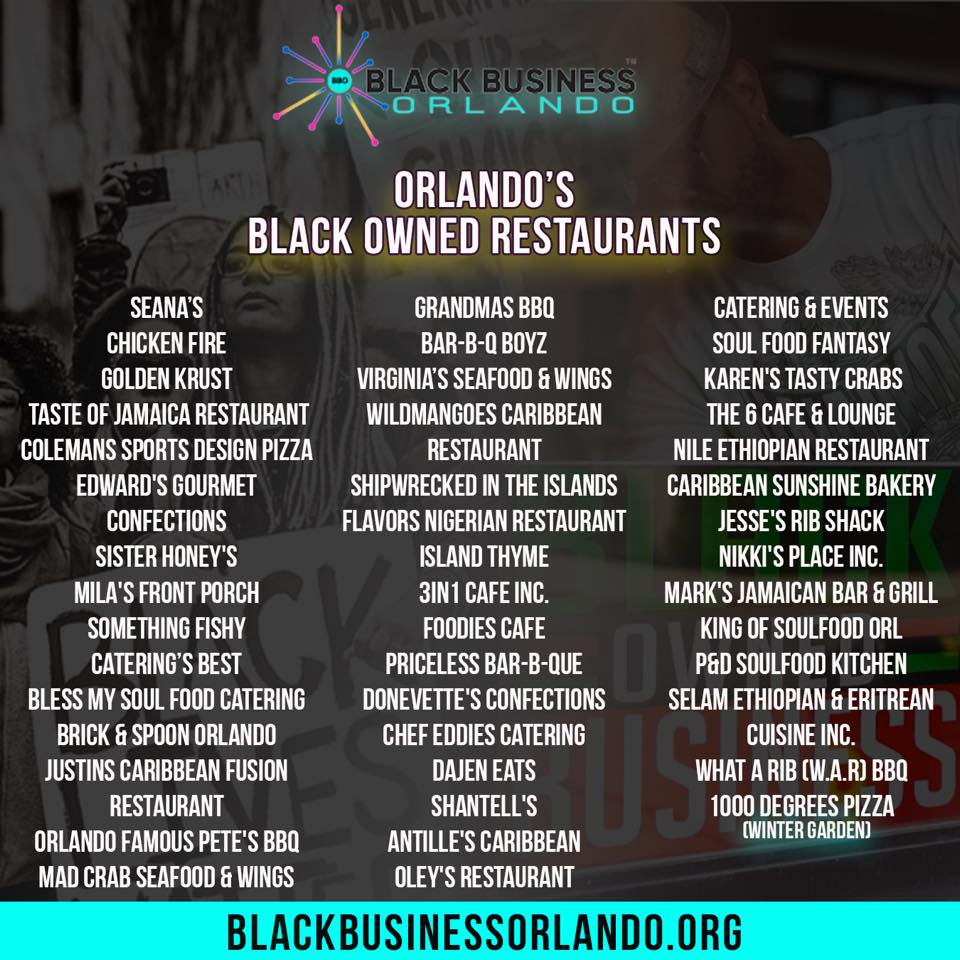 Antilles Cuisine (Facebook) – Antilles is known for its authentic Haitian dishes and for being super-friendly. Located at 2798 Hiawassee Road [GMap].

Black Bee Honey (Facebook | Website) – While Black Bee Honey isn't really a restaurant, this is an award-winning non-profit business that was founded by youth in Parramore, via the Parramore Kidz Zone program.

Caribbean Sunshine Bakery (Facebook | Website) – We're super into the patties here. You can use their new app to order your meal online and track the progress in real-time so you can skip the lines. Link via the website link above. Located at 2528 W. Colonial Drive, Suite A [GMap].

Da Jen Eats (Facebook | Website) – Jenn Ross is fast becoming one of the best-liked chefs in the Orlando area. She runs cooking classes, makes a killer sandwich, and she's vegan-friendly. Located at 323 E. Kennedy Boulevard, Suite F, Eatonville [GMap].

Dumpling Spot (Facebook | Website) – Dumpling Spot says they specialize in "Everything Cuisine with an island twist." Be sure to try the "Mannish Water" that our pal Jon Busdeker featured in an Orlando 60 video, featured above. Right now they're featuring some great summertime fish plates. Located at 4300 Clarcona Ocoee Road [GMap].

Eat 'n' Wash Details (Facebook | Website) – This is a restaurant and a carwash and it's one of the coolest concepts in Orlando, because it's been working for over six years and you can get a car wash and a plate for only $20. Located at 1723 S. Rio Grande Avenue [GMap].

Jesse's Rib Shack (Facebook | Website) – Their website says to "loosen your belt." Who are we to argue? They have great lunch specials too like $8.99 rib tips. Located at 2202 W. Pine Street [GMap].

Karen's Tasty Crabs (Facebook | Website) – Family-owned and operated with a menu of shrimp, oysters, cajun seafood, and lots of crabs. Located at 4898 S. Kirkman Road [GMap].

Nikki's Place (Facebook | Website) – Nikki's has been in business for around 70 years and they're located in a super cool historic building and everything there comes with gravy. We co-hosted a dinner event here once because we love it so much. They do a $5 plate day on Wednesday too. Located at 742 Carter Street [GMap].

Nile Ethiopian Restaurant (Facebook | Website) – Authentic Ethiopian cuisine with some of the best coffee in town. They'll roast it tableside for you too. Located at 7048 International Drive [GMap].

Selam Ethiopian and Eritrean Cuisine (Facebook | Website) – Selam's dishes are as pretty as they are tasty. They have vegan dishes too. Located at 5494 Central Florida Parkway [GMap].

Shantell's Just Until (Facebook | Website) – Shantell's stays open till 4 a.m. on Fridays and Saturdays, has live music, and they're known for their great soul food. They're in Sanford so just plan on spending the night. Located at 503 S. Sanford Avenue, Sanford [GMap].