The City of Orlando is leasing 18-acres of a 100-acre public park space in The Packing District to 4 Roots Foundation to create an urban farm.
4 Roots is an initiative by 4 Rivers founder, John Rivers, that we covered HERE back in July 2018. 4 Roots will be responsible for the construction of the farm as well as for operation and maintenance of the facility when completed but City Council will vote on whether or not to provide $900,000 in "reimbursement" funds to the foundation for certain costs related to the $8 million project at the upcoming July 6 meeting.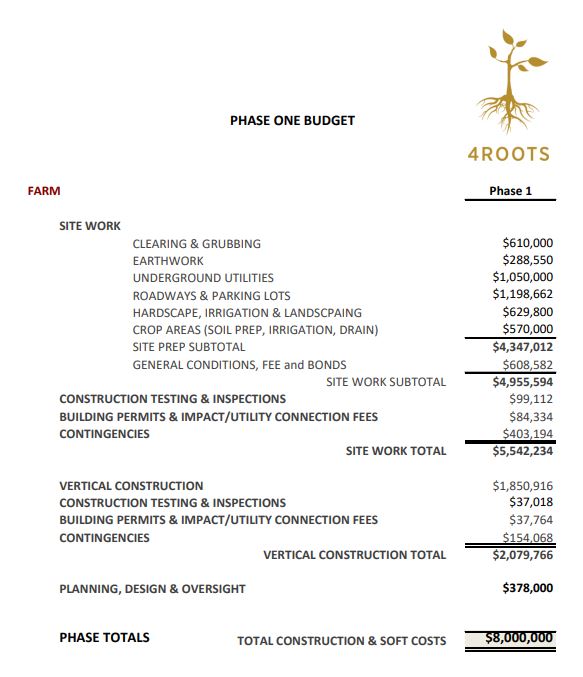 Conceptual plans submitted to the City include a 12,000 SF educational greenhouse that will host an agriculture technology program led by Valencia College; a 35,000 SF hydroponic greenhouse using state-of-the-art growing technology from GrowPonics (Website) touted as the "first of its kind in the continental United States; and a 2,400 SF vertical greenhouse.
Other notable features included in the early conceptual plans are a 5,000 SF dining/banquet facility, a 16,500 SF farm store and cafe showcasing a farm-to-table menu, an apiary, a large special events barn with an overlook that stretches over a large on-site pond and water feature, and a boardwalk that cuts through the adjoining wetland area which the foundation plans to restore. The parking lot will be covered by a solar canopy that will generate on-site solar power for the campus.
The farm is expected to be completed between 2021-2024 and will be located to the south of Princeton Street and east of John Young Parkway.