UPDATE: We have since updated this post with the public statement from Parliament House management concerning the closure of Parliament House Resort.

Infamous LGBTQ+ resort and playground, Parliament House Resort (Facebook | Website) as we know it, will be closing for business this Sunday, November 1.
Parliament House staff were informed of the closure at a meeting held on the morning of Tuesday, October 28. Bungalower confirmed with bar staff, who wish to remain anonymous, that the closure was imminent but we were not provided an official statement by bar ownership/management at the time of this post. A public statement was provided on the company Facebook page, which we have below.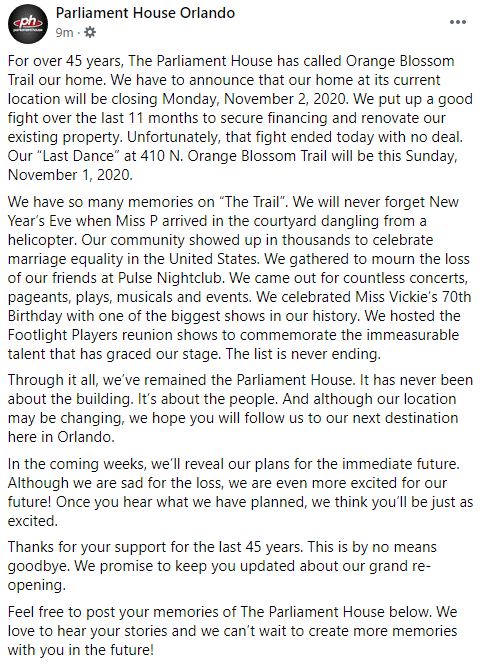 Staff were also informed that ownership was looking at new venues in and around Church Street to move the nightlife portion of the business, effective immediately. Bungalower confirmed with local landowners downtown that they had been approached but that nothing was official at this time.
Parliament House, a flagship LGBTQ+ venue, is a 112-unit motel with several bars open on-site that specifically cater to the LGBTQ+ community and was the subject of a documentary project on its 40-year anniversary.
Hotel staff will reportedly be employed through Monday, November 2. Guests and long-term residents, some of whom are also employees, have until that time to find new accommodations.
Miami-based Lion Financial, LLC. purchased the property in February 2020 from former owner, Don Granatstein, who told Orlando Sentinel at the time would solely operate as a landlord and that Parliament House wouldn't be "… going anywhere."
We have reached out to Lion Financial for any future plans for the 20-acre site, which sits in the West Colonial Opportunity Zone, but are still awaiting a response. An Opportunity Zone is a federal program that provides tax incentives to developments in targeted areas.
The Orange County Regional History Center has expressed interest in saving artifacts from the property by adding them to its collection. The History Center currently has an expansive collection of LGBTQ+ artifacts that it collected immediately after the Pulse Nightclub shootings in 2016 and an ever-growing collection of local ephemera, including signs from notable businesses.
This is a developing stories and we suggest you check back for updates.