The owners of the Hourglass District in Curry Ford West are adding a new mixed-use apartment project on the corner of Bumby Avenue and Curry Ford.
The new $50 million project will include 250 apartment units, with 10,000 SF of retail, and will co-led by National Real Estate, Chas Bruck from Armature Works in Tampa, and Michael Mincberg from Sight Real Estate. The design is by Baker Barrios Architects.
Introduced initially as a traditional cube-like project, the building has been tailored back some and will be built in tiers, with the apartments in the rear of the building being reduced to four stories and then staggering upwards towards Curry Ford.
Plans also call for plenty of public amenity space with a large courtyard at the center and gathering areas/pocket parks as well, which will service ground-floor retail and the adjacent Hourglass Brewing. Other features also include a 20-foot setback between the southern boundary of the property and a new parking garage.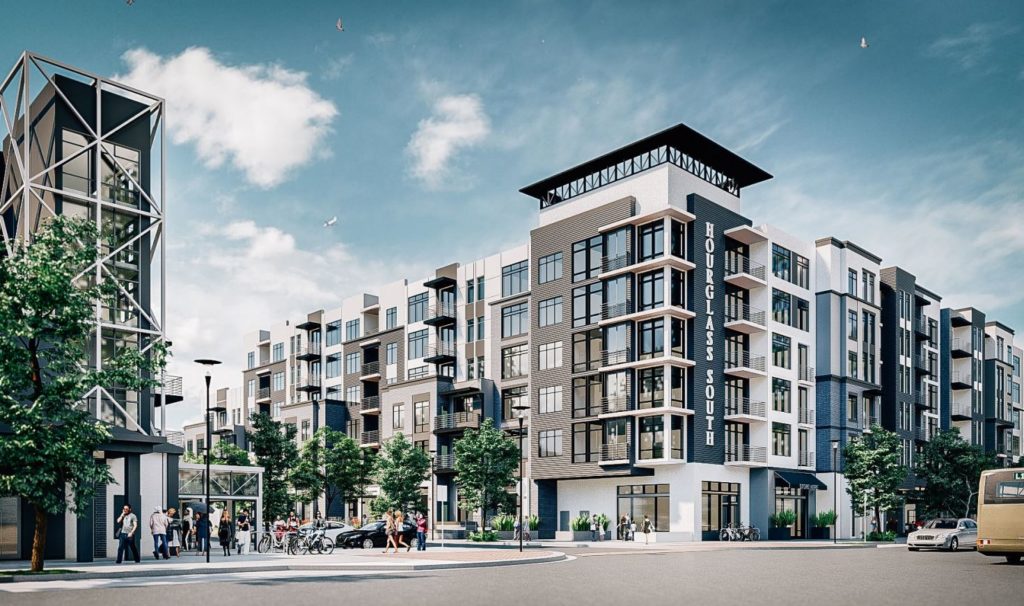 The City of Orlando released an updated vision plan for the Curry Ford corridor that we shared in August 2019, that calls for much more intense development in the district between Cloverlawn Avenue and Semoran Boulevard, with recommendations for new road treatments, bike lanes, and higher levels of development intensity and this new project by The Hourglass District falls within the parameters set by the City of Orlando.
Despite the new allowances, the decision to reduce the scale of the building came after a number of one-on-one meetings with local residents who expressed concerns about its size and the possibilities of increased traffic.
Other issues raised by residents during those meetings included interest in converting a nearby retention pond in the district into a public park, according to Hourglass Developer, Giovanni Fernandez. Fernandez told Bungalower that he hopes to work that into a future phase of development in the area as they move forward with other nearby parcels.
Current tenant F&D Woodfired Italian Kitchen (Website) at 2420 Curry Ford Road [GMap] will be relocated further east in the district on the site of a former church building in the near future.
The current timeline calls for a groundbreaking in mid-2021 and a completion date sometime in 2023.
Editor's Note: Do you know where Curry Ford got its name?