For the past 13 years, Tornatore's Ristorante and Italian Market (Facebook | Website) has served countless lunch specials to students at nearby Bishop Moore High School, but that will no longer be the case according to a recent social media post from the owner.
Denny Tornatore took to Facebook over the weekend to explain a new stance the restaurant was taking towards Bishop Moore students, saying that students under the age of 18 were no longer welcome unless accompanied by an adult and that the restaurant would no longer be offering pizza by the slice.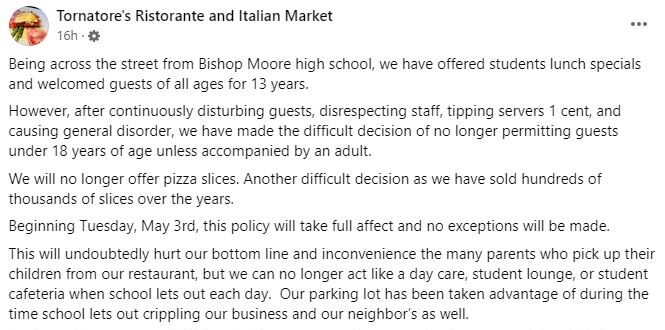 Comments on Tornatore's Facebook post were all complimentary of the move, though I assume that's because they were all from people over the age of 18.
The post also came with an announcement that Tornatore's would be making the transition from a casual pizzeria into a more refined Italian restaurant and market with a more robust wine list, effective May 3rd, with a full remodel of the restaurant "coming soon."
The popular restaurant, located at 3818 Edgewater Drive [GMap], added an Italian Market in the adjacent storefront in January 2021 that we wrote about HERE.