The City of Orlando has finally appointed a new Director of Placemaking.
The position was created in January 2020 when Mayor Dyer did some shuffling of his senior staff. The Mayor's former Chief of Staff, Frank Billingsley, side-stepped into a new role in the mayor's office called "Director of Placemaking and Competitiveness." A role that was in charge of drumming up  "… innovative approaches, priorities, and enhancements within the city to ensure Orlando surpasses peer cities in overall experience and supports attracting and growing high-value jobs that further diversify the local economy." But nothing really happened with it.
Billingsley suddenly announced his retirement in September 2021, and the position has been vacant since that time. But the City of Orlando has suddenly announced the appointment of a new Director of Placemaking, Sherry Gutch. For those who don't know, Gutch has been serving as the Business Development Division Manager for the city since 2017. The role has also been bulked up a bit and given more importance in the city hall power structure.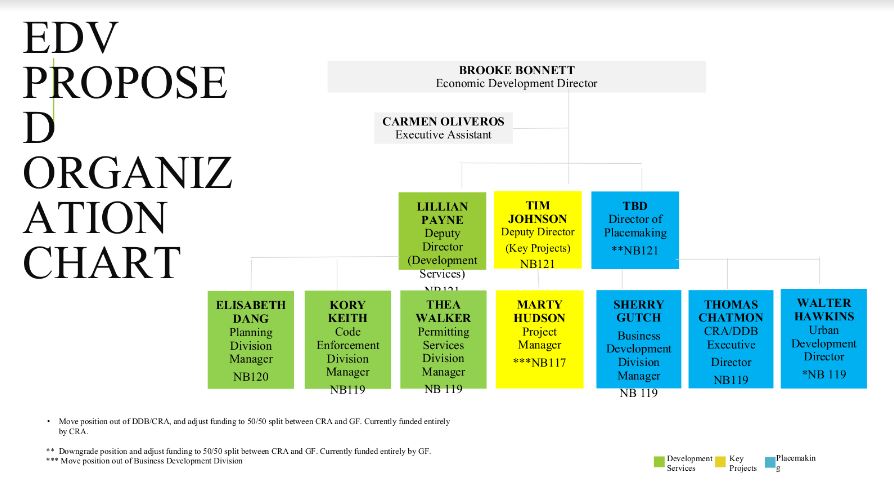 According to an internal email sent out in late September, Placemaking will now be one of three new areas of focus for the Economic Development Department, the other two being Development Services and Key Projects.
The term "Placemaking" refers to a multi-faceted approach to planning, design, and management of public spaces that promote health, happiness, and well-being using a local community's best assets.