Elon Musk has finally taken action against a local UCF student, 20-year-old Jack Sweeney, for his @ElonJet Twitter account, which has been sharing the location of Musk's private jet.
Sweeney has been using publicly available flight information that is recorded each time a plane takes off and lands around the world and is tweeting it live via an algorithm of his own advising.
Sweeney made headlines earlier in 2022 when he started tweeting the location of Russian-owned jets via his Twitter account, @RUOrligarchJets. He then branched off with a new account specific to Elon Musk's travel habits, which you can read more about HERE. Musk allegedly asked Sweeney to stop posting about his jet in exchange for $5,000, to which Sweeney responded that he would take down the account for $50,000 or a Tesla, before lowballing his fee to a simple internship at one of Musk's companies.
Musk didn't respond to any of those requests but he did share publicly that he believed in free speech enough to not try to restrict Sweeney's account.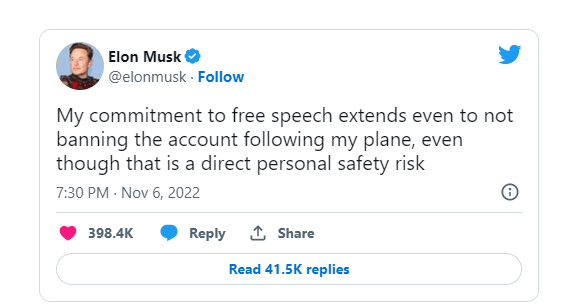 Now, according to BBC News, Musk has suspended the account and is threatening legal action after someone allegedly followed his son in LA, presumably using information garnered from the Twitter account, saying that any account revealing people's real-time locations would be suspended for violating people's physical safety. Twitter's privacy policy has since been updated to reflect that claim as well.