UPDATE: WESH 2 News has shared that the driver is 45-year-old Jackson Click. Read more HERE.
Around 6 p.m. on Sunday, December 18, a man drove his Dodge Ram pickup into the front of The Hideaway Bar (Facebook | Website) in Ivanhoe Village.
According to eyewitnesses and staff who were working during the incident, a patron who had been "mean-mugging" some other guests at the bar got into an argument and some (likely four-letter) words were exchanged. That unidentified man then left the bar and got into his truck, which was parked in front of Factur (Website), the tool-sharing/makerspace warehouse next door, and proceeded to leave.
On the way out of the lot, he backed into a light post, then pulled forward and hit a construction fence located on the other side of Virginia Drive, before turning the wheel and driving full force through the front patio, through the front wall, and into the bar.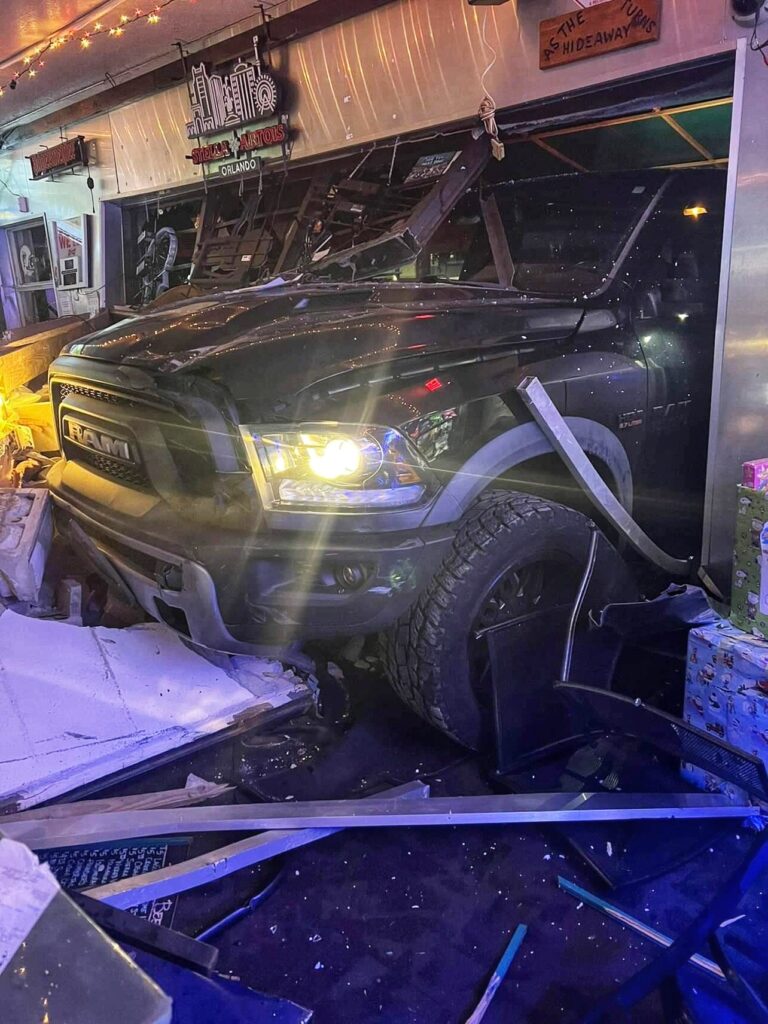 According to Hideaway management, five people were brought to the hospital, not including the driver. One of those individuals, a young woman who was sitting near the entrance where the truck crashed into the building, according to staff, was unconscious when paramedics arrived. The status of those individuals was not known at the time of this post. No staff were injured.
The unnamed driver appeared unharmed, though he failed a breathalyzer at the scene and was taken away by Orlando Police officers. The truck was removed and cleanup had already started to try to temporarily close the hole in the wall. Pending inspections, the Hideaway Bar team hopes to be open relatively soon, provided it is safe for customers to return.