Drugstore chain, Walgreens, will be closing its only location in downtown Orlando.
The 6,700+ SF location, which opened on the bottom floor of the historic First National Bank building at 190 S. Orange Avenue  [GMap] in 2016 with a new landmark sign, was heralded as a major coup for Downtown Orlando and City Hall, which has struggled to attract larger name retailers to the downtown core.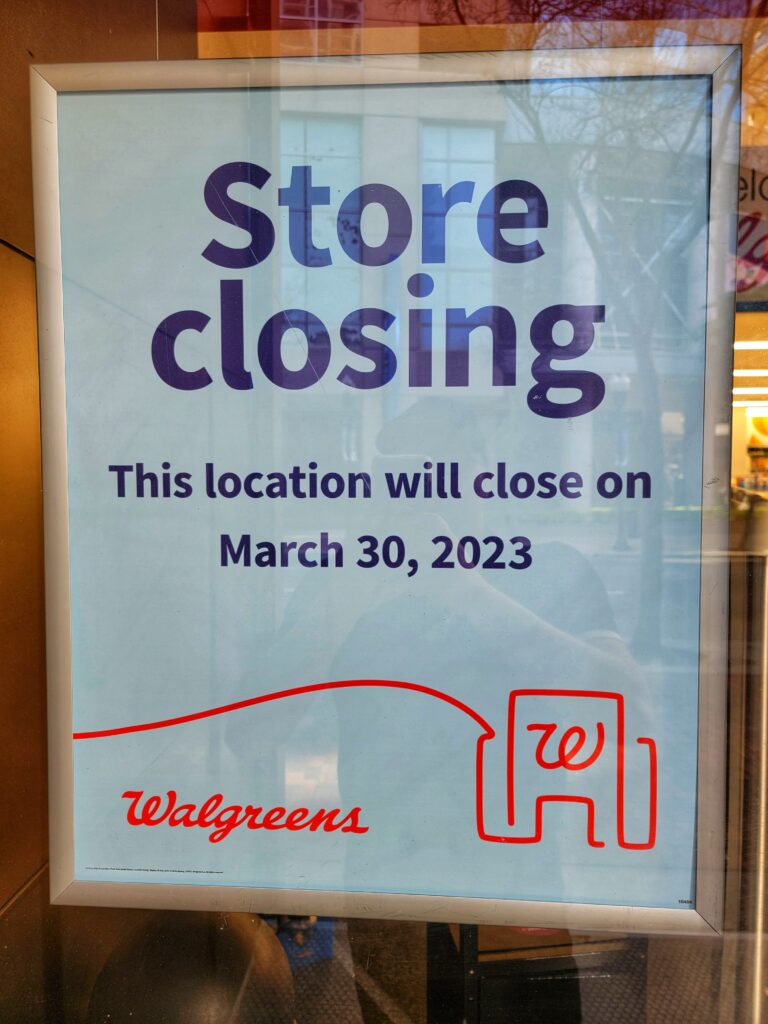 According to a sign in the window, the store is slated to close on March 30. Employees at the location shared that they heard about it the same day the sign went up.
"We really don't know anything about it [the closure]. We've been told to tell any media asking about it to call a number that corporate gave us but we don't know anything else."

– DOWNTOWN ORLANDO WALGREENS EMPLOYEE
When we asked employees if they had heard if they would be shuffled to other Walgreens locations nearby, they simply shook their heads and said they didn't know anything else. They asked that we not share their names.
While Walgreens corporate had not returned our calls concerning the reasons behind the closure at the time of this post, Rob Nunziata, a downtown property owner and co-owner two stories in the same building, which is listed as one of Orlando's Local Historic Landmarks, had plenty to say.
"There has been issue with crime and urban camping downtown, we don't know the exact reason [Walgreens] is closing, but it's obvious that they're not meeting expectations. The retail and dining scene downtown has really disappeared in the last few years and this Walgreens has become a homeless hangout."

– ROB NUNZIATA, NUNZIATA HOLDINGS, LLC
Nunziata condoed out the bottom floor of the building to a new owner after Walgreens moved in but still operates the top two floors and the building's condo association. He shared with Bungalower that he had concerns that Orlando's downtown was being left behind.
"I live and work downtown and it's been really frustrating to see the decline here in the last few years while comparably sized cities like Nashville and Austin really started to shine during the pandemic. If you would have told me 10 years ago that downtown Sanford was going to be better than downtown Orlando I would have laughed at you. It should be a wake up call that our downtown can't even seem to support a 7-Eleven or a Walgreens."

– ROB NUNZIATA, NUNZIATA HOLDINGS, LLC
According to Ashley Papagni, Public Information Officer for the Office of the Mayor, the Downtown Development Board/Community Redevelopment Agency met with Walgreens representatives for several years about a downtown location prior to them signing their lease agreement, but did not incentivize the store in any way.
The historic building was constructed in 1911 and was once the home of First National Bank, and later First National Bank at Orlando, and the Sun First National Bank at Orlando. Valencia College used it for offices and classrooms until 2014.
Both CVS and Walgreens were ordered to pay $10 billion in to several states as part of a settlement of lawsuits in 2022 for their alleged roles in the opioid crisis.