MegaCon Orlando (Facebook | Website) is back with even more nerdtastic event programming than you can shake an expensive lightsaber replica at.
MegaCon is Southeast's most popular comics, sci-fi, horror, anime, and gaming event and features four days of celebrity encounters, fan-favorite cosplayers, and after-hours programming in Orange County Convention Center, from Thursday, May 30 through Sunday, April 2, 2023.
This year has an amazing lineup of celebrities in attendance, including the likes of Hayden Christensen, Rosario Dawson, James McAvoy, Chevy Chase, Charlie Hunnam, John Cleese, Gwendoline Christie, Sam Raimi, Zachary Levi, Charlie Cox, Jon Bernthal, Katee Sackhoff, Neve Campbell, Christie Brinkley, Giancarlo Esposito, Ralph Macchio, William Zabka, Henry Winkler, Garrett Hedlund, Skeet Ulrich, Emily Swallow, Anson Mount Me, Ethan Peck, and Gates McFadden. Click HERE for the full list.
In addition to panels and meet and greets with celebrities and creators, the convention brings an endless amount of engaging programming for fans to enjoy, and we've chosen some of our favorite ones below.
Tickets start at $28 for a one-day pass and can be purchased HERE.
SPECIAL EVENTS
MAID CAFÉ
Maid Café Mikkusu will be welcoming MegaCon attendees to experience an actual Akihabara-style maid café presentation similar to the ones in Japan. Your ticket for this all-ages event includes your choice of coffee or tea, a Maid Café Mikkusu decal, a kawaii meet and greet with the maids, a short stage performance, games, and other immersive elements.
Be sure to follow @MaidCafeMikkusu on social media for updates. Tickets are $25 for general admission or $40 for DELUXE tickets. Click HERE for more information.


STUDIO GHIBLI VIP EXPERIENCE WITH HIROKATSU KIHARA
This year's convention also has a unique opportunity to meet Hirokatsu Kihara, former Chief Production Officer at Studio Ghibli. Kiraha-sensei is making a rare U.S. appearance to help educate fans about the art and history behind the process of classic anime. He possesses one of the largest private collections of artwork hand drawn by artists from Topcraft and Studio Ghibli in the 1980s including Castle in the Sky, Kiki's Delivery Service, Nausicaä of the Valley of the Wind, and, celebrating its 35th anniversary this year: My Neighbor Totoro. Click HERE for more information.


BLOODSTONE- 13TH ANNUAL OFFICIAL MEGACON SATURDAY AFTERPARTY
Board the next Imperial cruiser for a gathering of the most villainous dark forces of the Empire and the most courageous Rebels of the Star Wars Universe on March 31st from 8 p.m.-2 a.m. at Club 3NINE at the Rosen Plaza. Star Wars cosplay is welcomed and encouraged but are not required for entry. Click HERE for more information.


BLOODSTONE- 13TH ANNUAL OFFICIAL MEGACON SATURDAY AFTERPARTY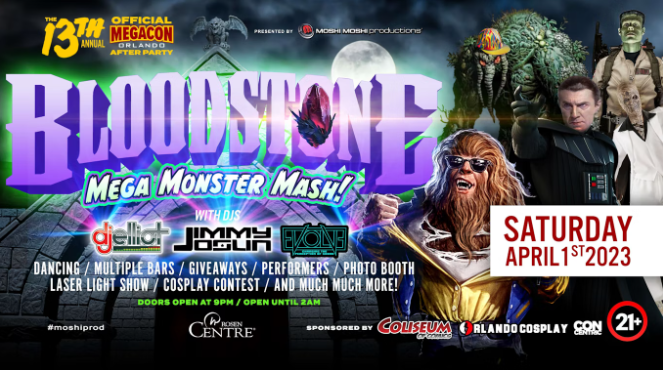 Geeks of the night come join the Vampire King Prince of Darkness Dracula himself as he wields the ancient BLOODSTONE. He will summon all the iconic monsters from around the globe to their first geeky Con at Orlando's biggest cosplay party of the year on April 1st from 9 p.m.- 2 a.m. at the Rosen Centre Executive Ballroom. Click HERE for more information.


CELEB KARAOKE NIGHT! HOSTED BY EMILY SWALLOW
After a day of wandering around in character, do you long to unmask and belt out a power ballad? Or would you rather make like The Masked Singer and free your soul while remaining helmeted? Your favorite Armorer and sister of Chuck has a spot for you at Karaoke Night, whether you want to shine in the spotlight with a solo, back up your friends with some ridiculous dance moves, catch Emily off guard with a last-minute duet, or lead the crowd in carrying on, my wayward son. This karaoke night is all about lifting each other up, so pick your song, grab your hairbrush, and start practicing for this memorable night. Click HERE for more information.