"Did you see that post on the Mass Instagram? The City is canceling the ride. Can you look into this? This is crazy."

– BUNGALOWER READER
Long story short, no, Critical Mass is not canceled. But here's some context.
This past Friday, April 28, at 6:30 p.m. hundreds of cyclists gathered together at Loch Haven Park in Ivanhoe Village for what many believed would be the last Critical Mass bike ride in Orlando.
The monthly 10-mile-ish ride is part of a larger global movement that challenges cities to rethink public space and transportation, which has traditionally been focused on automobiles and moving them from place to place.
Critical Mass was founded in San Francisco in 1992, but was originally called "Commute Clot." The group rides are traditionally leaderless but follow an agreed-upon route, at peak traffic times, to get in the face of drivers in their cars and remind them that bicycles are traffic too. Volunteer riders regularly pedal ahead of the group to block intersections to keep cars from merging with the cyclists and to keep the ride moving, regardless of lights and stop signs.
Orlando's Critical Mass (Facebook | Instagram) ride started roughly 10 years ago and would sometimes succeed in attracting well over 1,000 riders of all ages and ability levels to pedal through downtown Orlando neighborhoods, including Ivanhoe Village, College Park, Parramore, the Central Business District, Thornton Park, and Mills 50.
While traditionally grassroots and democratic in nature, the event has had defacto leaders in the past to help with social media and liaising with the City, including Nicholas Mandino, who left town to build expedition vans out west a few years ago. When Mandino left, the ride was put into the hands of a collective of local riders, who shared the burden of leadership, but that arrangement fizzled out at the beginning of the pandemic.
The latest person to take the handlebars is William Baker, a longtime Mass rider that swooped in to keep it going when the aforementioned collective went AWOL.
"Everyone kind of just disappeared and phased out and I looked around and saw that I'd been there the longest so I just kind of took it over and hunted down all of the social media logins and I've been doing it ever since."

– WILLIAM BAKER, DEFACTO CRTICAL MASS LEADER
But days before the April ride, Baker shared the following statement on the Orlando Critical Mass social feeds.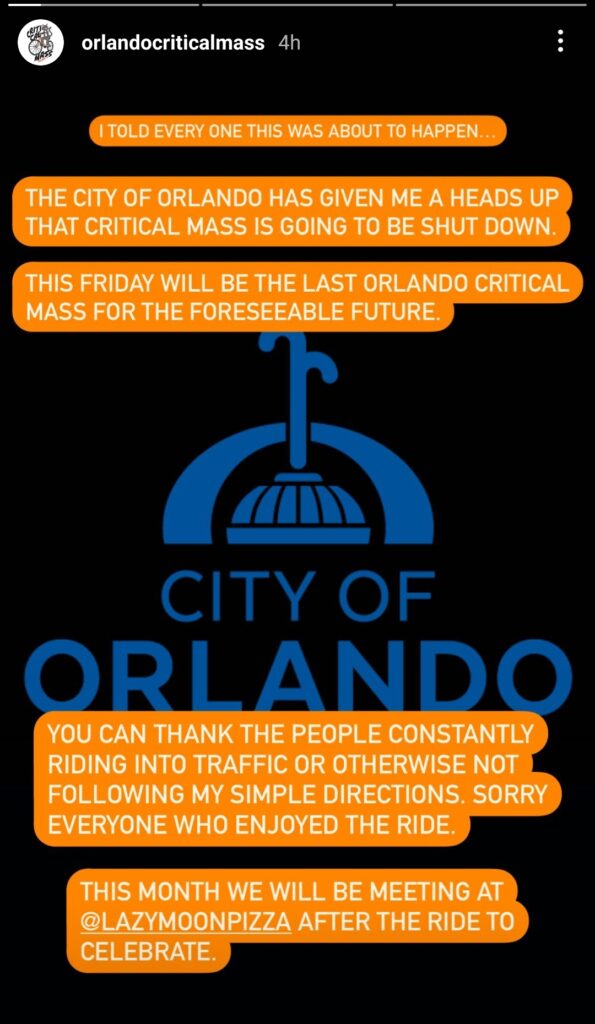 Baker shared that when he took over the ride, the people who previously ran it were, "… scared of the police and hated the attention because they were afraid of being singled out." So Baker flipped the script and tried to change that perception and stepped up to liaise with City Hall. He says that he's attended multiple city meetings about biking infrastructure but didn't meet with anyone who was willing to work with him and really champion the event. City officials would all say that they hadn't heard of the ride but would work with him to promote local events and initiatives to his followers, including last year's Bike to Work Day at City Hall. "But when I would ask them for help to make Mass more legitimate, they'd all get real quiet and say they didn't know anything. Or that that was out of their hands."
One of the recurring issues, according to Baker and our contacts at City Hall, is that of parking. Riders meet on the last Friday of every month in the parking lot of Loch Haven Park, which is home to local arts groups like Orlando Fringe, Orlando Museum of Art, Orlando Repertory Theatre, and Orlando Shakes – all of which host regular events there and need the parking. The entities have regular meetings to coordinate their parking needs and juggle their event calendars and Orlando Critical Mass has traditionally been treated as a fly in their ointment through the years. Orlando Fringe famously tried to forbid Critical Mass from gathering during their event in 2016 though it didn't really work and people showed up anyway.
Because the nature of the event is a punk-like disregard for the rules and a somewhat joyful celebration of being "other" and exercising independent agency to reclaim public space, it's proven to be tough to control the participants. Despite Baker's ongoing struggle to reign in the riders and obey the rules of the road, like stopping at traffic lights, trying to control hundreds of enthusiastic cyclists can be impossible, and having police escorts, as has been suggested by city leaders in the past, is expensive and not exactly a good fit for the event, says Baker.
"We have a demographic that is every part of the political spectrum, but we have some riders that are afraid of the police and they don't want to be around them; trans riders, people of color, and when the police show up it intimidates them into not participating."

– WILLIAM BAKER, DEFACTO CRTICAL MASS LEADER
According to Baker, police presence has seemed to increase with recent rides and some officers have even blockaded them on previous rides to keep them from finishing their routes.
Despite the perceived reception at City Hall, Baker said he's been determined to push forward and build bridges and shared that officials said they would be more likely to work with him if his riders all wore helmets, masks, and bike lights. He also shared that he has some "moles" in City Hall who have been saying that the city wants to actually discourage biking to help with their pedestrian fatality numbers and Vision Zero.
"There are some people who really care about biking infrastructure at City Hall and they've done some great work adding trails and paths around town, but they're not building commuting paths, they're making leisure paths. They're even removing the lanes on Edgewater Drive to get people off of the street. They're chipping away at safe bike riding and forcing us onto the sidewalks, which are proven to be more dangerous for riders. Sure we have that new path at the cemetery, but it doesn't link anywhere, which is why we haven't used it for Critical Mass."

– WILLIAM BAKER, DEFACTO CRTICAL MASS LEADER
Vision Zero is the City's initiative to eliminate traffic fatalities and serious injuries in city limits by 2040, inspired by Orlando's constant Top 10 ranking for the number of pedestrian fatalities in the country. Something no mayor wants on their resume, especially during an election year.
Baker shared with Bungalower that the City is labeling the ride as a "parade" according to city code. And under city code, parades require an outdoor public assembly permit, also known as an 18A. A letter issued to Baker earlier this month read:
"We have become aware of a regularly scheduled group bike ride event, advertised on social media, that meets at Loch Haven Park. As the event has grown in size, there is increased concern about safety for the participating cyclists. In addition, we are receiving complaints about vehicular incidents that have occurred, especially when other events are taking place within the Loch Haven area."

– SPECIAL EVENTS PERMITTING DEPARTMENT, ORLANDO POLICE DEPARTMENT SPECIAL OPERATIONS
We spoke with the Orlando Police Department about the exchange and they shared that while they did reach out to Baker about the upcoming ride because there were multiple events occurring in and around Loch Haven Park at the time of April 28, at no time did they ask or request the bike ride to be canceled. The City has since reached out to Baker directly and things seem to have worked themselves out.
Baker has shared that the entire debacle has been somewhat of a misunderstanding and that Critical Mass will continue for the foreseeable future. The social post that we shared above has been removed and it's business as usual for the monthly bike ride.
The ride departs from Loch Haven Park on the last Friday of every month at 7 p.m. sharp, including May 26, June 30, July 28, August 25, September 29, October 27, November 24, and December 29.
Follow them on social for any last-minute changes or updates.
Do you have something you want us to look into for you? Send your question to [email protected] and we'll check it out!