The Florida Department of Transportation will be carrying out an extensive resurfacing, restoration, and rehabilitation project along the Ivanhoe Village portion of Orange Avenue that includes improvements for pedestrians and ADA accessibility.
The section of the project from Magnolia Avenue to Highland Avenue will repurpose the outside travel lanes into on-street parking. A new raised intersection will also be installed at North Orange Avenue and Highland Avenue. Raised intersections bring the road surface flush with the sidewalk to reinforce slower speeds and encourage motorists to yield to pedestrians at crosswalks.
The graphic below shows how FDOT will transform the current two travel lanes on Orange Avenue into one lane each way with on-street parking. Curb extensions and floater islands will also be installed to help shorten the travel distance for pedestrians and allow them to be seen for easily by oncoming drivers and slowing travel speeds in the Ivanhoe Village Main Street corridor.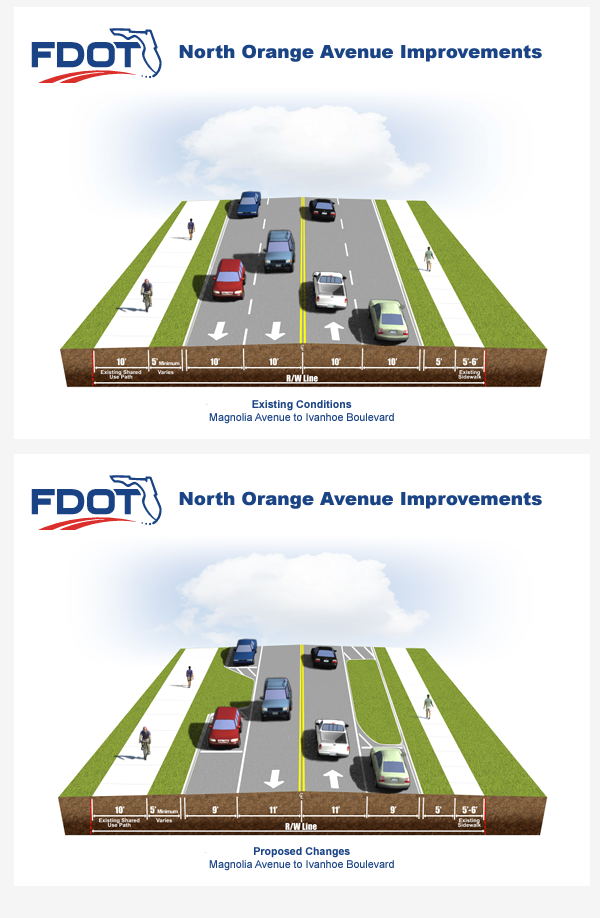 Other changes to the corridor include a new raised traffic separator island in the center of Orange Avenue, between Russell's on Lake Ivanhoe and Ski World. The separator will provide a southbound turn lane for Virginia Drive and a northbound turn lane for Ivanhoe Boulevard.
A raised intersection will also be installed at Ivanhoe Boulevard and Orange Avenue, in front of The Lucky Lure.
The segment of Orange Avenue from Ivanhoe Boulevard to Harvard Street will be resurfaced to include new parking markers and a raised midblock crossing will be added just east of Vanderbilt Street near Fluent Cannabis and White Wolf Cafe. The raised crosswalk will include rapid-flashing beacon lights to signal when a pedestrian is crossing.
The design segment of this project is currently in progress and almost complete. Construction for this road project is estimated to cost roughly $2.9 million and the contract for the work is expected to be awarded on December 5. A construction schedule is not available at this time, but according to FDOT officials, construction generally starts two to three months after a contract is awarded to a vendor.
A construction timeline was not available at the time of this post.
You can find out more information about the road project HERE.