4th Annual Challenge 22 Event and "Ruck" Walk – Virtual and In-Person
November 14, 2020 @ 11:00 am

-

3:00 pm
Nov. 14th, 2020
Challenge 22 – 2.2 Mile "Ruck" Walk
Come out to join the Winter Garden American Legion Post 63
Nov. 14th, 2020
Challenge 22 – 2.2 Mile "Ruck" Walk & Block Party (In-Person or Virtually)
Come out to join the Winter Garden American Legion Post 63 for our community for a walk , block party and a day of camaraderie to help stop Post Traumatic Stress (PTS) Suicide of Veterans. You can also join us virtually on Facebook or Instagram using #challenge22vet. The ceremonies will be live-casted on FaceBook the day of the event.
If you decide to register for the Virtual event, we will send you information on how to make sure your photos and any video you may capture get broadcast at the Live event. We are asking you consider a $22 donation, but are welcome to participate regardless.
Join us for a patriotic opening ceremony, the walk, raffles, food, drink, kids activities, live music & so much more!  You are encouraged to bring your Ruck (hiking pack) if you have one or buy one of ours, but it is not required.  Walk the full 2.2 miles or stop after the first leg as we will pass by the Post where the Vietnam wall is set up.  We are hoping to have some of our WWII, Korea and Vietnam vets participating along with the younger generations.  Golf carts will be available if walking is difficult for you.
Bring your family & friends to join the hike or just come out to enjoy the festivities, there will be something for everyone! Again, the goal is to have a great time, while raising awareness to a tragic epidemic of 22 suicides per day due to PTS, while helping us fund solutions that are working.  We are trying to raise $100,000 to go towards proven prevention solutions and additional awareness.  This year we are asking everyone to donate at least $22 at the registration.  Your $22 Donation includes a limited edition Challenge Coin, plus a food and drink ticket at the event. If the money is an obstacle, don't worry about it.  Please come join us anyway.  
Here is a video of a previous event.
  https://www.youtube.com/watch?v=CVLs4zdKBxw
 Registration & sign-in will begin at 10:00 am. The opening ceremony, which will begin at 11:00 am, will be followed by the 2.2 mile walk.  Immediately after the walk, we will have an afternoon of fun, with live music, food, a blind draw corn hole tournament, and so much more.  The live entertainment portion of the day will start at 1:00 pm; ending at 3:00 pm.
While the C22 event is occurring, we will also have on site a mock up of the Vietnam Wall and Global War on Terrorism Memorial Wall for you to examine. This is a must-see for all ages.
Challenge 22 t-shirts, ruck sacks, neck gaiters, koozies, dog tags, limited edition Challenge 22 coins and other merchandise can be purchased via our website or on location the day of the event. To order merchandise online go to:
https://americanlegionpost63.buyproforma.com/#/
The following are some of the results we have seen from the funds we raised last year:
• 580 veterans, active duty, military spouses, 1st responders, nurses and civilians have had their PTS symptoms cleared thru the RTM Protocol! THIS IS ABSOLUTELY AMAZING!!!

• 13 veterans trained in administering the RTM protocol peer to peer here in FL!

• 1,500 veterans and family members thru SOF Missions' Resiliency Project Connect Care have been provided products and services leading to suicide prevention measures.

• 1,000 COVID Care Kits (containing masks and other critical items – $25 value) were distributed across the state of Florida to veterans in need!

• 5 service dogs were trained/paired with a veteran with PTS with 13 more currently in training!

• 75 families completed retreats at a "veteran's ranch" to help them with side effects of PTS!

• 30 families experienced the Warrior Beach Retreat to help them cope, connect and heal!

• Oversaw the formation of the Florida Veterans Coalition – a group of 6-8 non-profits (growing every day) from across Florida coming together to collaborate in their quest for veterans!

• 300 samples of essential oils to veterans with PTS symptoms; sadness, anger and physical pain.

• Production of 52 weekly podcasts, "Life After PTSD" to help veterans find the help they need!

• ALL SERVICES and RESOURCES are offered to the veterans and their families for FREE!


HELP US KEEP THE MOMENTUM GOING! WE HAVE MANY MORE LIVES TO SAVE!

Notes:
1.  You can sign up to walk with us or sign up to walk virtually from your own location. We are accepting any and all donations as this is a fundraiser to stop veteran suicide. You can do so by going to our website www.WGAL63.org or just bringing it to the registration table the morning of.
2.  What is a "Ruck"?  It is a pack that the military uses to carry their gear on hikes.  Typically they weight 45-100 lbs.  No requirement to carry anything, but you are welcome to bring your own pack (filled or empty…no one will know).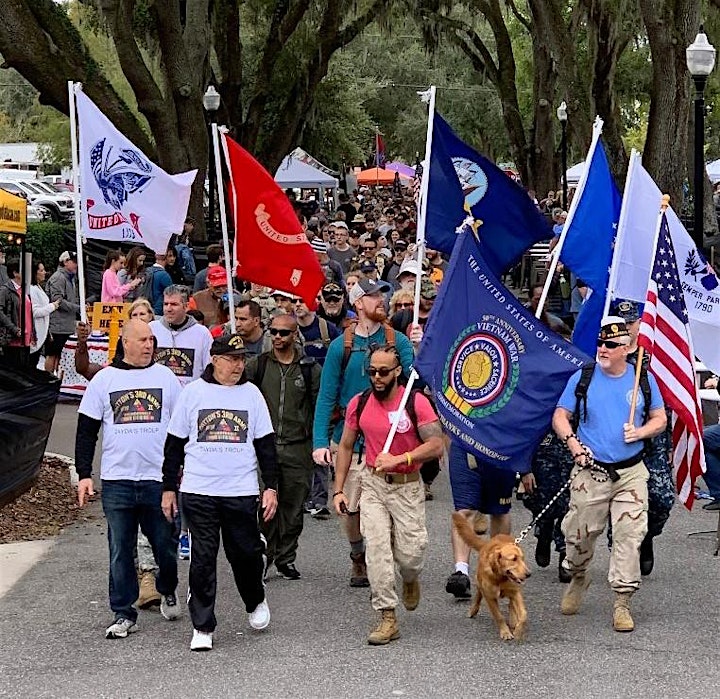 VOLUNTEER OPPORTUNITES!
We need volunteers to help with planning, set up, operations and tear down from the event. if you are interested in helping this year or would like to be added to the list for next year as well, please click here after registering so we can contact you.
We appreciate your support in ending veteran suicide from PTS