DenseCity: Embracing Density in the Age of the Anthropocene
November 11, 2020 @ 10:00 am

-

3:00 pm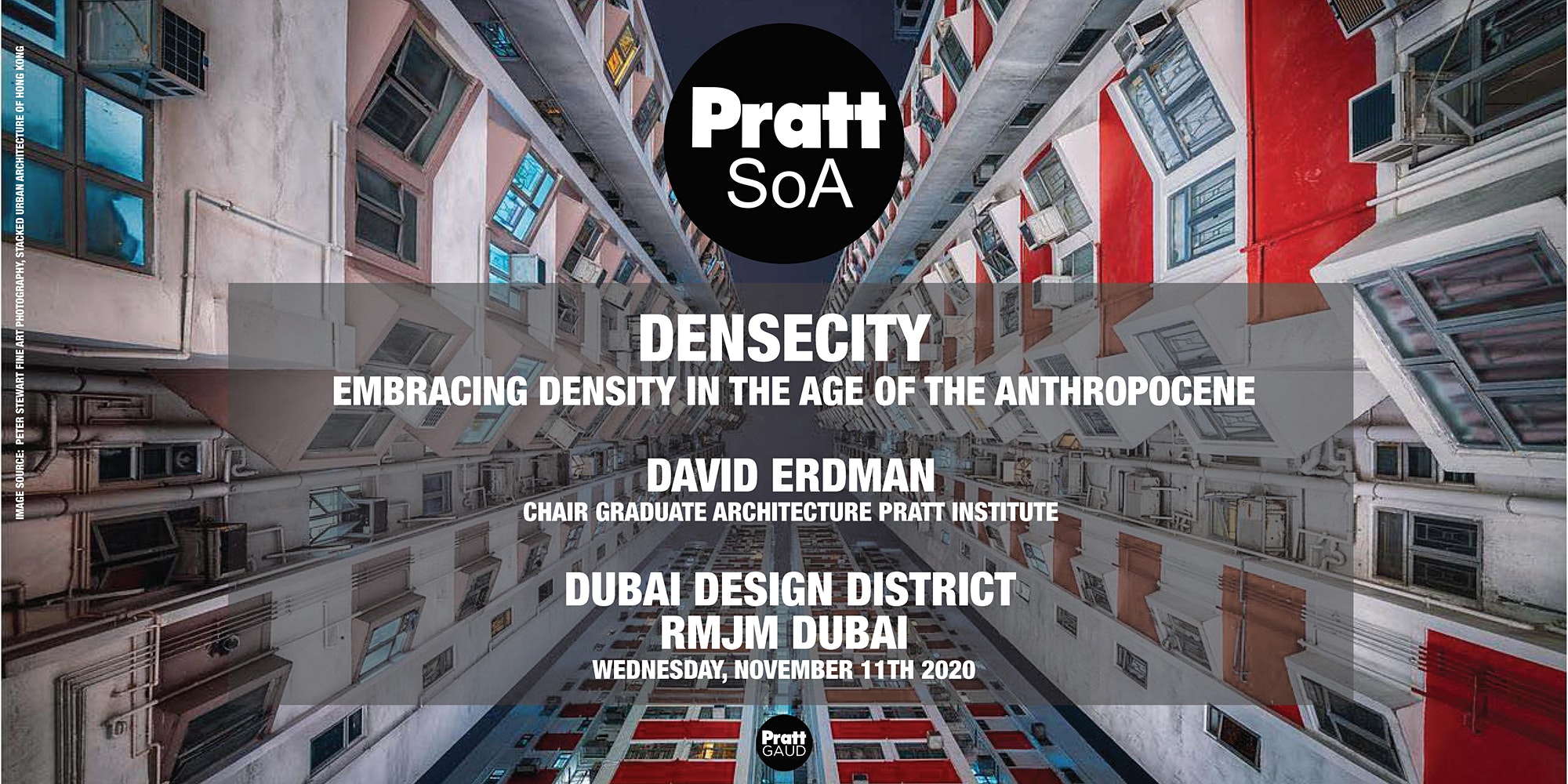 DenseCity Executive Education course will introduce the impacts of density on architectural design through a series of case studies.
Using interiority as a framework to re-imagine creative opportunities in current and future dense cities, the DenseCity Executive Education course will introduce the impacts of density on architectural design through a series of case studies. This course taught by David Erdman, Chair of the Graduate Architecture and Design Program at Pratt Institute Tracing a line of inquiry from the urban to the architectural, from the built to the speculative, the course will provoke alternative understandings of the architectural "object" and showcase the ways in which specific aspects of climate change can shift the ways in which we practice, educate and influence policy in cities like Dubai, Hong Kong and New York.
Throughout the one day course held in the offices of RMJM Dubai, participants will be asked to brainstorm and collaborate on various key concepts and themes introduced. These will include but not be limited to how density can concentrate resources and efficiencies in a way that pries open design opportunities and theoretical examinations. Concepts of interiority and centripetal urbanism will underscore specific sectional, massing, formal, practice-based and contextual strategies that are operational in dense urban cities.
The course will culminate with a reception and informal discussion with leading academics and practitioners in the region.
The cost of the event will be 550 AED General Admission / 300 AED for students. If you are interested in the course, please RSVP now. Note: RSVP tickets are a registration of intent only.
Registration will begin August 31st.
David Erdman is an Associate Professor and currently serves as the Chairperson of the Department of Graduate Architecture and Urban Design at Pratt Institute's School of Architecture where he is overseeing the Master of Architecture, MS in Architecture and MS in Urban Design programs. He is the co-founder of davidclovers, where he completed over 15 projects from 2007-2016, located mostly in Asia and North America and ranging broadly in scale and type. Prior to davidclovers, he co-founded servo where David co-designed and oversaw numerous installation-based projects from 1999-2006. His past and current research, teaching, writing and practice focus on density and how it intersects with architectural design and issues of climate change.
Erdman was an Assistant Professor at the University of Hong Kong's Department of Architecture from 2010-2016, taught in the Masters Program at UCLA from 1999-2008 and has held numerous endowed professorships at Universities such as Yale, Berkeley and Rice. He is the recipient of the prestigious Rome Prize by The American Academy in Rome. He has lectured throughout Asia, Australia, Europe, Canada and Mexico, has been cited and/or interviewed in numerous newspapers in the US, China and Europe, contributed to architectural journals and/or books and has edited and/or authored three books: Future Real (Co-Authored with Michael Young and Kersten Geers; Yale University Press), Introducing (forthcoming 2020: ORO) and Pratt Sessions Volume 01 (2019, ORO).
Related Events