Grows With Natives
May 20 @ 9:00 am

-

3:00 pm
NATIVE GARDEN SHOWCASE
featuring exhibitors that will be promoting native gardening
FREE attendance, activities and giveaways!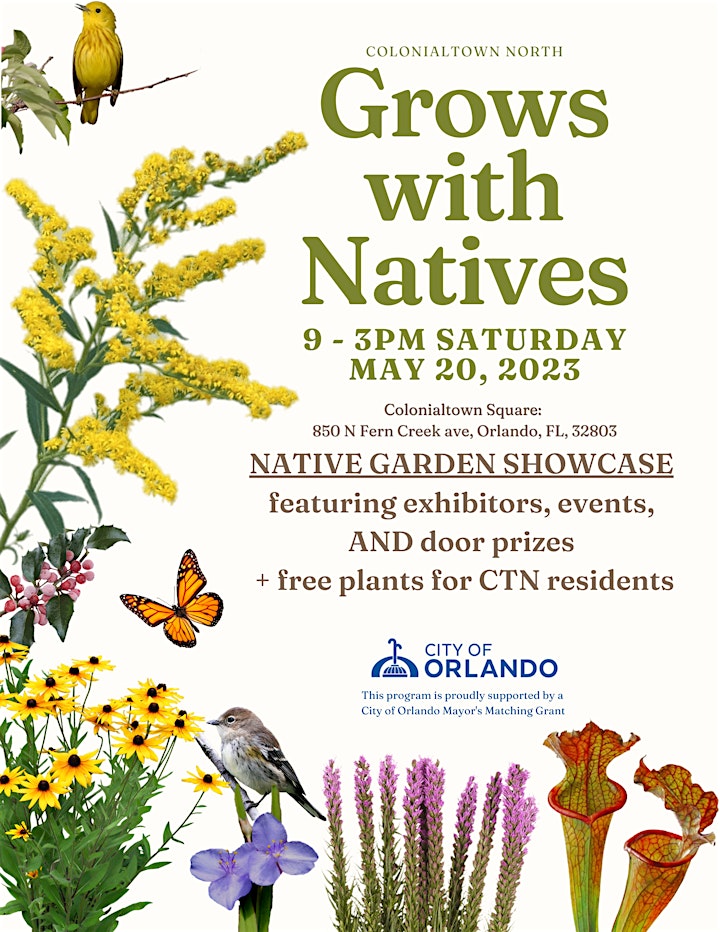 Invasive non-native plants are among the greatest threats to existing ecosystems. In their native habitat they grow under certain constraints (soil, wind, rainfall, temp, sun) and removed from these constraints they can thrive beyond all expectation. They wipe out native plants and destroy wildlife habitat by altering the ecosystem into an alternative ecological regime, with its own district biome.
Planting native restores these disturbed areas into resilient ecosystems that are reminiscent of natural Florida and give our neighborhood and city a sense of place. Planting native promotes biodiversity by providing food and habitat for birds, butterflies and other pollinators. These plants, like false petunia or native lantana, do best in Florida conditions (from sunny and sandy to shady and moist).
Ultimately the right place at the right time will reduce or eliminate lawn fertilizers, pesticides and the need for irrigation (which all puts stress on the aquifer and contaminates our water supply). Saving the planet and money?? Sign me up.
On May 20, 2023 at the Colonialtown Square park we will be showcasing our new native garden (that will be replacing the taro/elephant ear and snake plant—both category I invasives) with an event that will feature exhibitors such as Orange Audubon Society, the Florida Native Plant Society, Orlando Native Plants, City of Orlando, Orange County FL, 4 Roots Farm, Grounded Solutions, Zen Living Reality and more! Food and beverage proudly served by Framework Craft Coffee Bar's Foodtruck. Newly added partners include: Regenerative DesignMalyna Si from the Four Season's Capa restaurant.
We are giving away native plants to ALL residents of the neighborhood but all Orlandoans are welcome as there's lots to learn and see PLUS we have door prizes to raffle off including…. Water barrels, native plants (again!), books about native gardening and more!
Thank you to the City of Orlando for awarding the neighborhood with the Mayor's Matching Grant, we are using the funds to purchase plants and provide neighbors with the knowledge and resources to start turning their backyard into a homegrown national park.